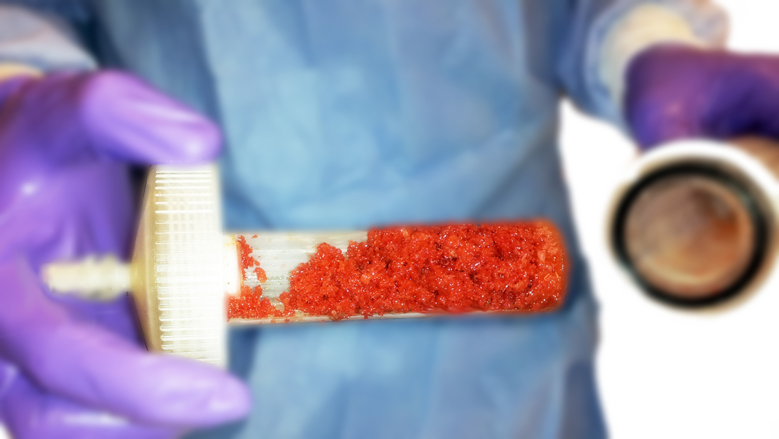 There is a saying among doctors that patients who enter a hospital for back surgery enter with spinal pain and exit with hip pain. The delicate procedure to fuse spinal vertebrae is preceded by a painful, cumbersome process of harvesting autograft (i.e., bone graft from the patient's own body) from the pelvis, requiring a major incision, significant pain for the patient, and an extended recovery time.
Neil Shah and Maxim Budyansky, both graduate students at Johns Hopkins University's biomedical engineering program in 2010, had an idea: Design a device to harvest bone graft more efficiently and less painfully. This would make bone graft harvesting easier and reduce reliance on the less-desirable use of synthetic material in bone grafts.
"Autograft is the 'gold standard'," said Shah. "We wanted to develop a tool to harvest autograft in a more streamlined manner, to ensure that doctors can use a patient's own bone for the spinal fusion procedure."
They developed promising prototypes that harvested autograft with fewer incisions, that had a streamlined cutting and collecting mechanism and extracted graft more efficiently.
The two were still far away from a finished product, let alone a business to sell it. Then VentureWell came into the picture. The two became VentureWell E-Team finalists in 2010, winning $20,000 to further develop their idea as well as a week of entrepreneurial mentorship in the VentureLab seminar.
Looking back, Shah says VentureWell financial and professional support was crucial. "It's not too far a leap to say that this company would not have gotten off the ground without that initial E-Team grant," he said. "It was the first money to come in at the early, high-risk stage. We may not have started the company without that external validation." The funds helped them refine the prototype, run tests on cadavers and assess the results.
Shah said the strategic advice at VentureLabs the following year, particularly from the "extremely enticing" James Barlow, was just as crucial. "It really spelled out for us what questions we should be asking and how to explore the unknown," he said. "They emphasized talking to actual future customers about questions, rather than try to figure things out on our own. It was very important to get that exposure," he added.
Momentum continued to build. The fledgling company won additional grants from Johns Hopkins University and the State of Maryland's Technology Development program that helped them further refine the product, adding additional design features. In 2013, a National Science Foundation grant brought them to the next stage, exploring how their technology could be mass produced and meet Food and Drug Administration standards.
Today, Avitus is continuing its product development efforts. Shah and Budyansky work at Avitus full time, have an office in Connecticut, and are supported by a board of directors and advisors that include investors and orthopedic surgeons that help steer the company's development. They have recruited interns from both the University of Connecticut and Johns Hopkins to support their ongoing research. Looking ahead, Shah said Avitus is soliciting additional investors and completing the final steps for marketability: getting clearance from the FDA to put their product on the market in 2015.
What advice does Shah have for other young entrepreneurs? "Find out what you don't know as soon as possible," he said. Talk to as many people as possible that are smarter than you are. Find people who are experts in your field, use others' advice, and make mistakes as much as possible. You are going headfirst down an unknown path. Asking about what you don't know uncovers resources and lets you move forward."