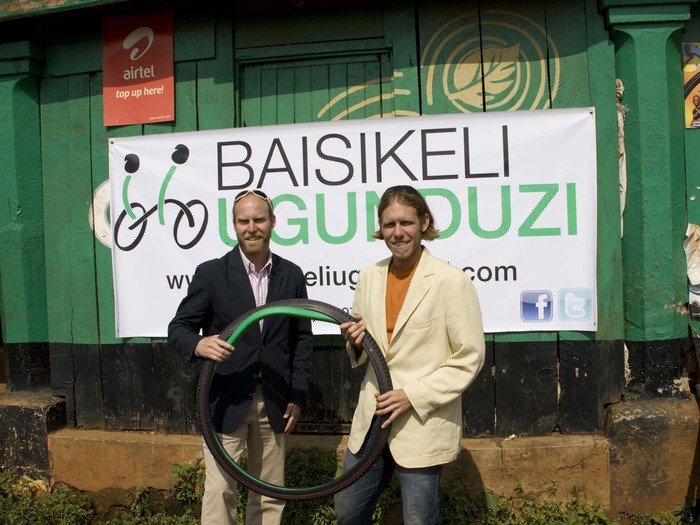 You could say that they set out to reinvent the wheel.
John Gershenson, a professor with a background in bicycle R&D, and Ben Mitchell, a graduate student and former Peace Corps volunteer in Burkina Faso with a passion for bicycles, spent several years at an engineering lab at Michigan Technological University developing a new bicycle for commercial use in Africa. The technology won notice in an international competition. But in the end, their solutions lacked a human-centered motivation.
"At the end of day, nothing went forward. The technology was not appropriate for the situation," Gershenson said. "But in the process, we learned there was an unmet need. A business idea was born: Flat tires are the biggest scourge for bicycles in Africa, and that was the genesis for everything moving forward."
VentureWell came in at this crucial juncture. In 2011, Gershenson's lab won a $50,000 curriculum development grant providing much-needed funding to go and see what was happening with bicycles in Kenya and use that information to fine-tune his R&D curriculum in the lab, later leading to university-developed products with organizations like World Bicycle Relief.
"The key thing that grant allowed was our first trip to Kenya and to start testing that initial technology that came out of the lab," he said. "That was the spark that lit everything that followed. We realized that the only way a company can develop products for bicycles in Kenya is to do it in Kenya —you can't do it from the United States. You have to embed yourself among bicyclists and mechanics in Kenya to do research, design and testing with the local customer base."
VentureWell also gave Ben and John the opportunity to come to Boston for VentureLab, an experience which ignited their business plan. They spent five days in the middle of a hurricane drafting and re-drafting business processes, working with VentureWell's team. James Barlow drove them hard and they worked around the clock to get a viable plan of action that set Baisikeli Ugunduzi (Swahili for "Modern Bicycles") in motion.
There are more than 75 million bicycles in sub-Saharan Africa, and most are directly used to earn a living. Minor repairs are a huge expense. Many riders spend more than a day's wages every other week to fix their bikes. Most rely on cheap, poorly-made components from Asia.
After talking to bicycle taxi drivers, mechanics and retailers in Kenya, John and Ben had a plan: Manufacture affordable, reliable components for this unique market. Baisikeli Ugunduzi was born.
They rolled out their first product in 2013: the Milele ("forever") bicycle tube, a solid rubber inner tube for bicycle tires. Milele took nine months of testing and refinement in Kenya, and the result was a success. "We had a working product, that the market wanted, that riders and retailers liked, that mechanics liked," John said.
In the process, an entire product line was conceived. "We decided to go to every retailer and wholesaler and tell them about our product," said Gershenson, "but what we realized was it was a product not everyone wanted at that time. People wanted related products, and we expanded our development." Six months later, they had three new products: "Tube Kinga", a puncture-proof tire liner; "Tube Ziba", a liquid sealant poured into tubes; and the "Boda Light," an LED-based bicycle light.
Today, more than 30 retailers and wholesalers in Kenya, as well as a distributor in Uganda and an agent in Tanzania have sold more than 2,000 units. Baisikeli Ugunduzi products are on bicycles that have crossed Africa, on wheelchairs on the toughest roads, used by the Kenyan national cycling team, on motorbikes all over western Kenya, and now even on cars and "matatus"—ubiquitous privately-owned minibuses. The company's production plant in Kitale, Kenya, is approaching its first anniversary of operation.
Throughout the process, Gershenson said Ventu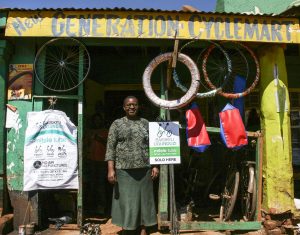 reWell's involvement has been instrumental, going far beyond the valuable cash grant in 2011.
"Once you get a grant from VentureWell, you are part of the family," he said. "That sounds clichéd, but it's really true. [Senior Program Officer] Jennifer Keller Jackson calls me all the time, and the advice and assistance never stops. And that's worth so much more than the money."
He said VentureWell's support for very young companies is unique and crucial. "All companies start with 'I don't know what I'm doing.' They push you, challenge you, make connections for you. It's really amazing. We saw them as people who started other companies, so the fact that they were still talking to us validated our plans. The fact that they were just as exited as we were gave us a whole lot of confidence."
Gershenson tells other young entrepreneurs to get out of the lab and meet your prospective customers. "You can't spend enough time living, working and testing with your customer base. Get out of the lab, get off the computer and go to where customers are. Until you are there, you don't know what's right or wrong."