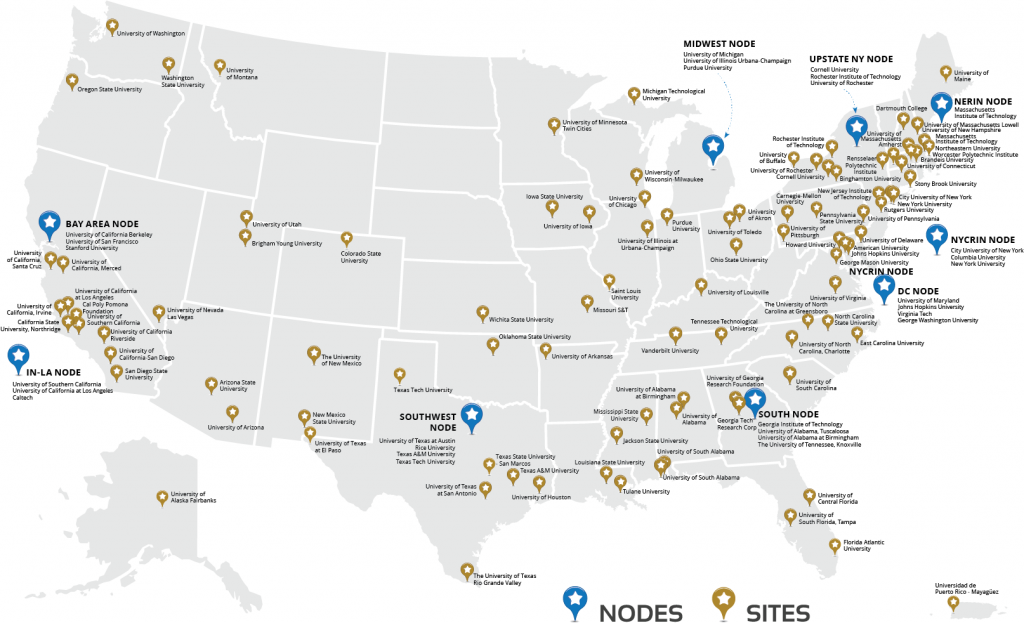 I-Corps™ Nodes teach I-Corps™ Teams entrepreneurship with an experiential curriculum based on Lean LaunchPad. Nodes also support regional needs for innovation education, infrastructure, and research.
I-Corps South Node (SOUTH)
Georgia Tech, University of Alabama Tuscaloosa, University of Alabama Birmingham, University of Tennessee Knoxville
Midwest I-Corps Node (MWIN)
University of Michigan, University of Illinois at Urbana-Champaign, Purdue University
DC/MD/VA Regional I-Corps Node (DMV)
University of Maryland, George Washington University, Johns Hopkins University, Virginia Polytechnic Institute and State University
Southwest Innovation Corps (SWICORPS)
University of Texas Austin, Rice University, Texas A&M, Texas Tech University
New York City Regional Innovation Node (NYCRIN)
City University of New York (CUNY), New York University, Columbia University
Bay Area Regional I-Corps Node (BA)
University of California-Berkeley, University of California-San Francisco, Stanford
Innovation Node-Los Angeles (IN-LA)
University of Southern California, University of California at Los Angeles, California Institute of Technology
UNY I-Corps Node (UNY)
Cornell University, Rochester Institute of Technology, University of Rochester
New England Regional Innovation Node (NE I-Corps)
Massachusetts Institute of Technology
---
I-Corps™ Sites catalyze and nurture the formation of I-Corps™ Teams. Sites also support regional needs for innovation infrastructure, advice, resources, networking opportunities, and training.
Alabama
University of South Alabama
Alaska
University of Alaska Fairbanks
Arizona
Arkansas
California
Cal Poly Pomona Foundation
Colorado
Colorado State University
Connecticut
Delaware
District of Columbia
Florida
Florida Atlantic University
Georgia
Hawaii
Idaho
Illinois
Indiana
Iowa
Kansas
Kentucky
Louisiana
Maine
Maryland
Massachusetts
University of Massachusetts Amherst
Worcester Polytechnic Institute
Michigan
Minnesota
Mississippi
Missouri
Montana
Nebraska
Nevada
New Hampshire
New Jersey
Rutgers University New Brunswick
New Mexico
New York
City University of New York

SUNY Binghamton
SUNY Buffalo
SUNY at Stony Brook
North Carolina
North Carolina State University
North Dakota
Ohio
Oklahoma
Oregon
Pennsylvania
Puerto Rico
Universidad de Puerto Rico – Mayagüez
Rhode Island
South Carolina
University of South Carolina – Columbia
South Dakota
Tennessee
Texas
Texas Tech University
Texas State University – San Marcos
University of Texas – Rio Grande Valley
University of Texas at El Paso
Utah
Vermont
Virginia
Washington
West Virginia
Wisconsin
Wyoming