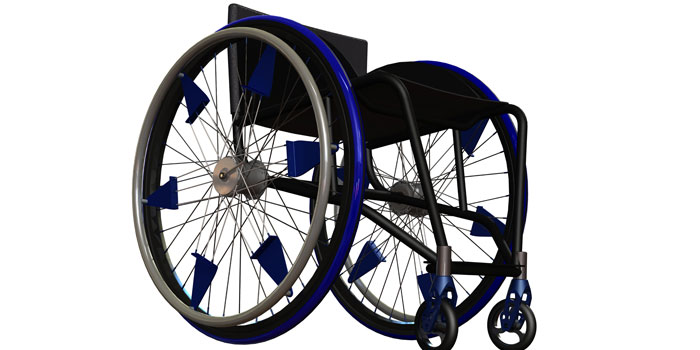 On a beautiful fall morning at the University of Illinois at Champaign/Urbana, Scott Daigle, an undergraduate student in mechanical engineering, was watching from his dorm room as the campus came to life. Looking across the quadrangle, he noticed that everyone seemed to be making their way with ease, running to class, roller-blading, bicycling—everyone except for the occasional student in a wheelchair who was laboring awkwardly.
If a two-wheeled bicycle can have gears to ease the effort, he thought, why not a wheelchair? The company that would come to be known as Intelliwheels was born.
Daigle went to work on developing a cyclic data transmission (CDT) system, similar to an automobile transmission, for wheelchairs. In a wheelchair engineering class, he met Marissa Siebel, a PhD student in kinesiology. He told her about his idea, and Siebel became his partner.
The two took entrepreneurship classes and realized they needed to raise money. Intelliwheels entered the university's Kogod business startup competition and came in second. One of the prizes was a free trip to one of VentureWell's three-day entrepreneurship "bootcamp" seminars. It was the beginning of a relationship between Intelliwheels and VentureWell that would continue throughout the company's early development.
At the boot camp, "every activity ended up being tremendously valuable for us," Siebel said. "We were at it for three days straight, 8 am to 6 pm, and it seemed that they had thought of everything. They not only provided mentorship but as much coffee, snacks, and food as we needed so we didn't have to do anything but think about our company," she said.
At the boot camp, Daigle and Siebel came to realize just how complex the healthcare industry and durable healthcare market is, requiring a much more nuanced business plan than they originally conceived.
"It was a 'Eureka' moment," Siebel said. "We thought, 'Wow, we have a huge learning curve. We can't go one foot in front of the other like we'd hoped. We need a real game plan for this startup.' It was the first time anyone encouraged us to expand our vision to the complete life cycle of the company and the product—through manufacturing, sales distribution— to what we needed to overcome to reach our goals."
Intelliwheels joined the E-Team cohort in 2011 and won a $20,000 grant followed soon after with $30,000 from the MIT/Lemelson business competition. They pooled the funds to build a small fleet of prototypes.
They took the prototypes to nursing homes, veterans' centers, and trade shows to get valuable feedback from users. "Without that funding from VentureWell, we would not have been able to get out there and meet with potential customers and dealers. The funding went directly to the prototypes and allowed us to take the next very important step for the company," she said.
The relationship with VentureWell continued to grow. In 2012, the organization's investment division contributed to Intelliwheels' Series A funding round, joining angel investors and venture capitalist funds that ultimately net the company $500,000. The same week, a $164,000 SBIR grant from the National Institutes of Health came in.
In May 2013, VentureWell picked Intelliwheels to participate in the Open Minds conference in San Francisco. Siebel noted that at Open Minds it was refreshing for a change to be part of a cohort, not a competition.
"The other companies and students that we met there really did bring this feeling of camaraderie. Now we follow each other on LinkedIn and Facebook. Now, every time we see another company take the next step, it feels great. We cheer each other on. It's really cool to see," Siebel said.
Today, Intelliwheels is on a roll, so to speak, flush with cash and working towards their goal of becoming a marketable medical device. In August, Intelliwheels was awarded a $1.5 million Stage 2 SBIR grant from NIH and the company has hired two additional engineers.
"We've gone from a true student startup company to getting significant grant funding, hiring employees, and now working on developing our geared wheel for wheelchairs and also other products for the disability world," Siebel said.
Intelliwheels is in the middle of a pilot sales program to refine their product price point and have had meetings with some of the top manufacturers in the durable medical equipment industry.
"The idea that we as a five person company that started as a student startup can meet with purchasing officers for big companies feels really good, that people in our industry are aware of us and our products and we are getting great feedback as we develop products," Seibel said.