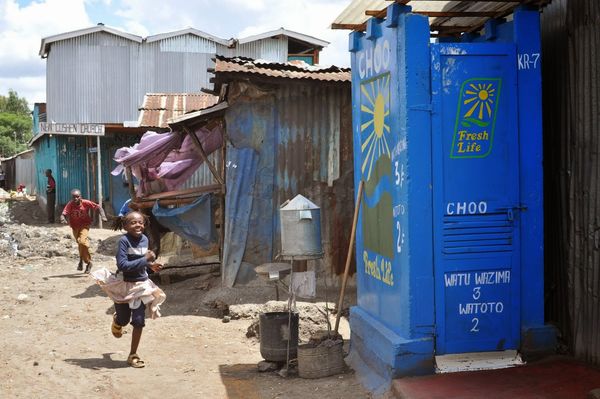 Let's say you have an idea. You think it's clean tech, and it's going to improve lives around the world. Now step back for a moment: is it really clean? What are the environmental impacts of the innovation? What materials are used in production? What happens when the product is disposed of?
VentureWell has produced a series of videos highlighting products that have been designed with genuine sustainability in mind. The series, called Inventing Green, tells the stories of four VentureWell-supported inventors that formed successful companies. Each product reduces the waste it engineers—even when reducing waste isn't the foremost goal.
Sanergy: improving health, reducing waste
Sanergy aims to provide access to hygienic sanitation to the eight million residents of Kenya's growing slums. Sanitation-related diseases kill millions of children every year, and food and water supplies are contaminated by contact with human waste, which is often disposed of in streets, waterways, and fields.
Sanergy's Fresh Life Toilets are installed in the community, residential areas, and institutions like schools and clinics. Hygiene is paramount, and the toilets include basic necessities like toilet paper and hand washing stations. Moreover, the toilets are made of materials that can be easily cleaned, and waste, which is contained in a removable cartridge, is collected daily. Sanergy offers franchise opportunities to local residents, particularly women, who charge market price for this cleaner and more accessible alternative to traditional pit toilets.
There's one more step Sanergy takes that makes its product truly clean, however. The collected waste is transported to a centralized facility, treated, and transformed into organic fertilizer, renewable energy, and animal feed (made by Black Soldier Fly larvae consuming the organic waste). The fertilizer and animal feed can replace synthetic fertilizer imported at high costs into East Africa, as well as low quality, unsustainably produced fishmeal protein in animal feed. Organic fertilizer minimizes levels of chemicals and hard metals that come into contact with produce and the introduction of larvae-based protein is a sustainable model for animal feed.
So, while Sanergy is improving human hygiene and health with its Fresh Life Toilets, its transformation of the waste into sustainable, organic products is what makes the business truly "green".
The company received a VentureWell E-Team Program grant to help them create their first prototype toilets and won the 2014 Grinnell Prize for Social Justice. Today, there are over 700 Fresh Life Toilets in operation serving 30,000 people a day.
About the author
Cameron Hill is a marketing intern at VentureWell pursuing a double major in English and the History of Science at Yale University. She writes for the Science and Technology desk at Yale's daily newspaper. This is her first foray into the world of nonprofit work.