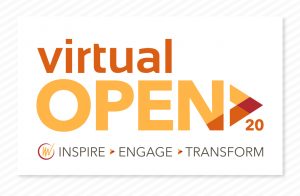 As a community of innovators, we're truly living innovation—one of our core values at VentureWell—by transforming OPEN 2020 into a live, virtual event.
Each year, VentureWell looks forward to bringing together representatives from across the innovation and entrepreneurship spectrum to share stories, start new collaborations, and learn emerging best practices in the field of technology entrepreneurship education at our annual OPEN conference. Rather than let the recent and rapidly changing situation regarding COVID-19 limit those collaborations and learning outcomes, we are shifting to offer an inclusive convening that is 100% online.
While we are disappointed that we won't be able to meet in person this year, piloting this conference as a virtual convening is an excellent way for our community to share their research and learnings with one another and help move the field of I&E education forward. VentureWell staff have been working hard for months to make OPEN 2020 a compelling, interactive, and successful event for our community. View the updated virtual conference schedule here.
Thank you to our generous sponsors!