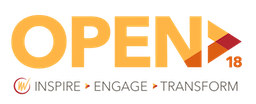 When and where is the conference taking place?
OPEN 2018 will take place March 22-24, 2018 in Austin, Texas. Visit the OPEN 2018 venue page for more information.
What are the OPEN 2018 registration rates?
Visit our registration page for rate information. (Coming soon.)
Is there an attendee list for OPEN 2018?
Yes! You will have access to the attendee list after you've registered for the conference. To access the list:

– Log into your communities profile: (https://community.venturewell.org/VWRedirect?target=events)
– Click View/modify registration for OPEN 2018.
– You will be redirected to a new page in CVent.
– Navigate to the Attendees page in CVent.
When will the program schedule be available?
The OPEN 2018 program schedule will be available by the end of November.
How do I receive the student discount?
Register for the conference as usual, then once you are on the "Submit Payment" page of the registration process, enter "Student" for the discount code and select apply.
Can I get a single invoice for all of the registrants from my university/organization?
Yes! If you need a group invoice, please contact our Finance Department at finance@venturewell.org.
How do I cancel my registration?
To cancel your registration, log into the VentureWell Community here and navigate to the View/Modify Registration page. Click on the Cancel Registration button at the top of the page. Please note that refunds are available for cancellations made through February 24, 2018 and are subject to a $100 processing fee. No refunds are available after February 24.
What's the dress code?
The dress code for the conference is business casual. But make sure to check out the Austin weather before you pack!
What meals are included at the conference?
More details coming soon.
What is OPEN Minds?
OPEN Minds is a showcase of some of our recent E-Teams—student teams from schools around the country working on commercializing new technologies. The exhibition is an opportunity for the teams to demonstrate their innovations and receive feedback, all in a fun and festive atmosphere. Watch a PBS NewsHour video of our 2016 OPEN Minds event.
Where is OPEN Minds being held?
The OPEN Minds event will take place at the Bullock Texas State History Museum, located at 1800 Congress Ave. in Austin.
Can I bring a guest to OPEN Minds?
Yes! You can purchase guest tickets for $100 each when you register for the conference.
For additional questions, please contact Tessa Doubleday, VentureWell Event Manager.