Poster Session & Reception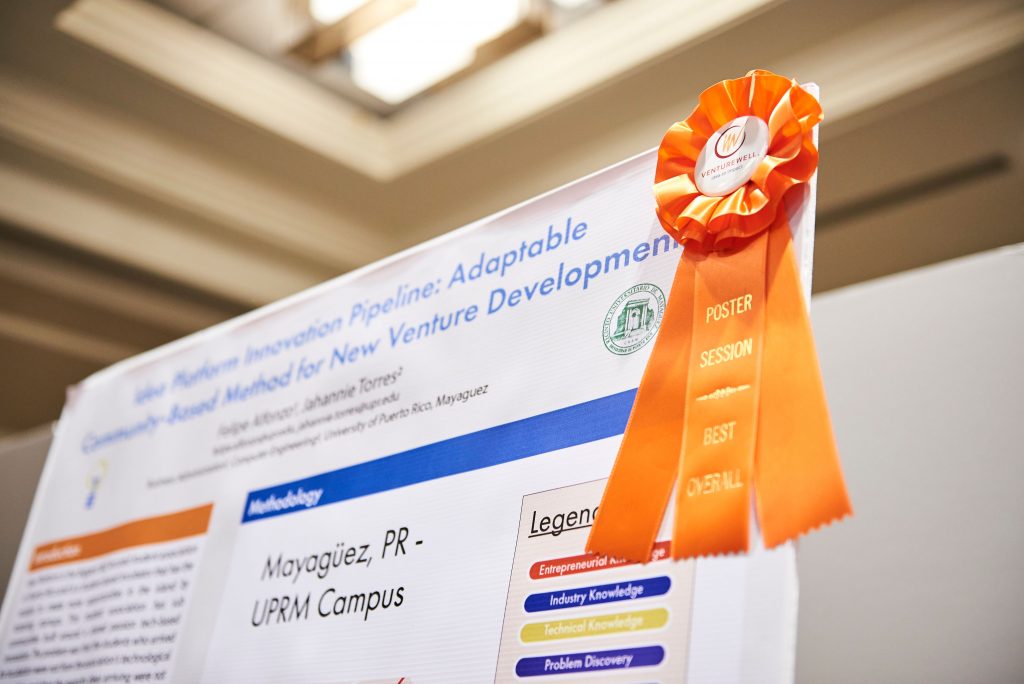 Our annual Poster Session and rReception provides a rare opportunity to have thoughtful, in-depth conversations with dozens of students and faculty about their projects. The session also allows presenters to gain valuable feedback on their idea, helping them fine tune their project.
Below is a list of the posters presented at OPEN 2019 n Washington, D.C.
Community Colleges as Incubators of Innovation (People's Choice Award Winner)
Andy Gold, Hillsborough Community College
Cultivating the Innovative Mindset in a University Community under The Canopy for Creative Collaboration @ the Lobo Rainforest
Nancy Lewis & Robert DelCampo, University of New Mexico-Main Campus
Get'em Early: High School Engagement for Creating a Diverse, Skilled, Robust Pipeline of STEM Student Entrepreneurs
Yesenia Gallardo, Portland State University
I Chose to Care: Understanding Characteristics and Mindset of Social Entrepreneurs
Jongho Park, Pennsylvania State University-Main Campus
Idea Platform Innovation Pipeline: Adaptable Community-Based Method for New Venture Development (Best Overall Award Winner)
Felipe Alfonzo & Jahannie Torres Rodríguez, University of Puerto Rico-Mayaguez
Impact-Focused Technology Entrepreneurship: Where are the Men?
Allie Gleich, Lehigh University
Instilling Entrepreneurial Mindset within an Ecosystem
Sadan Kulturel-Konak, Pennsylvania State University-Penn State Berks
Lessons Learned from the Classroom: Pilot Program to Incorporate Design Thinking into a First-Year Combined Engineering and Business Course
Mary Raber, Michigan Technological University
Let's Go Full STEAM Ahead!
Sierra Bonn, Wichita State University
Mindset Matters
Levi Lowe & Austin Nordyke, Wichita State University
One Thing Leads to Another: The Birth of the Toolkit
Maritza Soto, University of Puerto Rico-Mayaguez

Radical Innovation: Invent Problems Worth Solving!
Iain Kerr, Montclair State University

Rethinking and Rebuilding Our Foundations of Innovation
Karen Burg, University of Georgia
Scaffolding Experiences; Leapfrogging Students
Khanjan Mehta, Lehigh University
Software-based Invention Disclosure: Educational Training Results in Significant Increase in Quality of Information for Patent Applications
Molly Kramer & Eric Leininger, Patent Dive
STEM Innovation & Entrepreneurship: Bridging the Gap from K12 to Higher Education
Julie Messing, Kent State University-Kent Campus
Strategies to Increase Diversity and Inclusion in I&E Ecosystems
Justin Henriques, James Madison University
Striving for Ideality: Using TRIZ to Solve Entrepreneurial Problem
Marsha Timmerman, Lehigh University
The Influence of the Integration of an Entrepreneurial Mindset through Co-Teaching on Students' Design Problem-Framing
Eunhye Kim, Purdue University-Main Campus
Transform Your Students into Vigilante Innovators
Christina Marasco, Vanderbilt University
User Innovation: From Pains to Gains, From Passion to Mindset
Bahram Roughani, Loyola University Maryland