the premier innovation and entrepreneurship education conference
OPEN brings together members of the higher education innovation and entrepreneurship (I&E) field to share experiences and research, learn best practices, and forge dynamic new relationships. This year, our welcoming community will convene online to discuss the tools, trends, and new strategies that will collectively move I&E education forward and prepare early-stage entrepreneurs for an ever-changing world. View the full schedule of sessions and events here!
Registration is now OPEN!
Learn more about OPEN 2022:
OPEN offers content on the most pressing issues in I&E education today. During highly interactive and immersive sessions, you'll gain effective new practices to apply to your class or program and collaborate meaningfully with fellow attendees—faculty, practitioners, and funders. We'll explore proven and promising practices for:
Research-based practices for teaching i&E in the classroom and beyond
Approaches to ensure all potential entrepreneurs feel included and supported
Leveraging partnerships and policy to grow your I&E ecosystem
Proven practices for integrating social and environmental sustainability into the curriculum
Foundational sessions for those just getting started in teaching I&E

In addition to compelling sessions, we'll host a mix of networking opportunities that range from content-rich and topically-focused to fun and informal. Special events like the interactive poster session and OPENminds Showcase give attendees the opportunity to connect with fellow attendees or student teams and breakout sessions are designed to maximize discussion and interaction.
Please check back frequently for updates, and sign up here to be the first to receive exciting OPEN news and alerts!
OPEN 2022 Registration
Clicking the "Register Now" button will take you to the VentureWell Communities portal to start your registration process. If you have not logged into Communities previously, you will be prompted to create an account before proceeding to the registration page.
Conference Passes
In an effort to make OPEN accessible to as wide an audience as possible, we are offering three registration options in 2022:
The OPEN Pass $100 $50 before Feb 1
The OPEN Pass allows you to access all OPEN 2022 sessions, special showcase events, and networking opportunities for all three days of the conference. OPEN Pass holders will also have access to all session recordings and materials after the conference closes.
The Pay-It-Forward Pass $150
In addition to all the access that the OPEN Pass offers, the Pay-It-Forward Pass allows you to contribute a little extra to your registration fee to help us keep OPEN more affordable for faculty and students.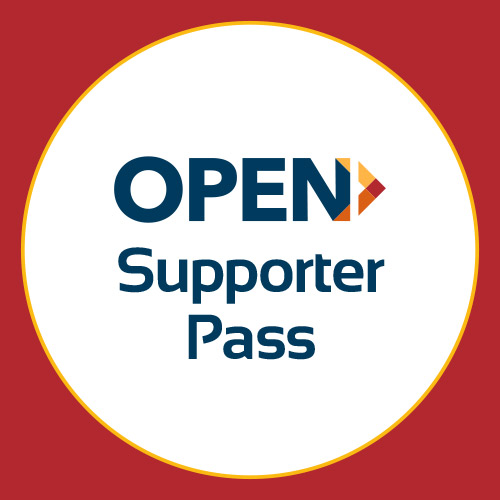 The Supporter Pass $300
Like the Pay-it-Forward Pass, the Supporter Pass allows you to contribute an additional dollar amount to your registration fee to help support the attendance of student innovators and faculty. Those who register at the Supporter level will be recognized on our conference website as a supporter of the VentureWell commitment to broadening participation in STEM innovation and entrepreneurship.
Payment Options
You may pay by credit card or request to be invoiced during the registration process. To pay by check or ACH transfer, select "Invoice Me" as the payment method during registration.
Cancellation Policy
You may cancel your registration at any time. Registration fees are non-refundable, except for those who select the Supporter Pass. Supporter-level registrants may request a refund up to 30 days prior to the start of OPEN 2022, and your refund will be processed minus a $75 cancellation fee.
Need Support in Attending OPEN?
We are committed to increasing accessibility to the OPEN conference. Please take a moment to fill out this scholarship application and a team member will contact you with more information about registering. Scholarship applications are due on Friday, January 28.
Interesting in sponsoring OPEN 2022?
As an OPEN 2022 sponsor, you'll engage with a driven, dynamic, and diverse group of educators and leaders who are fostering the next generation of inventors, innovators, and entrepreneurs! Learn more on our Sponsorship page and reach out to us to build a package that is tailored to your needs!