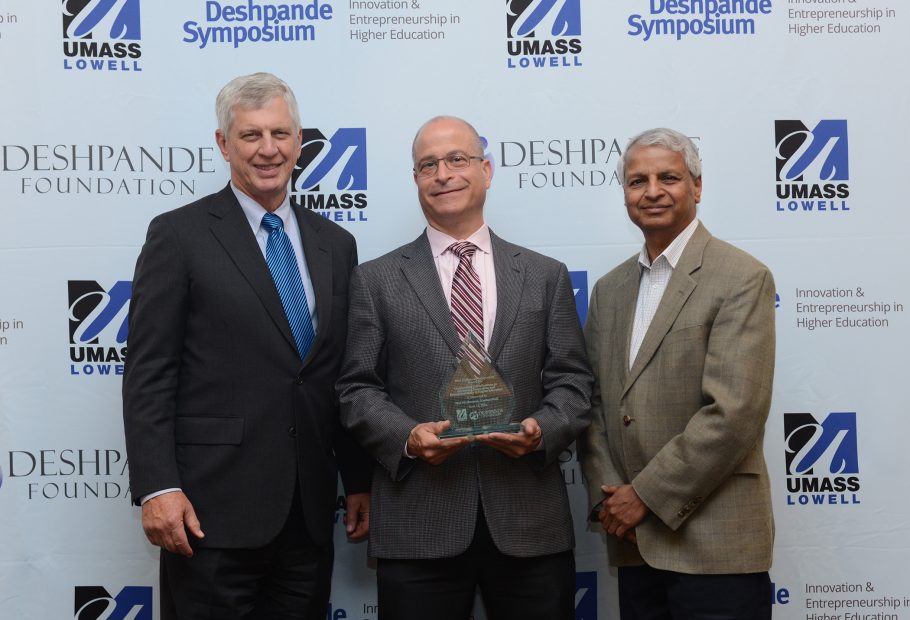 VentureWell President Phil Weilerstein received the Deshpande Symposium's Outstanding Contributions to Advancing Innovation and Entrepreneurship in Higher Education Award at a ceremony held last week in Lowell, Mass.
According to the Deshpande Symposium's awards committee, Phil "is known for leadership activities, service, and contributions to advancing the field of entrepreneurship in higher education."
The Deshpande Symposium on Innovation and Entrepreneurship in Higher Education brought together more than 300 university researchers, administrators and students with industry partners and leaders of venture incubators and foundations last week at the UMass Lowell Inn & Conference Center. Participants in the fifth annual event—founded by UMass Lowell and the Deshpande Foundation—shared best practices, successes and challenges in implementing entrepreneurial education and action into all aspects of campus life. Individuals, colleges and universities that are at the vanguard of promoting entrepreneurship were recognized for their accomplishments with awards during the conference.
VentureWell—led by Phil from the beginning—has spent the last twenty years helping to weave entrepreneurship into the fabric of higher education through grants, training, workshops and more for both faculty and students. According to the awards committee, Phil was recognized for "his leadership in encouraging hundreds of students and faculty at more than 160 campuses nationwide to experiment and innovate."
Capping the Deshpande Symposium was a session on the future role of higher education in promoting entrepreneurship that included entrepreneur Gururaj "Desh" Deshpande, who has founded and grown several companies. He is president and chairman of the Sparta Group LLC and trustee of the foundation that bears his name.
During the panel, Phil made the point that VentureWell's job is to "work with universities like UMass Lowell and foundations like Deshpande as partners; our role is to enable action and share information. We share a pipeline of people and ideas and a common goal of advancing innovation and entrepreneurship."