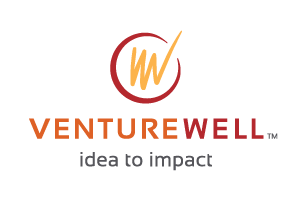 NCIIA is Now VentureWell! It is with great pride and excitement that we announce our new name: VentureWell. Our new tagline: Idea to Impact.
Why change now?
To prepare for the path ahead. For nearly twenty years, we've been on a mission to launch new game-changing ventures from an emerging generation of young scientists and engineers driven to improve life for people and the planet.
We are as committed as ever to continuing our mission to support higher education as an engine for training student inventors and innovators in entrepreneurship while fostering the creation of new technologies and early stage commercialization.
Our community is expanding and becoming rapidly more globalized, reaching into most every corner of the world and in most every field of science and technology. With input from our stakeholders, we've taken on our new name, VentureWell, which reflects our expanding scope and the forward momentum of a journey of discovery. VentureWell signals that we are creating impact and supporting invention and innovation to make the world a better place.
Our support for faculty and students to cultivate revolutionary ideas and promising inventions across our higher education network will continue at colleges and universities. We will continue to refine our models and pursue new ones to support and accelerate science and technology innovators as they emerge from research labs, classrooms and dorm rooms.
From the beginning, The Lemelson Foundation has generously supported our efforts to inspire generations of inventive thinkers and doers to emerge from universities prepared to push the boundaries of science and technology. Together our work has given rise to creative companies such as Ecovative Design and Sanergy— recognized as some of the most innovative and environmentally-friendly in the world.
Leading institutions, from foundations to government agencies to major businesses, have joined in partnership to build effective models for training and launching a new generation of scientists and engineers that will change the world. The National Science Foundation, Bill and Melinda Gates Foundation, Intel and USAID are among those whose support is expanding the reach of our work.
VentureWell conveys our momentum so far and our potential. We extend an invitation to all of you–our widening community of students, educators, entrepreneurs, partners and investors–to join us on the promising journey ahead.
Take some time on the VentureWell website, watch videos of our successful grantees and hear what others have to say about our new name.
We are approaching our third decade and we're just getting started.
Sincerely,
Phil Weilerstein
President and CEO
VentureWell