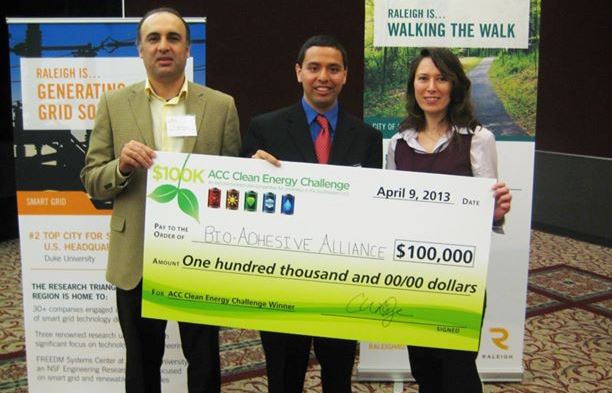 Americans' love for pork products is producing some unintended consequences.
Hog farms produce 6 billion gallons of swine manure annually, overwhelming sewage systems, contaminating groundwater and spreading disease. But research at North Carolina A&T University supported by the National Science Foundation (NSF) and VentureWell's I-Corps™ program has found a profitable solution to the pollution and revolutionized the adhesives industry in the process.
From 2008 to 2012, Dr. Elham Fini, a civil engineering professor at the university, has developed a patent-pending process to break down complex chemicals contained in manure and re-combine them into adhesives with support from the NSF.
The product, called PiGrid, costs 75 percent less than petroleum-based adhesives to produce. Tests have shown it to be more resistant to the cracking that affects traditional petroleum-based paving adhesives and it can be applied to surfaces at lower temperatures, reducing fuel consumption and emissions by up to 60 percent.
Market research also has shown PiGrid to have lucrative applications in bookbinding, flooring, packaging, roofing and crack sealants as well.
Above all, it has the potential to provide a profitable environmental solution for hog farmers and local governments looking to dispose of pig waste. The Bio-Adhesive alliance estimates that if the 88 million barrels of pig waste generated annually were converted to adhesives, it would generate up to 28 million tons of adhesives worth $128 billion.
In 2012, Fini got an email from the NSF calling for applicants to the I-Corps™ program. She teamed up with Dr. Mahour Parast, a colleague and entrepreneurial mentor, and was accepted into the 2012 I-Corps™ cohort.
Parast credited I-Corps™' customer discovery process with introducing the team to the lucrative adhesives market beyond asphalt paving.
"Fini is an expert in asphalt, but when we discussed the asphalt production process, we realized what we were talking about was really just glue," Parast said. "We realized we needed to explore other markets with higher profit margins." While researching the supply chain for highway construction, they learned that paving would pay $3 per gallon for PiGrid, while carpet companies told them their product could be worth as much as $60 per gallon in their industry if it can meet certain standards.
Grants and awards have to date netted Bio-Adhesive Alliance more than $500K, and Parast said that they have received licensing offers from European companies and pre-buy orders from U.S. customers pending successful operation of a pilot production plant, now in a planning phase in North Carolina and targeted for operation in 2015.
Parast credits I-Corps™ above all with creating a structure around the entrepreneurial process making it more accessible to scientists and engineers.
"Scientists and engineers want to see sequence of things to do, they want to see a pattern," he said. "Innovation is messy. I give credit to I-Corps™ that they give structure to the entrepreneurship process. If scientists and engineers don't see a structure, they can't connect their ideas. Teaching innovation to engineers and scientists is quite an achievement."