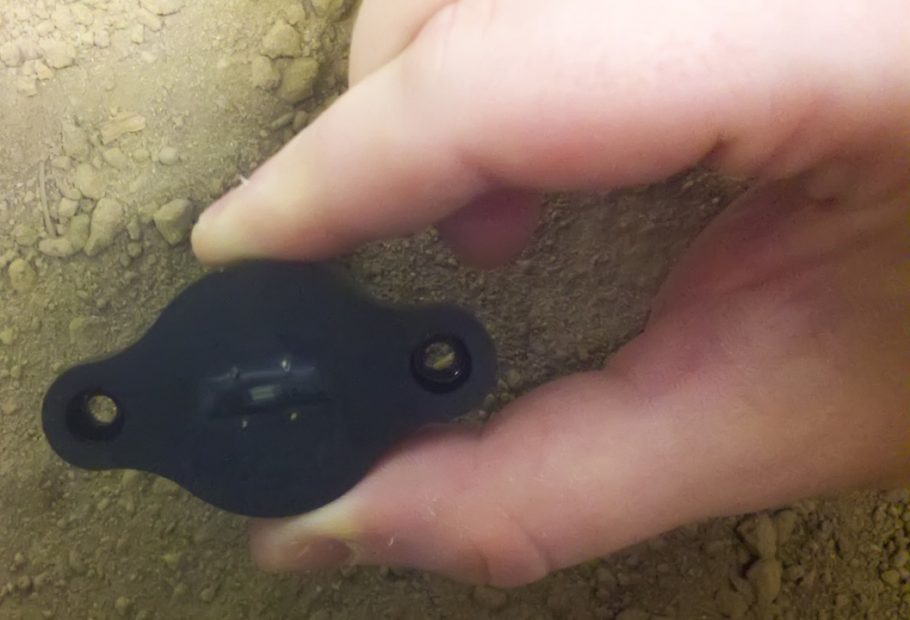 As Calden Carroll was finishing his Ph.D. in chemistry at the University of Oregon in 2012, he began to have serious doubts.
"I wasn't entirely sure I wanted to go into academia," Carroll said. Although passionate about his work developing molecular imaging agents, "I didn't want to write grants for the rest of my life. I wanted to broaden my skill set more, to find jobs where I wanted to live, rather than being forced to move for the job," he said.
Then I-Corps™ came into the picture.
He thought his research might have commercial use monitoring nitrate levels in soil, crucial to ensure that farmers were giving their crops adequate fertilizer, but not over-feeding them, wasting resources, and polluting waterways with nitrogen runoff.
Carroll mentioned the idea to his mentors, chemists Michael Haley and Darren Johnson. Both signed on. All three admittedly had some trepidation at the outset. Carroll was a graduate student and Haley and Johnson were academics with little knowledge of the business world or intellectual property issues.
The team was accepted to I-Corps™' 2012 cohort at Stanford University. Carroll delayed graduation, Johnson took a sabbatical, and the pair headed to Stanford for the multi-week program while Haley stayed behind in Oregon.
Almost immediately, I-Corps™ reaped dividends for the team. The initial grant gave Carroll nine months of funding to attend I-Corps™ training and develop business contacts to build up the company.
"We had some idea of going into precision agriculture, but knew nothing about agriculture or soil science," Carroll said. "At Stanford, we met lots of people in biotech. We went to labs to see if anyone was interested in our idea."
I-Corps™ contacts were crucial.
"[I-Corps™ instructor] Steve Blank put us in touch with a friend who has a startup company around soil and moisture monitoring. Others put us in touch with Blue River robotics. We got really good pointers. The I-Corps™ network played an important role in helping us be successful from the beginning," Carroll said. Even former Pixar executives came in to help teams produce videos for their final presentations.
The intensive coursework and practice in entrepreneurship and management was crucial in transforming the company from an academic project into a business with real-world value.
"I-Corps™ stressed experiential learning," Carroll said. "You need to figure out the market size, what market segment fits you, who the other players are. Now I sound like I know what I'm talking about, but at first I really had no idea. It was a learning process just to speak the language. It was a process of trial and error."
"They can't teach an entire MBA in ten weeks, but I-Corps™ did a great job highlighting what is important for tech start up. They really push you to refine your business model canvas," Johnson added. "It was quite a transformative experience for our team. I've publicized it to other student and postdoc teams over the last few years."
Johnson said ever since I-Corps™, SupraSensor and its real-time nitrogen soil monitor has been on a big trajectory. SupraSensor won Best in Show in the 2012 cohort at Stanford. Two National Science Foundation Small Business Innovation Research Grants followed, as well as six-figure grants from the state of Oregon, reaching $1.3 million in total. Feelers are now out to angel and venture capital investors as SupraSensor seeks to expand further.
Haley noted that the recent crisis with the Toledo, Ohio, water supply demonstrates the value of their idea.
"Today you can't drink the water in Toledo, Ohio, due to algae blooms. Why is that? There's too much nitrogen in the soil that ultimately ends up in drinking water sources. You need to have something that tells the farmer 'I am putting on the right amount of fertilizer and I can stop now,' or the reverse, that there's not enough," he said. "If something can inform the farmer with this information in real time, not involving sending a sample to a lab and getting results ten days later, then that's really valuable."