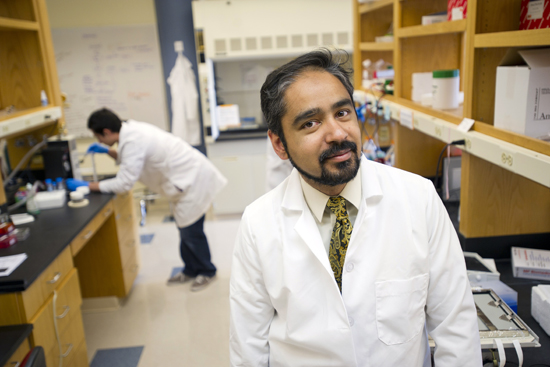 The top ten causes of death in developing countries take an estimated 5.25 million lives each year. Many of these deaths caused by illness or disease are preventable.
One problem is that 30-50 percent of pharmaceuticals available in the developing world are either counterfeit or sub-standard. Counterfeit drugs often contain none of the essential active ingredient. Pharmaceutical industries are often unregulated in developing countries, with most drugs sold over the counter without prescriptions.
In 2011, Dr. Muhammed Zaman, a Biomedical Engineering Professor at Boston University, was contacted by the U.S. Pharmacopeia Convention, the organization that sets standards for pharmaceutical safety and quality, and asked to study the problem.
Zaman, a native of Pakistan, was already well aware of the problems caused by counterfeit drugs, and the 2012 Pakistani health crisis in which counterfeit drugs claimed hundreds of lives in Lahore further solidified his interest.
"I have a background in chemistry and bioengineering, so this was right up my alley," he said.
What he came up with was a portable device in which a liquid or pill for testing is placed in a vial and dissolved in a fluorescent solution that specifically targets the drug's active ingredient. The solution changes color based on the amount of ingredient it detects.
The product looked promising. Existing technologies for drug testing were either too expensive, too bulky or cumbersome, or too imprecise. "Our technology aims to address all of these concerns of cost, size, usability and performance," Zaman said.
Zaman first heard about the E-Team program while attending a lecture given by VentureWell's Senior Program Officer Jennifer Keller Jackson. Impressed, he decided to enter the U.S. Agency for International Development's Saving Lives at Birth grand challenge and went through the E-Team training program.
He said E-Team support was crucial at the very early stage of his product's development. "They go for big ideas, transformative solutions that have not yet been tested but hold tremendous promise," Zaman said. "Their support was not only critical in early stages but also allowed us to network with key groups, from patent lawyers to business professionals to technology developers who played a central role in our development."
E-Team training also got PharmaCheck to develop a more thorough business plan for the global healthcare market. "Thinking hard about the key customers is what made all the difference. We did interviews and surveys of customers," Zaman said.
The company developed a two-part plan. The first part, targeting individual organizations and governments, provides quick testing of drugs at any point on the supply chain. "So the value comes not only in knowing what is bad, but also where in the supply chain are things problematic," Zaman said. "We essentially give a 'map' of the problem."
The second part, for pharmacies and hospitals, generates revenue from routine testing of important drugs that are known to be regular targets of counterfeiters.
The plan has paid off. In December 2013, PharmaCheck was recognized as a "World Changing Idea" by Scientific American and in August 2014, they were awarded a $2 million grant from Saving Lives at Birth to support additional prototypes and testing. PharmaCheck ran its first pilot study at the Center for Pharmaceutical Advancement and Training in Accra, Ghana. The study sought to test samples of the antimalarial drug artesunate collected from local sources. Initial results from the pilot test were highly positive, and plans are underway to expand testing to other drugs and also to conduct testing in rural parts of the country before expanding work in neighboring nations.
Zaman said his team is incorporating ideas and comments from the field into the next version of PharmaCheck and will conduct second round of testing in both urban and rural areas later this year.
Zaman said that reflecting on his experience, he would urge future entrepreneurs to familiarize themselves with the culture where they hope to operate. "We often fail because we do not know the socio-cultural context of the users or are not interested in that," he said.
Entrepreneurs should also give customers access to early product prototypes and carefully consider their feedback. "Think of your first customers as your partners, not just customers," he said.