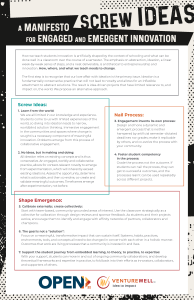 Authors: Dr. Soyoung Kang, University of Washington-Seattle Campus | Prof. Iain Kerr; Prof. Jason Frasca, Montclair State University | Prof. Khanjan Mehta, Lehigh University | Dr. Jose Lugo; Dr. Mari Luz Zapata Ramos, University of Puerto Rico-Mayaguez
How we teach students innovation is artificially shaped by the context of schooling and what can be done well in a classroom over the course of a semester. The emphasis on abstraction, ideation, a linear week-by-week series of steps, and a neat deliverable, is antithetical to entrepreneurship and innovation. How, where, and what we teach needs to change.
The first step is to recognize that our love affair with ideation is the primary issue. Ideation is a fundamentally conservative practice that will not lead to novelty and allows for an inflexible attachment to abstract solutions. The result is idea-driven projects that have limited relevance to, and impact on, the world. We propose an alternative approach.