We awarded 21 student teams $195k in our Spring 2019 cohort of the E-Team Student Grant Program.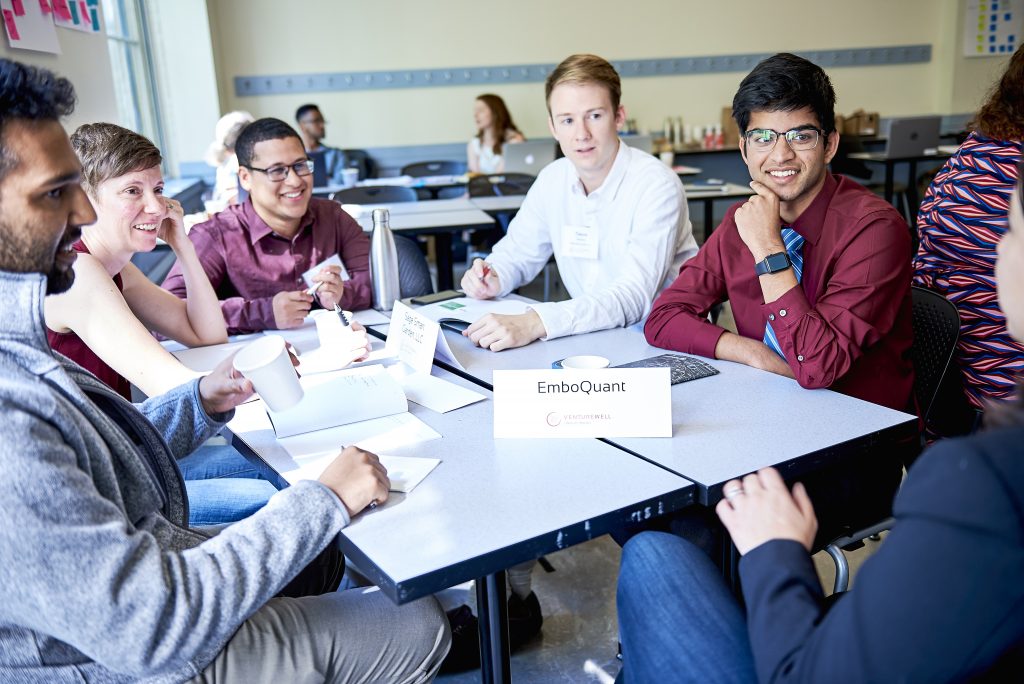 VentureWell E-Teams receive grants of up to $25,000 and get training through our early-stage innovator training program. The training provides peer networking, expert coaching, national recognition, and hands-on workshops to move their innovations forward.
The Spring 2019 cohort includes 15 teams that are each receiving a $5,000 Stage 1 grant, and six teams that are receiving a $20,000 Stage 2 grant. These teams will attend three-day workshops in Boston; Stage 1 E-Teams will focus on discovering the best market for their inventions, and Stage 2 E-Teams will work to develop and validate their business models.
The 21 new grantees include:
Kijenzi (Pennsylvania State University-Main Campus) – Kijenzi is developing a 3D printing system that enables localized manufacturing of medical equipment replacement parts, non-invasive medical devices, and consumables using a web-based library of designs accessible to rural hospitals and clinics in emerging economies.
LVDT: Low Velocity Disc Turbine (Oregon State University) –  LVDT: Low Velocity Disc Turbine is developing an innovation that can capture wind energy at low-speed and turbulent wind conditions, converting maximum wind energy into usable electrical power.
Merciless Motors (New York University) – Merciless Motors has developed a new, improved electric motor to facilitate the world's transition to sustainable electrical energy.
Prenatal Hope (Wichita State University) – Prenatal Hope is developing a non-invasive pediatric diagnostic tool to test for fetal acidosis, reducing the number of unnecessary procedures and costly complications.
Tampro (Stanford University) – Tampro is developing a tampon made from an environmentally responsible blend of bamboo and cotton materials with a novel thread channel to provide higher absorbency and eliminate leakage.
View all of our newest E-Teams!
about our e-team grant program
The E-Team Grant Program targets students with an idea or invention that could potentially solve a real world, social need. Over the past 20 years, more than 700 grants have been given through VentureWell in order to help teams move ideas out of the lab and into the market. Learn more about our E-Team Grant Program here.