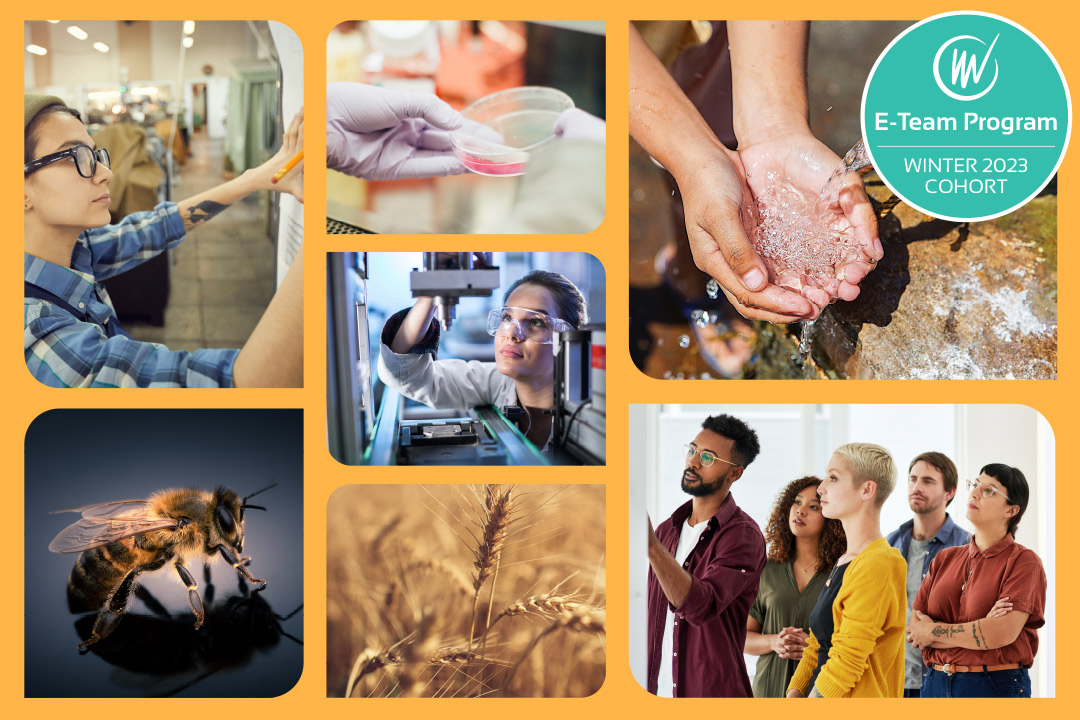 We're thrilled to announce the 31 early-stage student innovator teams that will be participating in our Winter 2023 E-Team Program! Through a rigorous review process, we selected the teams for this cohort for their compelling innovations that aim to make a positive impact in the social, health, or environmental sectors. Seventeen teams will receive a $5,000 Pioneer (Stage 1) grant and entrepreneurship training, while an additional 15 teams—three of which won the Verizon Forward for Good Challenge—will advance to Propel, the second stage of the program, which includes a grant award of $20,000 and the next phase of training with our early-stage innovator program team.
The teams in this cohort are working to solve large-scale challenges through their innovations. WAVED Medical, a team from the University of Maine, is developing image-based algorithm technology that identifies high-risk areas for patients who are more likely to get breast cancer. A team from the University of Massachusetts-Lowell, Green Fertilizer, developed a low-cost, solar-powered system that produces nitrogen fertilizer from just air and water.
Check out what they're working on right now:
Pioneer
Agriculture
The Food For Thought Foundation | American University
The Food For Thought Foundation is developing a space-saving vertical farm to provide nutritious food options for low-income communities.
Energy & Materials
PiezoCity-ThermoPEG | Oregon State University
PiezoCity-ThermoPEG is developing renewable technology that converts industrial heat waste into cost-efficient, sustainable electricity.
Environment
Carrot and Stick | Oregon State University
Carrot and Stick is developing a wax adhesive through a hot melting process in order to reuse a common plastic that was largely considered to be unrecyclable.
Healthcare/Medical
Adiona | University of Chicago
Adiona is developing an accessible app for smart devices that monitors dementia patients' patterns like their sleep cycles and fall risk, for improved care.
Auxilium | University of Akron Main Campus
Auxilium is developing a biological-based wound dressing material to absorb waste, eliminating the need for re-dressing multiple times, which can delay the healing process.
DOVE Labs | Drexel University
DOVE Labs is developing a wearable shoulder band device that can sense an opioid overdose and automatically inject the antidote naloxone to reverse it.
LowCostomy | Duke University
LowCostomy is developing an affordable, environmentally friendly colostomy appliance, using recycled materials, for patients in underserved communities.
MTology Innovations | Arizona State University
MTology Innovations is developing a reversible, minimally invasive male contraceptive as an alternative to vasectomies.
NanoMood | University of California-San Diego
NanoMood is developing wearable technology that monitors mental health symptoms through biological, physiological, and digital internal markers in order to support patient treatment at clinics.
Nepipen | The Cooper Union for the Advancement of Science and Art
Nepipen is developing a device that can automatically inject a double dose of epinephrine into users who are experiencing anaphylactic shock and require more than the standard dosage.
SPLiTO2 | University of Delaware
SPLiTO2 is developing a portable device that delivers oxygen without requiring electricity to run, ensuring its accessibility for patients in underresourced healthcare settings.
T33 | Massachusetts Institute of Technology
T33 is developing tools to deliver drugs directly into tooth enamel—which allows for a higher amount than topical applications—in order to improve patient oral health.
WAVED Medical | University of Maine
WAVED Medical is developing image-based algorithm technology to identify areas of high risk for patients who are more likely to develop breast cancer.
Information Technology & Communication
A Cubed Design | Ohio State University-Main Campus
A Cubed Design is developing a device that gamifies learning how to read and write Braille in order to boost literacy.
Cursor | Northern Kentucky University
Cursor is developing eye-tracking technology that can follow a gaze using a standard webcam, rather than the conventional hardware used in healthcare.
ParaWave | Ohio State University-Main Campus
ParaWave is developing drone technology that equips first responder teams with the ability to easily view and gather time-sensitive information from the air about emergency situations.
Propel
Agriculture
BEEnevolent | BEEnevolent Systems LLC
Pollinators are critical to the survival of many North American plants, yet domesticated honeybee populations are declining. BEEnevolent developed high-tech beehives that operate with minimal intervention and provide 1:1 support to apiarists to ensure a thriving colony.
Green Fertilizer | University of Massachusetts-Lowell
Due to climate change, there is an increasing need for fertilizer that lessens carbon dioxide emissions. Green Fertilizer developed a low-cost, solar-powered system that produces nitrogen fertilizer from just air and water.
Shinkei Systems | Wharton School, University of Pennsylvania
Fish caught in the U.S. are generally not harvested in a way that promotes shelf life and quality, with the result that bacteria ferments inside the meat. Shinkei Systems developed hands-free robotic automation on boats and farms to increase the efficiency of fish processing.
Healthcare/Medical
3D-OPS | University of California-Davis
Complicated fixation techniques are often needed to set hand fractures, resulting in bone instability, inflammation, and misalignment. 3D-OPS developed a technique to 3D-print artificial tissue which simulates spider silk for use in hand surgeries.
CloSure | Texas A&M University
Negative pressure wound therapy (NPWT) has been proven to significantly decrease healing time for large wounds; however, the current device on the market is very expensive. CloSure developed a portable, low-cost NPWT device that closes wounds using a vacuum to clear bacteria and fluids and stimulate growth of new tissue.
EnlighteN | Yale University
Delay in detecting opioid overdoses in individuals can result in death or irreversible health issues. EnlightN developed wearable software that monitors patients seeking substance use treatment in order to detect an overdose and alert medical first responders.
LaparoVision | Brigham Young University
Surgeons have to clean their scope lenses multiple times when performing incisions inside the abdomen and pelvis due to blood, fat, and other obstructions. LaparoVision developed a single-use cleaning device that attaches to the end of the scope and wipes the lens, eliminating contaminants during surgery.
PneuTech | Johns Hopkins University
A lung biopsy is an essential procedure in cancer diagnosis, but it can be difficult to navigate delicate tissue and collect samples. PneuTech developed a curved device that can minimize lung collapse and increase the volume of tissue collected due to its unique shape.
SteadyScrib | Northwestern University
People with Parkinson's disease experience tremors and muscle rigidity that can make using traditional pens and pencils difficult. SteadyScrib developed a magnetic pen and clipboard that stabilize movement from tremors and support improved grip with a curvy, weighted design.
Information Technology & Communication
EquiBraille | Arizona State University
Students who are visually impaired frequently rely on audio transcripts in the classroom, which can inhibit active learning. EquiBraille developed a 3D Braille device that provides students with real-time transcriptions and translations in less than 20 milliseconds.
Gabb Global | Gabb Global
In a traditional classroom setting, English Language Learners (ESL) encounter frequent challenges in making progress in their studies. Gabb Global developed a virtual reality program that offers ESL students immersive examples to help them quickly gain language skills.
Jubily | University of California-Berkeley
BIPOC and LGBTQIA+ patients often rely on word-of-mouth referrals for inclusive healthcare provider recommendations. Jubily developed a mobile app and website that connects people with culturally competent clinicians as well as online communities of support.
READI | READI Consulting, LLC
Many young workers who are unemployed or underemployed could benefit greatly from access to skill-building opportunities. READI developed a virtual reality platform that gives young adults entry-level workforce skills and certificate training.
Scholist App | University of Houston
Applying for scholarships can be overwhelming and prevent students from underserved communities from accessing the financial support they need to attend college. Scholist developed an app that streamlines the process through workshops, 1:1 coaching, and a platform that connects students with their peers.
Infrastructure/Building
EASEEbot | New York University
Current diagnostic testing for building issues can be destructive, costly, and time-consuming. EASEEbot developed a drone that safely and noninvasively auto-generates a 3D model using advanced computer vision and AI techniques to lower inspection costs, increase safety, and generate higher-quality reports.
Meet the Winter 2023 E-Team Partners and Sponsors
We're thankful to our partners that work with us to support these startups, including Qualcomm Incorporated, a leading wireless tech innovator; and The Lemelson Foundation, a nonprofit dedicated to supporting the power of invention to improve lives. Cooley LLP, an international law firm, is sponsoring the Pioneer program, and Verizon is sponsoring Propel.
In partnership with Whitaker International Program, we're also hosting two teams from the BME-IDEA International E-Team Grant Program. It's specifically designed to support collaborative projects between BME design students and international institutions in Africa or Latin America.
The E-Team Entrepreneurial Journey
All teams in the Winter 2023 cohort will receive intensive entrepreneurship training to support them as they advance their innovations. Pioneer teams will determine the best market for their invention, developing an understanding of possible pathways for their venture. These teams will articulate their value proposition, assessing the broader environment, landscape, and industry value chain. During Propel, teams will develop their business model hypotheses and plans to test them. They will build out their business model canvas, validating it through customer discovery interviews, and will work to establish their intellectual property portfolio. Everyone participating in our winter workshops will convene at the Microsoft New England Research and Development (NERD) Center in Cambridge, Massachusetts, in January 2023.
"These student-focused programs help entrepreneurial student inventors (E-Teams) explore what it means to launch a venture using technology for impact. We give students the tools to turn their ideas into business opportunities, while building a community of support from mentors to innovators," said E-Team Program Officer Sarah Wharmby.
About the E-Team Program
Through the E-Team Program, we have trained over 500 student teams and more than 1,400 student innovators. The teams have raised close to $740M+ in follow-on funding and have launched 400+ ventures since taking part in our program.
Learn more about VentureWell's E-Team Program, which supports student-led science- and engineering-based teams from across the nation in bringing their high-impact innovations out of the lab and into the market.