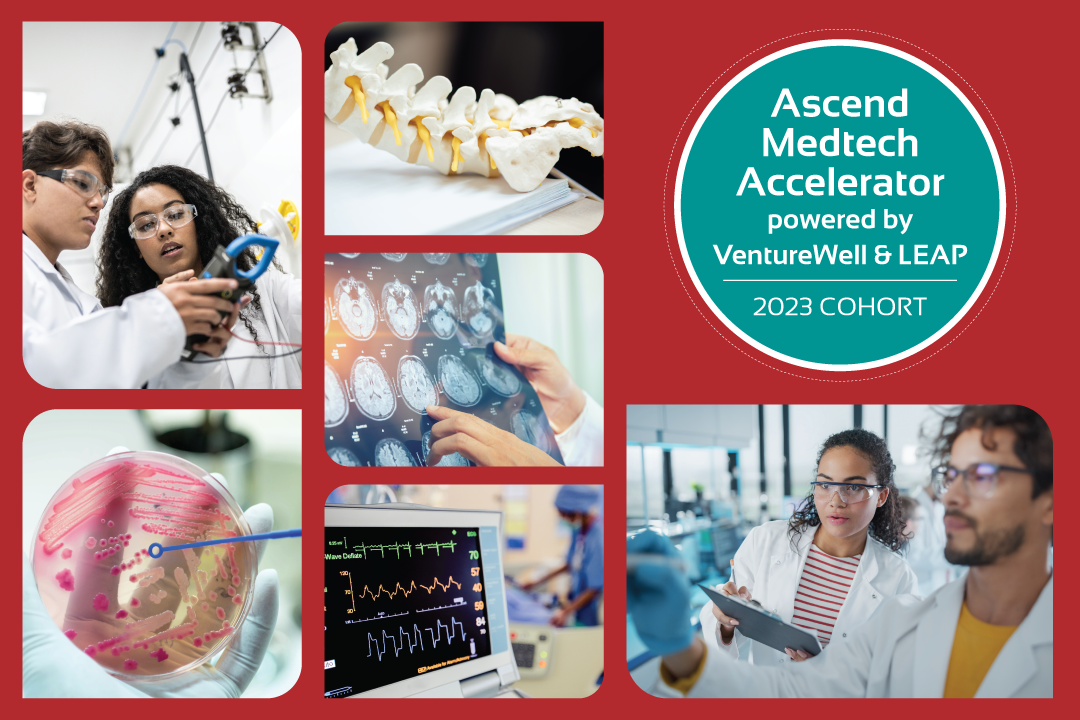 We are pleased to announce the 20 startups selected for the 2023 Ascend Medtech Accelerator, powered by VentureWell and LEAP. The program, designed to prepare startups for partnerships and investment, supports these companies in launching their high-impact medical device, diagnostic, or software. Across 12 weeks, teams will learn directly from expert entrepreneurs- and mentors-in-residence—including practicing physicians, nurses, and hospital administrators from multiple hospitals and health systems—about what it takes to adopt innovation into a clinical setting. The hybrid program will kick off in person in Lansing, Michigan on May 16-18, followed by nine weeks of online training that will take place through July 26. The cohort will come together in mid-August for an innovation showcase in Lansing.
The selected startups have proven that their innovation has a clear positive impact on patient outcomes and lowers the cost of healthcare through the innovation's application or design. Devices in development by the selected startups include a user-operated, hands-free device that lifts, supports, and moves paralysis patients, as well as a wearable device that uses software to detect and treat an opioid overdose.
"The Ascend Medtech Accelerator is an exciting opportunity for medtech startups from across the country to convene with medtech ecosystem stakeholders in Lansing, Michigan," said VentureWell Senior Program Officer Cara Barnes. "Startups work towards validating their business model assumptions around financial reality and viability, and hone their pitch deck and financial model for potential partners and funders."
Learn more about their innovations:
Devices & Platforms
BioPhoundry
New Orleans, Louisiana
BioPhoundry is developing a synthetic biology platform that can produce bacteria-killing viruses for patients with antibiotic-resistant infections at a faster rate and lower cost than existing methods.
Innomotive
Southfield, Michigan
Innomotive is developing an assistive, user-operated technology to lift, support, and move paralysis patients while keeping their hands free.
Memento Mori
Ann Arbor, Michigan
Memento Mori is developing a marketplace platform that provides products and services to support users planning end-of-life care, helping to navigate the complexities of death, dying, and grief.
Pascal Medical
Richmond, Virginia
Pascal Medical is developing a drug delivery system that rapidly creates a sealing barrier with localized, targeted, and sustained antibiotic delivery.
SteadiSpoon
Dallas, Texas
SteadiSpoon is developing an affordable, self-stabilizing eating utensil designed to help people who suffer from Parkinson's disease and essential tremor.
Vita Innovations
Palo Alto, California
Vita Innovations is developing a reusable smart mask that increases diagnostic efficiency by monitoring and displaying patient vitals without continuous intervention.
Diagnosis & Detection
CurveAssure
Baltimore, Maryland
CurveAssure is developing an at-home, wearable monitoring technology that provides physicians with posture analysis data, allowing for faster data-driven patient care and surgical decision-making.
Overdose Guardian
New Haven, Connecticut
Overdose Guardian is developing a wearable, non-invasive device that uses software to detect and treat an opioid overdose by rapidly administering naloxone.
Pleiades Inc.
Ann Arbor, Michigan
Pleiades Inc. is developing a device that collects data to identify traumatic brain injury and stroke-related events.
Rubitection
Pittsburgh, Pennsylvania
Rubitection is developing a low-cost handheld probe and software system that measures the properties of the skin, monitoring incremental changes in health to predict risk, evaluate wound progression, and customize care.
Steradian Technologies, Inc.
Houston, Texas
Steradian Technologies, Inc. is developing a low-cost handheld device that evaluates a patient's breath to identify infectious respiratory diseases in only 30 seconds.
Vasowatch
Philadelphia, Pennsylvania
Vasowatch is developing a non-invasive, wearable device that continuously monitors a patient's risk of postpartum hemorrhage, improving outcomes and health equity.
Software & Digital Health
Astarte Medical
Yardley, Pennsylvania
Astarte Medical is developing a clinical intelligence company using software and predictive analytics to improve outcomes for children with medical complexity.
EmPowerYu
Santa Clara, California
EmPowerYu is developing an at-home artificial intelligence (AI) system that collects data on high-risk elderly patients' eating, sleeping, activity, and medical devices, sending alerts to healthcare providers to optimize clinic visits and telehealth.
Interjad
Southfield, Michigan
Interjad is developing software that streamlines clinical research and medical training to support healthcare professionals.
Sumaq Life, LLC
East Lansing, Michigan
Sumaq Life, LLC is developing AI software that integrates with electronic medical records to identify patients who qualify for genomic testing and develops personalized cancer treatment.
Tibi Health
San Francisco, California
Tibi Health is developing an AI-powered platform to accurately predict and detect mental health disorders associated with fertility and pregnancy journeys, supporting more comprehensive patient care.
Urban Docz, LLC
Dearborn, Michigan
Urban Docz, LLC is developing a telehealth platform providing virtual reproductive health services, increasing access to fertility care in underserved areas—no insurance needed.
VERN Health
East Lansing, Michigan
VERN Health is developing a software toolkit that analyzes a patient's voice and expression, providing medical professionals with real-time data to support behavioral and mental health care.
Viora Health
Philadelphia, Pennsylvania
Partnering with clinics and medical practices, Viora Health is developing a health management platform that offers customized content, resources, tips, and strategies to empower patients from underserved communities.
Access to Lansing-Area Health Systems
As part of the Ascend Medtech Accelerator, startups will meet leading professionals from Lansing-area hospitals and health systems, including clinicians, administrators, and staff. They know exactly what it takes for a venture to succeed in a clinical setting—and they're ready to work with the selected innovator teams.
Meet our entrepreneurs-in-residence: Tania Fernandez, founder and managing partner, DreamCatcher Ventures; Marc Filerman, managing partner, Healthtech Life Sciences; Katie Solley, co-founder and CEO, Eyedea Medical; and Arun Venkatesan, co-founder and CEO, Villgro USA. Our mentors-in-residence are: Nancy Gagliano, physician and healthcare executive, and board member, OraSure Technologies and General Fluidics; Margarita Hernandez, vice president of entrepreneurial services, Ann Arbor SPARK; and DeWayne Williams, technologist, consultant, and advisor, and founder, Essential Technology Group.
About LEAP
We are proud to partner with the Lansing Economic Area Partnership (LEAP). LEAP builds a stronger community for all, working every day to grow, retain and attract business to #LoveLansing. A regional economic development organization structured as a public private partnership with over 80 member investors, LEAP executes on a variety of programs and initiatives, with a diverse array of partners, in order to make the Lansing region (Ingham, Eaton, and Clinton counties) the best destination for global talent and investment—their home by choice. From 2012 to 2021, the LEAP team has led economic development projects committing $3.22 billion and 8,474 permanent, direct jobs to the local economy, as well as 197 new companies formed, and a total of 191 projects of various scale and type. Learn more about the Lansing region and LEAP's projects, programs, and initiatives.
As the funder of this program, LEAP provides support that is instrumental in the growth and development of these startups, which are poised to make a significant positive impact in the healthcare industry.
About the VentureWell Accelerator
Through the funding, training, mentorship, exposure to industry experts, and network-building opportunities offered by the suite of programs within the VentureWell Accelerator, we've supported more than 1,400 student innovators on 500+ teams in raising $740M+ in follow-on funding to help launch 500+ ventures.