---
from venturewell
---

Are you a seed-stage medtech startup aiming to embark on fundraising? Apply now to participate in ASPIRE, an intensive week-long workshop that prepares startups for the investments and partnerships necessary to launch their ventures. Work with mentor-investors, vet your fundraising strategy, stress test your startup and leverage our investor network as you work to bring your innovation to market. Deadline to apply is August 12th. Apply now!
Join an upcoming E-Team webinar to learn more about how your startup will benefit from our workshops and funding, as well as what types of teams are eligible to apply.  Learn more and sign up.
Registration is now open for our first ever Green Launchpad workshop, happening on October 16-17 in Boston. This interactive workshop will equip you with the knowledge and skills to integrate sustainable invention and innovation curriculum and practices into your courses, whether they are existing core courses or sustainability-specific ones. You will leave the workshop ready to teach basic and intermediate sustainability principles at the undergraduate or graduate level. 
Register now!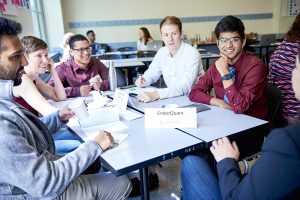 VentureWell is now accepting applications for the Winter 2020 E-Team Program! Start by submitting a Qualification Phase application to receive custom feedback on the fit and eligibility of your project before obtaining VentureWell membership and completing your Stage 1 proposal. Don't miss out on this opportunity to receive up to $25k in funding, along with the training, networking opportunities, and national recognition you need to launch your venture! Qualifications Phase applications are due on August 21 and the deadline for completed Stage 1 proposals is October 2. Read the guidelines for details and apply now!
---
from the i&e

community
---
Johnson & Johnson Nurses Innovate QuickFire Challenge in Perioperative Care
The Johnson & Johnson Nurses Innovate QuickFire Challenge in Perioperative Care, together with the Association of periOperative Registered Nurses (AORN), invites nurses from around the world to submit innovative ideas with the potential to improve perioperative care, including solutions that aim to address the physical and psychological impact of patients throughout pre-, intra-, and post-operative care. Challenge finalists can receive up to $100,000 in grant funding, mentoring and coaching from the Johnson & Johnson Family of Companies, and access to the Johnson & Johnson Innovation – JLABS ecosystem. The deadline to submit your ideas is July 26.
Women Startup Challenge Europe HealthTech
Happening on October 7, the Women Startup Challenge Europe HealthTech will showcase 10 of the best early-stage, women-led healthtech startups. Supported by Johnson & Johnson Innovation – JLABS and co-hosted by the Office of the Mayor of Paris, the Women Startup Challenge is on a mission to close the funding gap and shakeup a culture and economy that's made it exceedingly difficult for women to launch startups and raise capital. Prizes will include a $50,000 cash grant, one-on-one mentoring with investors, and other critical startup services. Applications close August 1!
JLABS @ TMC Breakthrough Medical Technologies QuickFire Challenge
JLABS, Texas Medical Center and AngelMD invite innovators from across the world to submit ideas for world-changing medical device innovations that will positively impact human health. Winners will receive up to $250,000 in funding from TMC, entry to the TMCx accelerator program, one year of residency at JLABS at TMC in Houston, Texas, and access to the Johnson & Johnson, Innovation – JLABS global ecosystem. AngelMD, will also provide the selected innovative solution the opportunity to receive an additional investment up to $100,000 from its Catalyst Fund. Applications close on August 8.
Disrupt San Francisco
Disrupt San Francisco gathers the startup world to explore both the present and the future of technology in one place. Learn from industry analysts sharing their expertise and innovations, or network with up-and-coming founders to make the right connections that will help move your business forward. This year's convening will take place from October 2-4. Early bird ticket sales end August 30!
AngelPad
AngelPad is a seed-stage accelerator program based in NYC and San Francisco. During the program, teams work on everything from finding product market fit and defining a target market to helping companies prepare for fundraising and investor meetings. Apply now for the Fall 2019 cohort! Submitting your application early is highly recommended as applications are reviewed in the order they are received.
Silicon Valley Accelerator for Women's Tech Startups
Women's Startup Lab is now accepting applications for their next accelerator beginning September 7, 2019. Specifically designed for women with innovative startups, this accelerator provides the support female founders need, including, coaching, funding, introductions to potential investors, and access to exclusive workshops and events. Apply now.
17th Annual Energy and Clean Technology Venture Forum
The Rice Alliance's 17th Annual Energy and Clean Technology Venture Forum on September 11-12, 2019 is the largest energy and clean technology venture capital conference in the southwest. This event is an opportunity to learn about the latest emerging technologies, meet investors to seek funding, see promising companies, learn about investment opportunities, meet individuals from the energy & clean technology industry, learn about promising companies seeking to expand their management team, as well networking and learning opportunities for entrepreneurs, researchers, investment professional and business executives. The must-attend event is open to anyone involved in the energy and clean technology community in the region. The conference will include industry luminary speakers, investors, and promising startups from throughout the U.S. and beyond. Register now or apply to present.
Johnson & Johnson Nurses Innovate Quickfire Challenge in Maternal & Newborn Health
Nurses around the world are invited to submit innovative ideas aimed at improving maternal & newborn care. The nurse innovators with the best idea(s) will receive up to $100,000 in grant funding, mentoring from experts across the Johnson & Johnson Family of Companies, and access to the Johnson & Johnson Innovation – JLABS ecosystem to help bring their ideas to life. Apply by October 10!
SXSW Pitch
SXSW Pitch showcases innovative new technology to a panel of industry experts, high-profile media professionals, venture capital investors, and angel investors. A live audience and a panel of expert judges will evaluate startups and their advancements in various sectors of emerging technology. Apply by November 15 for the chance to pitch your startup, participate in a Q&A sessions, and demonstrate your products in front of a live panel of judges.
2019 New England Venture Summit
The 14th annual New England Venture Summit, presented by youngStartup Ventures, is the premier industry gathering connecting venture capitalists, corporate VCs, angel investors, technology transfer professionals, senior executives of venture-backed, emerging and early-stage companies, university researchers, incubators and premier service providers. This year's summit will be held on December 4 at the Hilton Boston in Dedham, MA. Register now!
Greentown Labs
One of the largest cleantech incubators is the US, Greentown Labs is a community of passionate entrepreneurs creating energy technologies that transform the way we live, work, and play. They believe in the impact that innovative clean technologies will have on the world and the difference people can make. Apply to become a 2019 member now!
Richi Entrepreneurs
Richi Entrepreneurs is a two phase immersion program in Boston for companies from around the world with high impact solutions in Biotech, Medtech, Digital Health and Cleantech sectors. You'll get the opportunity to connect and initiate meaningful relationships with investors, market players, advisors, industry experts, and private & public institutions that will help bring your business to the next level. Applications open January 2020.
JLABS @ Washington, DC Children's QuickFire Challenge
In honor of the new JLABS @ Washington, DC launching together with Children's National1, Johnson & Johnson Innovation – JLABS announces the JLABS @ Washington, DC Children's QuickFire Challenge. Visionaries within the fields of pediatric oncology, pediatric surgery and influenza are invited to submit innovative ideas. Innovators can receive up to $150,000 in total grant funding and one year of residency at JLABS @ Washington, D.C. along with mentoring by the Johnson & Johnson Family of Companies. The deadline to apply is February 7, 2020.
Accelerator One
During our intense accelerator programme, selected smart energy startups will receive hands-on mentorship from industry experts, free office space, seed funding and access to a global network of investors with the ultimate goal of scaling their business and becoming one of the energy industry leading companies. Learn more and apply.
Urban-X
Every six months Urban-X selects up to 10 urban-tech startups and invest $100,000 per company. The URBAN-X accelerator program provides 20 immersive weeks of customer development, product development, network-building and expert guidance for startups – all in preparation for fundraising. The accelerator is unique in that our mentors are experts in urban-tech challenges and deeply understand regulated industries and government procurement– to help equip startups facing the unique challenges of working with and in cities. Learn more and apply.
ACRE @ Urban Future Lab
Rapidly scale and transform your startup into a vehicle for solving the world's greatest challenge, climate change. ACRE provides unmatched access to strategic advisement, introductions to industry stakeholders, marketing and branding support, investor networks, and access to a community of like-minded founders solving real challenges in energy, water, waste, infrastructure, transportation, and resiliency. Learn more and apply.
Clean Energy Trust Investment
Clean Energy Trust brings cleantech innovation to market by finding, funding, and growing high-impact cleantech startups from the Midwest. To date, Clean Energy Trust has invested in 27 companies across the Midwest. Currently, the 501vc® Seed Fund typically invests between $100k and $300k in companies that are Pre-Seed through Series A and that are currently based in the broader Midwest. Learn more and apply.