A collection of upcoming events and opportunities, both from VentureWell and the innovation & entrepreneurship community.
---
From VentureWell
---
E-Team Grant Program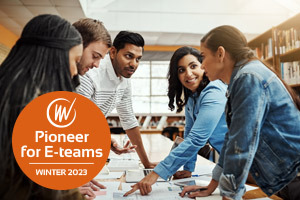 Applications for the winter cohort of the E-Team Program are now open! Our Accelerator program helps student teams kickstart their innovation through a powerful mix of grant funding and entrepreneurship training. Selected teams receive up to $25,000 to launch their ideas. The VentureWell team works closely with each venture to explore possible pathways for their innovation as they advance through our Early-Stage Innovator Training Program. E-Teams become part of a nationwide network that provides continued support, including peer innovators, VentureWell staff, and industry mentors. The application deadline is October 5, 2022.
OPEN 2023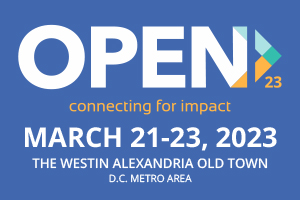 The OPEN Conference gathers together engaged faculty, administrators, global innovators, and university students from across disciplines to network, share stories, start new collaborations, and learn emerging best practices in STEM entrepreneurship education. We are thrilled that this year's event will be held in-person March 21-23, 2023, in the D.C. Metro Area. The call for proposals is open until October 28, 2022! Plan to lead the conversation and contribute to the field of innovation and entrepreneurship (I&E) education by proposing a session for OPEN 2023. Submit here!
Course & Program Grants
Applications for our Course & Program Grants are now open. Grants up to $30,000 are awarded to faculty or staff at US higher education institutions to support curricula that engage students in science and technology innovation and entrepreneurship. Course & Program Grants may be used to strengthen existing programs or to build new courses and programs that engage student teams in developing and pursuing scalable solutions to real-world needs and progress towards social and environmental sustainability. There is only one funding cycle this year. Applications are due November 2, 2022. Learn more and apply today.
American-Made Solar Prize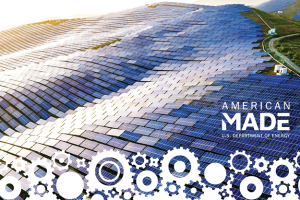 The American-Made Solar Prize Round 6 can help you bring your innovative solar solution to market. It recently launched the sixth round of competition, offering a total of $4.1 million to teams of creative individuals and entrepreneurs who are ready to advance conceptual solar solutions toward product realities. Through three contests, participants compete for progressively larger cash and voucher prizes, including an optional justice, equity, diversity, and inclusion-focused prize. Learn more.
Partner with VentureWell: National Science Foundation Regional Innovation Engines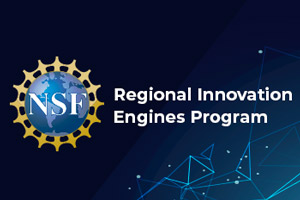 The National Science Foundation's Directorate for Technology, Innovation, and Partnerships (TIP) has announced  the NSF Regional Innovation Engines (NSF Engines) program, designed to jumpstart a region's innovation ecosystem with up to $160M of NSF funding for up to 10 years. The NSF Engines funding opportunity is a unique chance to drive economic growth in regions that haven't fully participated in the technology boom of the past few decades. The program is seeking regional teams of industry, academia, government, nonprofits, civil society and communities of practice to catalyze and foster innovation ecosystems across the US. VentureWell is interested in supporting NSF Engines through collaborative proposals. We bring expertise in STEM innovation programming, research commercialization, and multi-sector network-building, as well as extensive experience working with NSF. We are eager to partner with you and leverage our capabilities to help build innovation ecosystems across the country. Contact us.
---
From the I&E C

ommunity
---
Pitch Latinx 2022
This event, taking place in Portland, Oregon, on October 5, 2022, gives Latino startup entrepreneurs a platform to connect with the region's growing startup ecosystem. The entrepreneurs will get five minutes to pitch to the audience, followed by three minutes of questions about their idea. Attendees will vote for the winners, who will split the prize money equally. Pitch Latinx is organized in collaboration with Juan Barraza, one of the founding members of Latino Founders; and Edgar Navas, CEO of Cliqa—both organizers of PDX Startup Weekend Latino. Buy tickets here.
Sustainability in Healthcare and Medical Devices
Sustainable design strategist, professor, and author Dr. Jeremy Faludi will speak at Clinical Trials: Europe 2022, taking place in Amsterdam November 7–9, 2022; he will share his knowledge on sustainability in healthcare and medical devices. Faludi was the 2021 Sustainable Practice Impact Award winner and developed VentureWell's Tools for Design and Sustainability toolbox. Register here.
Technology Entrepreneurship: Lab to Market Course
Developed in collaboration with the Laboratory for Innovation Science at Harvard and the University of California San Diego, this self-paced, introductory course is being offered free on the edX platform. Enroll today to learn how entrepreneurs match technology with customer needs and bring cutting-edge innovations to market. The course will run over five weeks, with the option to pursue a verified certificate. Learn more.
ACRE @ Urban Future Lab 
Rapidly scale and transform your startup into a vehicle for solving the world's greatest challenge, climate change. ACRE provides unmatched access to strategic advisement, introductions to industry stakeholders, marketing and branding support, investor networks, and access to a community of like-minded founders solving real challenges in energy, water, waste, infrastructure, transportation, and resiliency. Learn more and apply.
Dorm Room Fund
Dorm Room Fund (DRF) is a student-run venture fund, backed by First Round Capital, that supports college students and recent graduates looking to grow their startups. Selected teams receive a $20,000 investment, plus access to mentors, resources, and the DRF community. At least one team member must be an undergraduate or graduate student to be eligible for the program. Applications are accepted on a rolling basis.
Small Business Innovation Research (SBIR) Program
Hosted by the National Science Foundation, the SBIR program aims to support scientific discoveries and technological innovation that is moving from the lab to the market. The program provides non-dilutive funding and entrepreneurial support at the earliest stages of company development. Consider applying if your discovery can be transformed into an innovation with commercial potential and/or societal benefit. Applications are accepted throughout several seasonal cycles. Learn more.
Wells Fargo Startup Accelerator
The Wells Fargo Startup Accelerator allows new ventures to tap into a growing global network of business mentors, venture capitalists, and enterprise executives. The program helps startups enter the Fortune 500 market and provides up to $1,000,000 in potential investments if your company is selected. Over the course of 6 months, companies will get access to coaching and learn how to commercialize their business. Applications for this virtual, non-exclusive program are accepted year-round.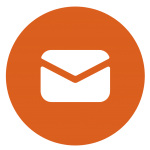 ---
Stay in the loop with our monthly events and opportunities newsletter, featuring VentureWell grants, competitions, workshops and programs, and upcoming activities in the broader innovation and entrepreneurship community—sent straight to your inbox each month. Subscribe now.
---