---
for early stage innovators
---
E-Team Grant Program
Applications due February 7
Receive an E-Team grant and get training through our early-stage innovator training program. The training provides peer networking, expert coaching, national recognition, and hands-on workshops to move your innovation forward. Attend an upcoming informational webinar to learn more about the program.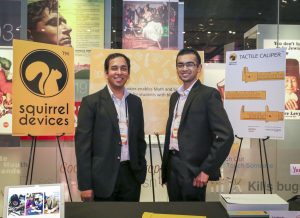 OPEN Minds 2018
Applications due December 11
VentureWell's OPEN Minds exhibition is an opportunity for E-Teams to showcase their ground-breaking innovations. OPEN Minds is held in conjunction with OPEN, VentureWell's annual conference, March 23-24, 2018 in Austin, TX. Teams that are selected will receive a stipend to defray travel costs. The exhibition is an opportunity for student teams to demonstrate their products and receive feedback from faculty around the country, VentureWell's extended staff, board members, funders, and peer E-Teams, as well as the chance to win cash prizes up to $3,000.
---
for faculty
---
Lean LaunchPad Educators Seminar
Register Now! Event is November 6-7, 2017
The Lean LaunchPad® Educators Seminar is a 2-day program designed for entrepreneurship faculty who want to learn the basics of integrating Lean Startup principles into their teaching. You will learn key techniques for building a curriculum that you can adapt to your institutional environment and needs and put to immediate use. Space is limited, sign up today to attend the new and improved workshop that will occur in Boston.

Faculty Grant Program
Applications due November 8
We are seeking proposals for areas that will support the emerging generation of inventors and innovators and the i&e ecosystems critical to their success. We provide grants of up to $30,000 to help fund and support faculty with innovative ideas to create new or transform existing courses and programs to help students develop novel, STEM-based inventions and gain the necessary entrepreneurial skills needed to bring these ideas to market.

OPEN 2018
Register Now
VentureWell members can register for OPEN 2018. The registration fee for includes admission to the Welcome Reception on Thursday evening; admission to all sessions on Friday and Saturday; Friday breakfast and lunch on both days; the Poster Session and Reception Friday evening; and OPEN Minds Showcase and Reception on Saturday night; and all conference materials. Registration for non-members will open in November.
---
from the i&e community
---
Valley Venture Mentors (VVM) Startup Accelerator
Core training, meetings, and events are held in "one long weekend a month" bootcamps, featuring hands-on training, expert-led lectures, peer collaboration, advisor office hours, and practice judging rounds. In addition, workshops cover strategy, innovation, marketing, sales, team-building, operating best practices, fundraising, and term sheets for valuations. Teams then participate in a public showcase and rounds of competition for awards. Applications are due October 18 of this year and the program runs January through May in Springfield, MA. Learn more.
Massachusetts Clean Energy Center AccelerateMass
AccelerateMass is a two-stage investment program that provides up to $150,000 in convertible notes to clean energy graduates of approved accelerator programs. The program exists to support companies as they advance and commercialize clean energy technologies and business models. Investments will be available for up to five recipients in 2017. Applications are due November 11.
2018 KEEN National Conference
The 2018 KEEN National Conference is taking place January 3-5 in Dallas, Texas. Register to learn how universities and faculty are actively implementing entrepreneurial minded learning into curriculum and across campuses during interactive workshops, keynote presentations, and an expo. You'll leave the conference with tools you can immediately implement, including faculty engagement strategies, pedagogical approaches, and curricular and extra-curricular examples. Registration has been extended to November 15.
U.S. Department of Energy's Race to Zero Student Design Competition
The Race to Zero inspires collegiate students to become the next generation of building science professionals through a design challenge for zero energy-ready buildings. Through this competition, future architects, engineers, construction managers, and entrepreneurs will gain the skills and experience to start careers in clean energy and generate creative solutions to real-world problems. Application deadline is November 2017. The competition takes place April 21-22, 2018 in Golden, Colorado.
WERC Design Contest
In it's 28th year, the Waste-management Education Research Consortium (WERC) Design Contest has drawn student teams from across the country who compete for over $20,000 in cash awards to design solutions to real world problems. Participating teams develop fully operational bench-scale models of their innovation technologies, participate in written and oral presentations, and participate in technical conference style poster session. Learn more about the contest.