Startups Prepare for Investment with Ascend
Ascend is a six-week intensive hybrid program that prepares startups for the investment necessary to launch their venture. This program aims to help bridge the gap between customer discovery and commercial launch.
We are currently running two cohorts: Ascend Medtech, powered by VentureWell and LEAP, and Ascend Energy & Mobility Accelerator, powered by VentureWell, TechTown Detroit, and DOE's EPIC Prize.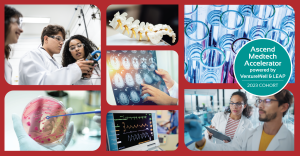 Read about our Spring 2023 Ascend Medtech cohort!
Why Apply?
Spend one-on-one time with mentors: Learn from high-caliber mentors throughout the program who have experience partnering with startups like yours.
De-risk your startup: With input from customers and other stakeholders, refine the problem you are solving, validate your value proposition, and define your beachhead market.
Validate your financial model: Refine the numbers behind your business model assumptions to ensure a solid financial model ahead of fundraising.
Collaborate and network: Connect with fellow founders and leverage the VentureWell mentor and investor network after the program.
---
Does Your Startup Qualify?
VentureWell selects 10-15 startups launching high-impact solutions. Startups must be committed and competitive!
Requirements for applicants:
Team identified & startup formed: First-time founders with management team and key roles identified. Preference for no one-person teams or for teams with at least key advisors and roles identified. Incorporated as a legal entity by the beginning of the program or intending to incorporate in the near future.
Early market validation: An innovation with a clear, positive impact that solves a real problem felt by customers, and has a compelling value proposition.
Technology & intellectual property (IP): Technology Readiness Level of 3 (proof of concept) or beyond and clear potential for IP creation.
Preparing to fundraise: Pre-seed and have not yet raised institutional equity financing.
---
Questions? Contact Tricia Compas-Markman.