Startups Prepare for Clinical Pilot Studies and Investment with the Ascend Medtech Accelerator, powered by VentureWell and LEAP
The Ascend Medtech Accelerator, powered by VentureWell and LEAP, is a 12-week intensive program that prepares startups for the partnerships and investment necessary to launch their venture. Entrepreneurs-in-residence work closely with startups to prepare their business models for due diligence.
Applications are now closed.
---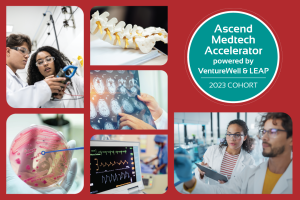 Read about our 2023 Ascend Medtech cohort!
---
Why Apply?
Spend one-on-one time with clinicians and administrators: Learn from practicing physicians, nurses, and hospital administrators from multiple hospitals and health systems about what it takes to get innovation adopted into a clinical setting.
De-risk your startup: With input from customers and other stakeholders, refine the problem you are solving, validate your value proposition, and define your beachhead market.
Validate your financial model: Refine the numbers behind your business model assumptions to ensure a solid financial model ahead of fundraising.
Collaborate and network: Connect with fellow founders and leverage the VentureWell clinician, administrator, mentor, and investor network after the program.
Does Your Startup Qualify?
VentureWell will select 20 medtech startups from across the nation that are launching high-impact medical devices, diagnostics, or software. Startups must be committed and competitive! Applicants should have:
Team identified and startup formed. Should be founders with the management team and key roles identified—no one-person teams. Must be incorporated as a legal entity by the beginning of the program.
Positive impact on patient outcomes. The innovation has a clear positive impact, solves a real problem felt by customers, and has a compelling value proposition.
Early market validation. The startup has validated customer segments and initial evidence of product-market fit, as well as articulation of economic value proposition and evidence of customer buy-in.
Intellectual property. Startup must have provisional patent(s) filed and assigned to the company or evidence of a clear pathway to the license.
Development beyond proof of concept. The initial prototype should be developed and preclinical trials or animal studies should be underway.
Active fundraising. The company should have raised at least $25K (grants or equity) and be preparing for a round of equity investment within 12-18 months.
Meet the Entrepreneurs-in-Residence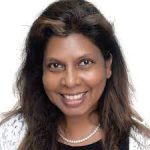 Tania Fernandez
Founder and Managing Partner, DreamCatcher Ventures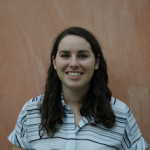 Katie Solley
Co-Founder and CEO, Eyedea Medical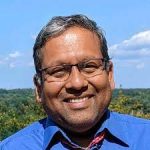 Co-Founder and CEO, Villgro USA
Meet the Mentors-in-Residence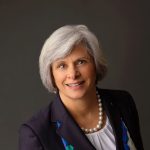 Nancy Gagliano
Physician and Healthcare Executive
Board Member, OraSure Technologies and General Fluidics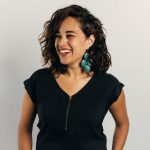 Director of Entrepreneurial Services, Ann Arbor SPARK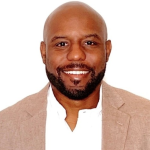 DeWayne R. Williams
Technologist, Consultant, and Advisor
Founder, Essential Technology Group
About LEAP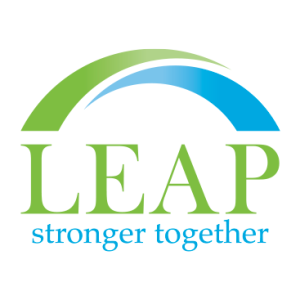 As the funder of this program, LEAP provides support that is instrumental in the growth and development of these startups, which are poised to make a significant positive impact in the healthcare industry. LEAP builds a stronger community for all, working every day to grow, retain and attract business to #LoveLansing. A regional economic development organization structured as a public private partnership with over 80 member investors, LEAP executes on a variety of programs and initiatives, with a diverse array of partners, in order to make the Lansing region (Ingham, Eaton, and Clinton counties) the best destination for global talent and investment—their home by choice. From 2012 to 2021, the LEAP team has led economic development projects committing $3.22 billion and 8,474 permanent, direct jobs to the local economy, as well as 197 new companies formed, and a total of 191 projects of various scale and type. Learn more about the Lansing region and LEAP's projects, programs, and initiatives.
---
Questions? Email Cara Barnes.