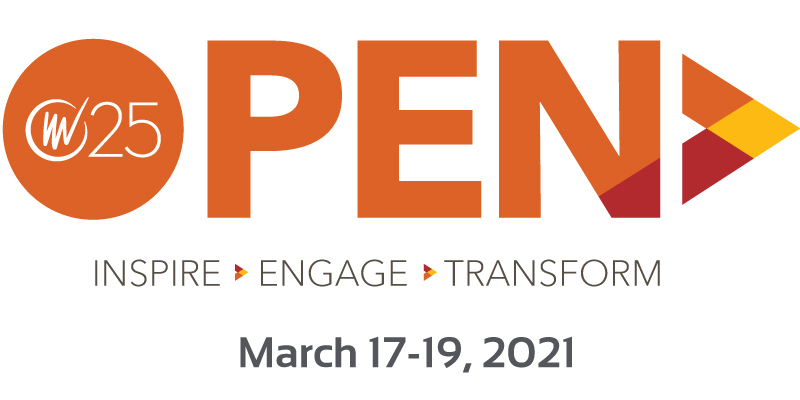 save the date for OPEN 2021!
Each year, VentureWell looks forward to gathering representatives from across the innovation and entrepreneurship spectrum to share stories, start new collaborations, and learn emerging best practices in the field of science and technology entrepreneurship education at our annual OPEN conference. Building on the success of our virtualized conference in March, OPEN 2021 will take place online over three days: March 17 – March 19, 2021.
As a community of innovators, we're truly living innovation—one of our core values at VentureWell. Reimagining our annual conference as a virtual convening is an exciting opportunity to connect a more inclusive cross-section of disciplines and geographies, and to reach a growing audience of change-makers interested in advancing entrepreneurship education. OPEN 2021 will go beyond simply broadcasting content sessions —we'll create space for meaningful conversations and deep connections between attendees. 
In a year when faculty, staff, and administrators have had to adapt like never before to continue meeting students' needs, we are looking forward to bringing our community together again. Our team is incredibly excited to create an immersive experience that will spark new ideas, support impactful collaborations, and draw us closer than ever before.
Streaming live, from wherever you are.
call for proposals
We're looking forward to gathering the innovation and entrepreneurship educator community March 17-19, and we need your contributions to create the valuable conference experience we enjoy every year. Join the conversation and contribute to the field of innovation and entrepreneurship education by proposing a session for OPEN 2021! Click here to apply.
be first to know
Join our OPEN mailing list to get all the latest conference updates and information, including when our early-bird registration opens. Unsubscribe at any time. Sign up here.
get social
Use the conference hashtag #vwopen to share what you're seeing and hearing on social media. You can also follow @venturewell on Twitter, Facebook, and LinkedIn for year-round conversations and news.
become a sponsor
Interested in becoming a sponsor? Join us in supporting the next generation of inventors and innovators in science and technology! Email us at open@venturewell.org to learn more!
presented in partnership with