Super Early Bird Registration for OPEN 2024, taking place in beautiful and sunny San Diego, California, March 18-20, is now live!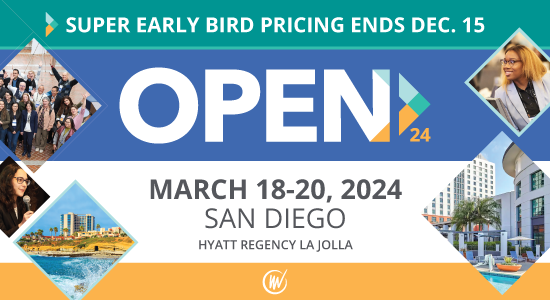 Learn More About OPEN
Key Dates
Super Early Bird Registration Closes: December 15, 2023
OPEN 2024: March 18-20, 2024
This can't-miss event is the premier innovation and entrepreneurship (I&E) experience for higher education faculty, staff, administrators, researchers, and leaders in the STEM fields. Our theme this year is Innovating Futures Together. What might the future look like for the next generation of I&E advocates and thought leaders? Is only one future possible? How will the disruptive technologies of today shape the jobs of the future? Who should be around the table working to solve the world's most difficult problems?
We look forward to exploring the answers to these questions with you at OPEN 2024!
Our welcoming and inclusive community will share the latest trends in I&E research and best practices, while leaving ample time for you to network with inclusive innovation and sustainability changemakers from across the nation. Don't miss this opportunity to invest in yourself and your institution's entrepreneurial ecosystem!
Be the first to hear exciting OPEN 2024 news and alerts by signing up here! Please contact us at OPEN@venturewell.org if you have any questions or concerns.
---
Download this letter if you need assistance convincing your boss to send you to OPEN!