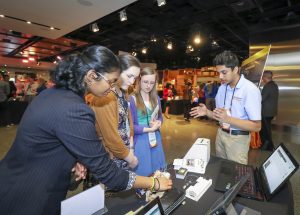 OPENminds
The OPENminds Innovator Showcase features VentureWell E-Teams, early-stage student innovators who are developing inventions that will change the world.
Congratulations to our 2023 OPENminds awardees:
Sustainability Prize: EASEEbot, New York University ($2,000)
IMPACT Center's OPENminds ChangemakerTech Award: Acorn Genetics, Northwestern University ($1,000)
Audience Choice Prize: READI Consulting, Georgia State University ($5,000)
Read more about these innovators.
---
Meet the 2023 OPENminds teams!
3D-OPS
University of California-Davis
In operative metacarpal fractures, standard fixation techniques are often fraught with difficulty, especially in unstable fracture patterns. 3D-OPS is designing the first surgical adhesive out of silk fibroin that is both mechanically strong and biologically compatible.
---
Acorn Genetics
Northwestern University
Acorn Genetics is developing a fully automated, affordable, and user-friendly DNA sequencing device including a novel, third-generation solid-state genetic sequencer.
---
CurveAssure
Johns Hopkins University
CurveAssure is working to enhance spine surgery with preoperative dynamic posture analysis, to better inform patient pathway planning and surgical decision-making.
---
EASEEbot
New York University
EASEEbot is using robotics and AI to provide higher-quality inspection reports to building scientists, lower inspection costs, and increase safety.
---
Overdose Guardians
Yale University
Overdose Guardians is creating software for faster and more reliable overdose detection, to alert responders and transmit real-time data with 5G.
---
Longhorn Life Sciences
The University of Texas at Austin
Longhorn Life Sciences is developing the Infection Detective, a smart bandage for use on surgical wounds.
---
Photonect Interconnect Solutions
University of Rochester
Photonect Interconnect Solutions is developing laser adhesion technology for connecting optical fibers to photonic integrated circuits. Laser adhesion is faster and more efficient and costs half as much as current glue-based processes.
---
READI Consulting
READI is a tech-enabled workforce training platform that re-skills youth aged 16-26 who are underemployed or unemployed.
Learn More About OPEN