The OPENminds Innovator Showcase features VentureWell E-Teams, early-stage student innovators who are developing inventions that will change the world.
Applications are closed for OPENminds 2023.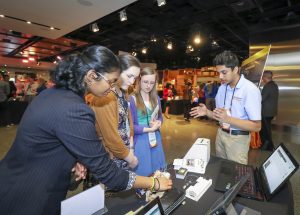 This signature event will be held in conjunction with OPEN 2023 in the D.C. metro area, March 21-23. Selected teams will receive a stipend to defray travel costs. This is an opportunity for E-teams innovators to:
showcase their inventions
receive feedback from numerous innovation and entrepreneurship (I&E) educators
win cash prizes
Timeline
November 7, 2022: Application opens
December 23, 2022: Application closes
January 17, 2023: Applicants are notified
Eligibility & Guidelines
Applicants must be (or have been) a participant in a VentureWell innovator program to apply. This includes VentureWell E-Team Program participants and BME competition winners.
Selected teams must be available to attend all OPENminds-related activities in Washington, D.C.
Questions? Please contact Sarah Wharmby.
---
During OPENminds 2022, eight E-Teams demonstrated their ground-breaking innovations and practiced their pitches for our audience. Attendees had the opportunity to visit individual teams across six rounds to hear their pitch and ask questions about their invention.
After the pitch sessions, the audience had the opportunity to "invest" $3M in Venture Bucks in the teams and innovations they liked best. Teams receiving the most "investment" from the crowd were awarded real cash prizes to help bring their innovation to market.
Here's a look at this past year's winning teams!
Audience Choice Awards
First Place $2,500
Kalia Health
North Carolina State University at Raleigh
Second Place $1,000
KLAW Industries
Binghamton University, SUNY
Third Place $500
Transfoam
University of Virginia — Main Campus
Sustainability Prize $2,500
KLAW Industries
Binghamton University, SUNY
Best Video Prize $500
Visilant
Johns Hopkins University
2022 OPENMinds Teams
View the videos and learn more about each team.
---
CVPath Surgical Trainer
Texas A&M University
Current surgical training models have proven insufficient for effective teaching, leading to more surgical errors and reduced patient outcomes. CVPath Surgical Trainer is developing customizable heart models that mimic tissue and have detailed anatomical accuracy to train surgeons in complex procedures.
---
Kalia Health
North Carolina State University at Raleigh
Kalia Health is developing an early diagnosis tool for preeclampsia that can be used easily and at-home for expecting parents lacking access to routine prenatal care.
---
KLAW Industries
Binghamton University, SUNY
Concrete manufacturers face constant material shortages and high material costs. KLAW Industries is developing a recycling process to convert glass waste into a partial cement replacement that can replace up to 30% of cement in concrete and strengthen concrete by 11%.
---
LiRA
Verizon Forward for Good Challenge Winner
Voicelessness is a debilitating condition that frequently follows life-saving airway interventions, but the available tools to help individuals with voicelessness communicate are ineffective. LiRA is developing an AI-powered lip-reading mobile app that can recognize the specific facial motions associated with speech and translate the video data into audio in real-time, improving communication options for voiceless individuals.
---
rStream Recycling
University of Massachusetts Amherst
High-traffic venues like stadiums and universities produce thousands of tons of trash a year but don't have an effective way of presorting their recycling, leading to heavy fines and environmental damage. rStream Recycling is developing an AI-powered on-site recycling device that can sort waste faster and at a lower cost than existing options.
---
Transfoam
University of Virginia — Main Campus
Though biodegradable plastics like PHB can serve as an alternative to petroplastics, manufacturers cannot scale quickly enough to meet demand. Transfoam is developing a biomanufacturing process that can convert petroplastic waste into biodegradable plastic, enabling manufacturers to obtain raw materials at a lower cost.
---
Visilant
Johns Hopkins University
253 million people around the world live with moderate-to-severe visual loss and blindness, and for those that live in rural settings, it can be difficult to access early screening and treatment that's crucial to reducing avoidable vision loss. Visilant is developing a low-cost telemedicine platform that enables comprehensive, ongoing eye disease screening outside of clinical settings.
---
Vita Innovations
Verizon Forward for Good Challenge Winner
Emergency department overcrowding can lead to patient walkouts, worsening of symptoms, and even mortality, if symptoms progress dramatically without notice. Vita Innovations is developing a reusable smart mask that increases diagnostic efficiency by monitoring and displaying patient vitals without the need for continuous provider intervention, while also preventing the spread of viral particles in emergency room settings.
Learn More About OPEN
Important Date
January 31, 2023: Early Bird and Group pricing ends