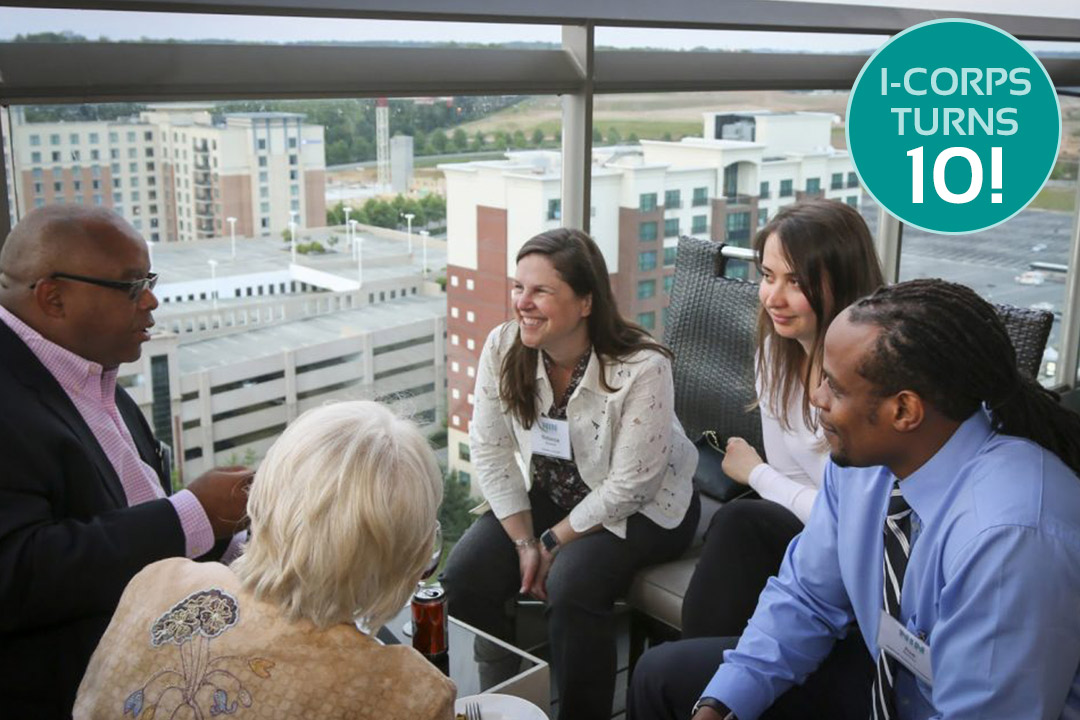 When it was launched ten years ago in 2011, the National Science Foundation's Innovation Corps (I-CorpsTM) Program seemed an unlikely formula for success: give NSF-funded and other researchers a crash course in entrepreneurial skills so they can identify and commercialize their most promising discoveries, thus amplifying the impact of the government's investment in basic research.
The seven-week program would be based on the Lean Launchpad course developed at Stanford University by serial entrepreneur and maverick thinker Steve Blank, and require the researchers and their student colleagues to assess the commercial potential of their research using intensive customer discovery, talking to dozens of possible stakeholders.
As unorthodox as the idea sounded at the time, the program's founder, Errol Arkilic, knew it had merit. From his position with the NSF Small Business Innovation Research/Small Business Technology Transfer (SBIR/STTR) program, which funds about 400 startups annually, he had watched too many researchers fumble through the process of taking an idea from lab to market. "I kept seeing a common fault with academic spin-outs, namely that there was no clear value proposition that could be associated with the project," recalls Arkilic, now the chief innovation officer at the University of California, Irvine. "It was cool science, but where's the value being created?"
Arkilic and the team at NSF presented I-Corps as a way to replace that hit-or-miss approach with the scientific method, training researchers to test the commercial value of their discoveries as they would a hypothesis. The program's validation was swift and compelling. "We knew right off the bat it was going to be really impactful," he recalls. "In the very first cohort, there were a couple of companies formed. We were like, 'This is going to be big. We've got to figure out a way to scale it.' And that's exactly what we did."
Helping NSF achieve that goal was VentureWell, which was initially brought in as a grantee to assess and document the program's impact, and was later enlisted under a cooperative agreement to provide NSF with administrative and network support. I-Corps has grown to become a national and international model for entrepreneurial education, demonstrating that government can indeed be innovative and effective, and deliver significant benefits for the taxpayer and economy.ful run.
the I-Corps impact

In April 2021, the I-Corps program celebrated its 100th cohort. Over ten years, it has trained more than 7,545 individuals participating on over 2,297 teams, who in turn have started over 1,200 businesses and raised $1 billion in follow-on funding. Nearly 300 unique organizations within all 50 states, Puerto Rico, and Washington D.C. have received I-Corps awards. The large-scale national program that NSF pioneered has now been adopted by other federal agencies—today, the National Institutes of Health and the Department of Energy both offer the training—and continues to have broad bipartisan support from Congress.
But perhaps the program's most meaningful legacy is the transformative impact it has had on thousands of researchers and students. One of them is Sethuraman Panchanathan, who took part in an I-Corps team in 2012 when he was a faculty member at Arizona State University. Today, Panchanathan heads the NSF. "I always say, the most important thing about the I-Corps program is that it builds the entrepreneurial-ness in you," he noted in a recent NSF interview. "Success is not always measured by whether you create an entrepreneurial venture. It is also measured by how you take the entrepreneurial mindset and apply it in all of the things you do in your life."
By encouraging researchers to develop that entrepreneurial mindset, observes NSF I-Corps Program Director Ruth Shuman, I-Corps has helped catalyze a broader cultural shift in academia. "Prior to I-Corps, the idea that a faculty member would actually be interested in the commercial applications of their technology was ignored at best, and maybe even shunned," says Shuman, who came to I-Corps after ten years as a program director in the SBIR/STTR Program. "But today, the world of academia has reversed that thinking. And I attribute that largely to the I-Corps program. It really had that impact."
creating a culture of innovation

"There's no question in my mind—we're making a difference," agrees Edmund Pendleton, a lead instructor in the I-Corps program who began as an I-Corps business mentor in 2012. "I run into participants all the time that have moved on to either the SBIR program or have gotten venture capital money, or some that have pivoted to something else entirely. At the end of the day, we're opening people's eyes to how they can do this better. It's instilling an innovation culture."tilling an innovation culture."
Team-outcome data collected by VentureWell as part of its program-evaluation work supports that assertion. "We track their next steps after I-Corps—company formation, technology licensing, patents, impact on economic development in terms of how many jobs are created, and follow-on funding," explains VentureWell's Tara Loomis, who has worked with the I-Corps program since 2014. "All of that allows us to see if the program is doing what Congress expects it to do, and if it is having a meaningful impact on researchers. The answer to both is yes."
Participants echo that in the evaluations they complete after finishing the program. "This program changed the way I perceived the impact of my research," commented one team lead in a 2020 cohort. "It provided a venue to test my hypothesis: 'Talk to the stakeholders. Pivot if needed.' That was simple and life-changing." Observed another, "I cannot imagine going back to the way I used to do research. It has also given me the inspiration and motivation to pursue entrepreneurship more actively, even outside of technology-based startups."
Gathering this data, which are reported every two years under the American Innovation and Competitiveness Act, is one key aspect of VentureWell's role with I-Corps. The other is the day-to-day management and behind-the-scenes administration of the program. The partnership has allowed both organizations to focus on what they do best. "We needed a sophisticated operations and logistics partner, and that's the role that VentureWell fills," explains Shuman. "They've really allowed NSF to achieve their strategic goals on this program."
pivoting amid COVID-19

A recent case in point: When the COVID-19 pandemic prevented the in-person training that was a central part of the I-Corps program, NSF decided to switch to an all-virtual format, and VentureWell supported this swift transition. Shuman recalls how she made the decision in March 2020, giving the administrative team less than ten days to make the switch.
"We had to fly by the seat of our pants," she says. "My very first call was to Venturewell: Can you host meetings on a virtual platform? That was before Zoom was even in our vocabulary. And can you make that happen within the next 10 days? It was absolutely remarkable."
A proactive problem solving approach is the VentureWell way. "We hardly ever say, 'No, we can't do that,'" explains VentureWell's Loomis. "We figure it out."
By December 2021, the program had trained 21 cohorts, comprising more than 1300 teams, in the new online setting. Many participants said the new format worked as well as, and in some ways better than, in person. Eliminating travel and allowing virtual interviews with stakeholders actually lowered barriers, participants reported. "We've really increased the number of women participating, and other underrepresented groups, but maybe most notably people with disabilities who could not travel," Shuman explains.
improving federal research

For instructors like Pendleton, who teaches innovation and entrepreneurship at the University of Maryland and Georgetown University, and coaches corporate innovation teams, the I-Corps program is valuable not merely because it helps researchers have greater economic impact today, but also because it helps the innovators of tomorrow by improving the quality of federal research. "Look at the most important innovations that have happened in this country in the last 20 years," he says, citing smartphones as just one example. "You can trace the history of almost all of them back to some degree of federal funding."
By providing researchers with the entrepreneurial toolkit to assess an idea's value proposition, I-Corps improves the odds that the government's investment will lead to future innovation. And while Pendleton notes that the economic impact of the investment can sometimes take years to fully materialize, "what you can immediately measure is when a tenured faculty member comes out and says, 'This is changing the way I'm going to approach my research. I'm going to do some discovery first next time.'"
Arkilic agrees, noting that these kinds of personal stories—as much as all the data VentureWell has gathered—offer compelling evidence for I-Corps' effectiveness in improving the impact of research. Even if the story is about a researcher who realizes after many years of work that there's no market for their technology.Arkilic agrees, noting that these kinds of personal stories—as much as all the data VentureWell has gathered—offer compelling evidence for I-Corps' effectiveness in improving the impact of research. Even, he notes, if the story is about a researcher who realizes after many years of work that there's no market for their technology.
"That is a really powerful story, because a lot of academic research is prospective—it's looking forward," he explains. "It's guessing that there's a need or use for this technology. And sometimes there is, sometimes there isn't, but trying to figure that out is really meaningful, because now you have a use-inspired approach to the research."
Thanks to I-Corps, Pendleton says, more and more researchers have seen the value of that approach. "We're making progress toward building an ecosystem that really embraces this," he says. "You're seeing it more and more by the universities and others that want to be a part of I-Corps."
a new program infrastructure

With that goal in mind, the NSF recently announced that, in January 2022, I-Corps will be moving to a new operational model based on expanded "I-Corps Hubs" which operate as networks of universities across regions around the country. The regional organizational structure is designed to create a broad National Innovation Network, a tightly connected, highly functional organization of I-Corps Hubs, Nodes and Sites spanning the nation. The move, along with the additional resources that will accompany the restructuring, have Shuman and other key stakeholders even more optimistic about the program's future.
"This is a big change for the program," says Shuman. "It gives us the infrastructure to be able to grow." She notes that I-Corps original mission—to increase the economic impact of promising ideas—is what originally drew her to the program, and continues to inspire her today.
"There's no other program like I-Corps," she points out. "It's reaching out to scientists and engineers on the front lines of developing technology, and helping to train students and postdocs how to assess the commercial application of the technologies they develop. It can have a huge economic impact."
Throughout our data collections, participants self-reported data on venture development activities such as business incorporation status, follow-on funding raised, and number of applications and granted patents. VentureWell has developed a process to verify this self-reported information against trusted sources (e.g. state business registries, SEC records). Reliance on self-reported data alone may not give an accurate depiction of these activities and could lead to an undercount. To improve the accuracy and completeness of these data, VentureWell has developed various data pipelines integrating data directly from trusted sources (e.g. federal grants databases, USPTO) into our dataset. VentureWell only reports on data that has been verified.