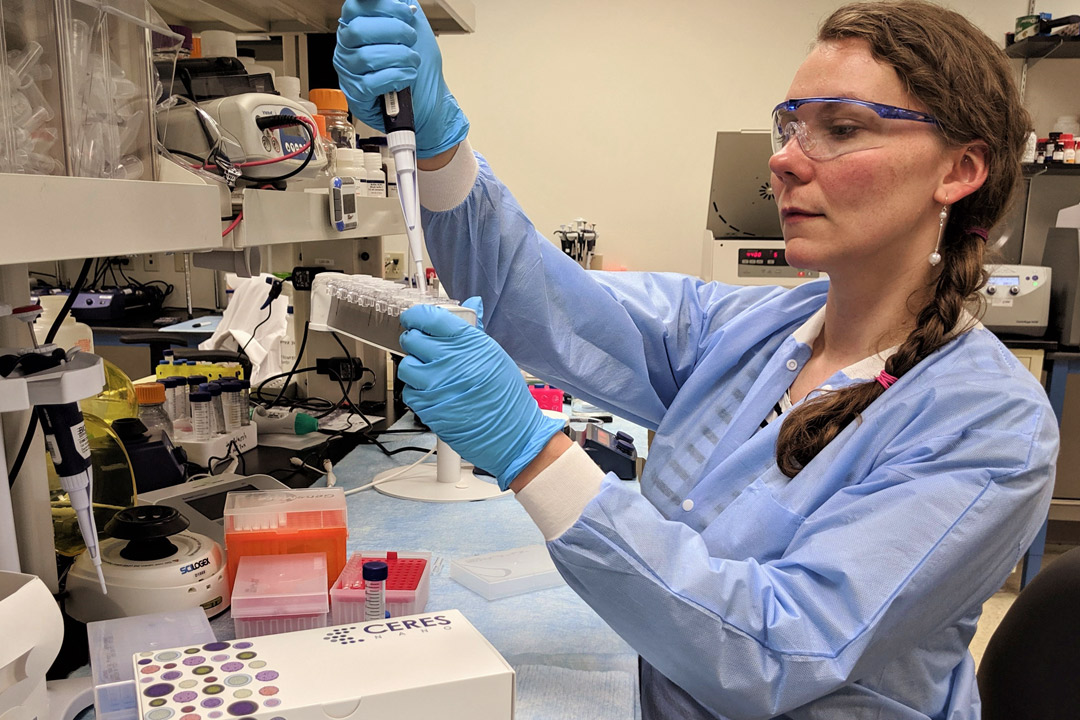 Ceres Nanosciences needed help. The small Virginia-based biotech company makes a hydrogel particle that can rapidly capture and concentrate small amounts of virus (such as SARS-CoV-2) for analysis. They were working to scale up their production with support from the Rapid Acceleration of Diagnostics (RADx®) initiative, the $1.5 billion National Institutes of Health (NIH) effort to boost the country's COVID-19 testing capability. The Ceres team needed a computer programmer with a specialized skill set: someone who could write a new script for a liquid-handling robot. And—as implied by the program's name—the sooner the better.
The company turned to Andrew DiMeo, their RADx Tech Team Lead and a biomedical innovation consultant and educator, who in turn reached out to the vast network of researchers, industry experts, and government consultants brought together by RADx. Putting out a request to the interdisciplinary web of contacts, DiMeo was able to quickly identify a candidate for the position. It was a win for the team, to be sure, but the next step in the process might have quashed any feelings of victory: getting that person contracted and approved for work.
For this, DiMeo turned to VentureWell, which provides the RADx Tech infrastructure support services. "The speed at which VentureWell put a contract in place so this resource could be available to the team was unbelievable, a matter of days," recalls DiMeo, noting that this kind of talent search and onboarding can often take weeks or months. It's a small but telling example of what has made the program successful, he says. "VentureWell, and all of RADx, has ultimately provided additional bandwidth to these organizations."
And for Ceres Nanosciences, that additional bandwidth has been a valuable benefit indeed—in some ways, more valuable to the company than the RADx® initiative's financial backing. "We are able to function with the nimbleness of a 25-person company, but with the maturity and capabilities of a much larger organization, because we have the support and the network of RADx and VentureWell," explains Robbie Barbero, the company's Chief Business Officer.
the player behind the scenes
Administrative services may not get the attention of a game-changing technology, but, as the RADx program demonstrates, it can be a deciding factor in whether an innovation fulfills its commercial promise. "We do all the non-interesting things to make sure everyone is being supported," explains Mark Marino, VentureWell's RADx Project Director, offering a list of examples to make his case: government compliance, security testing on platforms, payment processing, sub-contracting to third parties, and procurement standards. "We are this unseen entity, keeping all the trains running on time." To date, RADx Tech has fully backed 30 projects (from a pool of more than 800 applicants), partially supported another 50, increased COVID-19 testing capacity in the U.S. by some 125.5 million tests per month (with the production rate increasing to meet the current shortfall in antigen testing) and compressed the commercialization timeframe from years to months.
RADx program leaders knew from the start that coordination was going to be vital, as RADx was attempting to merge cultures from academia, industry, and government, as well as enlisting a range of consultants and other resources.
"On paper, it shouldn't have worked," jokes Nancy Gagliano, MD, a veteran healthcare executive and member of the Boston-area Consortia for Improving Medicine with Innovation and Technology (CIMIT), who was brought in as the RADx Tech's Core Deployment Team Lead. "CIMIT was in charge of providing the organizational infrastructure to allow these projects to continue to move forward. And we were partnered with VentureWell, who had deep experience in getting resources and helping to support the infrastructure."
As the program took shape, Gagliano observed a level of cooperation among government agencies—U.S. Food and Drug Administration (FDA), Centers for Disease Control and Prevention (CDC), Department of Defense (DOD), NIH—that she found "extraordinary." Similarly, participants from industry and academia rose to the challenge. "People came to this project with the sense that this was really important, and important for the country," she says. "And they put their egos, their need for recognition, their expectation for promotion, and how this was going to affect their career, on the shelf."
an emphasis on process
At the same time, program leaders kept all the participants on track with a relentless focus on process. Beginning in May 2020, Gagliano, VentureWell, and other program administrators began meeting every weekday morning—and have continued without a break. "There's been a tremendous amount of behind-the-scenes work," she notes. "If you meet every single day for a year and a half, you have a lot of time to refine the process." The resulting success, for Gagliano, suggests a new administrative model for how best to fund translational innovation.
Rather than the typical government grant process, where an agency such as NIH awards a sum of money to a company and asks for a report after a period of time, RADx showed that there can be advantages to regularly checking in with grantees and offering a centralized support system. "Combining government, academia, and business can really create leaps and bounds of innovation in a much, much faster way," she says. "Much more quickly than the traditional ways that government agencies have worked before."
support pays off
That certainly was the case for Ceres Nanosciences, which was able to leverage the resources of RADx to pivot to a new area of disease surveillance. The company came into RADx looking to offer its Nanotrap technology to labs, where the proprietary "baits" can speed the process of attracting and isolating a virus from a sample. With operations support from RADx, along with a multimillion-dollar grant, the company was able to build a manufacturing facility "in a matter of months," reports team lead DiMeo, but selling to large labs, for a number of reasons, was not the market the team thought it would be.
The company also had been doing pilot tests of its particles as a tool for detecting the SARS-CoV-2 virus in sewage, specifically wastewater from dormitories at the University of California San Diego. The promising results—that the baits were able to detect a single case of COVID-19 in a dorm of 415 students—encouraged the RADx team, which began putting the wheels in motion behind the scenes.
"There was a team at Emory University that has really good collaborations with the CDC," explains DiMeo. He noted that Emory University is part of POCTRN (Point of Care Technologies Research Network) and an integral part of RADx, and that his team had relationships there. They asked if researchers at Emory University were investigating wastewater surveillance for COVID-19. "And before you know it, we're making connections between the team at Emory and Ceres, and brought that to RADx," said DiMeo.
The company is now participating in more than a dozen wastewater surveillance programs around the country, including a program with Emory University focused in the Atlanta metro area that is concentrated on underserved and vulnerable populations.
the value of intangibles
For RADx portfolio executive Michael Harsh, a longtime biotech industry insider, this kind of networking and support is what makes RADx so exciting. "We leveraged the framework that we had in RADx to really supercharge this program by pulling in Emory University to help," he says. Harsh, who had a 36-year career at General Electric and co-founded a digital x-ray startup, notes that for companies like Ceres, the connections and infrastructure support services provided by RADx might prove to be more beneficial than the financial investment.
"I know the companies appreciate the money, but it's the intangibles and the in-kind support they also get with the investment that makes the difference," he says. "From a regulatory standpoint, from a process standpoint, from scaling the company, to project management, these are the types of resources that companies have said they benefited from—in some cases, more than the money."
Ceres' Barbero agrees. "This is not just a funding program. The RADx® initiative brings with it access to a network of experts who want to help us succeed."
Learn how RADx partnerships speed new COVID-19 testing.