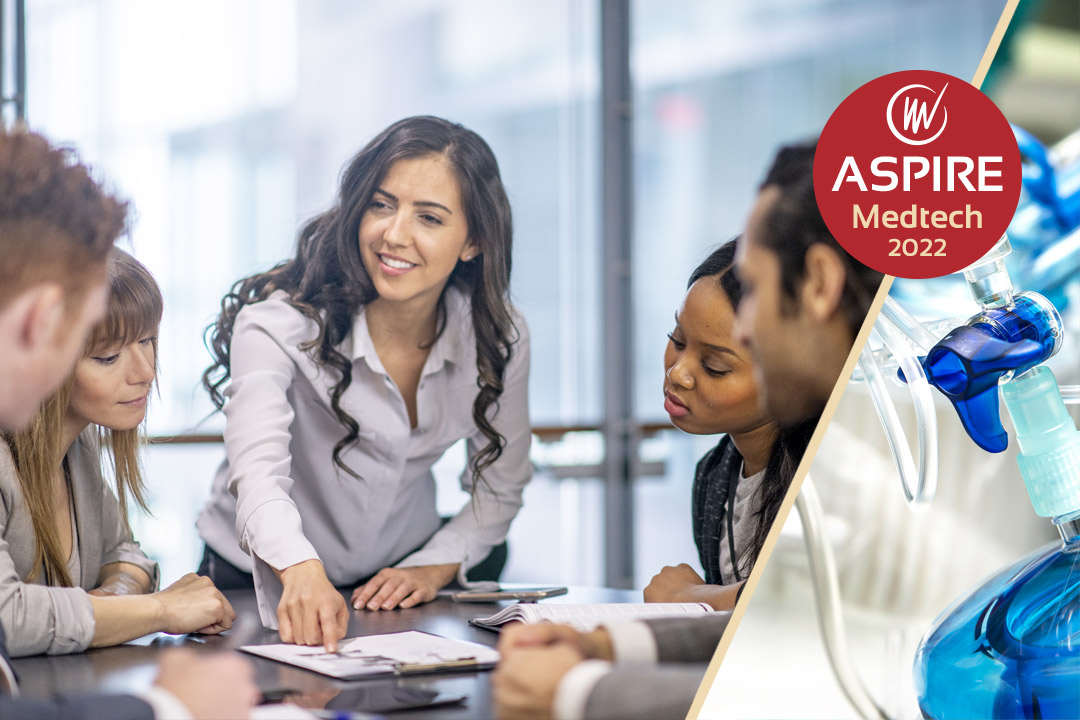 VentureWell has chosen 11 medtech startups to participate in the Fall 2022 cohort of the ASPIRE investment readiness program, taking place from October 3 to November 4. The selected startups are on the path to commercializing medical devices, surgical tools, diagnostics and screening tools, telehealth platforms, and global health products to support and improve patient health.
ASPIRE Medtech offers an intensive five-week training, which prepares entrepreneurs for investment and building their companies. Startups will gain insight into the mind of the investor as well as an understanding of what is required during the due diligence process; they will complete the program with a vetted fundraising strategy, including a clear ask and milestones.
Training culminates with an in-person workshop at TechTown Detroit, an incubator and accelerator that helps tech startups and local businesses launch and grow. ASPIRE Medtech is offered in partnership with TechTown Detroit, which connects entrepreneurs to resources and events in Detroit and supports local businesses by providing spaces for professional collaboration and networking.
Meet the Fall 2022 ASPIRE Medtech Cohort:
Acorn Genetics
Chicago, IL
Acorn Genetics is developing an at-home DNA sequencing method to enhance the discovery of genetic predispositions to diseases.
Heartbeat Technologies
Charleston, SC
Heartbeat Technologies is developing the SAVER, a non-invasive CPR add-on device that connects to a patient during cardiac arrest to redirect blood, combating mortality and neurologic disability that can occur afterward.
Immergo Labs
Santa Cruz, CA
Immergo is developing a telehealth platform to connect therapists and patients online for effective and engaging remote physical therapy and monitoring.
INHERET
Ann Arbor, MI
INHERET is automating the collection of family health information, allowing for rapid assessment of cancer risk level, personalized screening, and prevention plans.
Magsorbeo Biomedical
Detroit, MI
Magsorbeo Biomedical is developing absorbable metal implants for the mouth, jaw, and face, to reduce surgical interventions, improve outcomes, and reduce healthcare costs.
MALCOVA
Newark, CA
MALCOVA is developing a medical imaging device to allow more accurate imaging for the diagnosis of breast cancer.
Noleus Technologies
Houston, TX
Noleus is developing a low-risk medical device to reduce swelling and fluid overload, which delay patient recovery post-surgery.
Orthoforge
East Grand Rapids, MI
Orthoforge is developing a wearable artificial intelligence (AI) device that continuously characterizes and monitors bone and soft tissue trauma and healing, enabling remote monitoring for patients.
RevMedica
Madison, CT
RevMedica is developing medical devices that provide critical decision-making information to surgeons, which will extend their reach to targeted tissue, lower total costs, streamline workflows, and reduce toxic waste.
Sisu Global
Baltimore, MD
Sisu Global is developing a handheld autotransfusion device that enables clinicians to salvage, filter, and recycle blood from patients with internal bleeding in under-resourced healthcare environments.
Urban Docz
Dearborn, MI
Urban Docz is providing an accessible and affordable telehealth platform to underserved women who are seeking support for their reproductive health.
"We're really excited to work more closely with this class of promising medtech ventures. The innovations they're developing have the potential to lower costs and increase the quality of care in the industry," said Tricia Compas-Markman, Senior Program Officer. "We're focused on creating a necessary space during ASPIRE for these entrepreneurs to learn the inner workings of the due diligence process and build their confidence before they enter into boardroom and partnership conversations."
Access to a Dynamic Team of Investor Mentors
A highlight of the ASPIRE program is the robust team of experts each startup has access to throughout the program. We are pleased to welcome the following mentors-in-residence: Brittni Abiolu, Founder and Managing Director, VentureHue; Elaine Bolle, Angel Investor, RTP Capital; Greg Campbell, CEO, Rainmaker Inc.; Patrick Hennessey, Angel Investor, The Keiretsu Forum Midwest; Marianne Hudson, Founder and Executive Director Emeritus, Angel Capital Association; Keith Jennings, Angel Investor and Director at Blue Cross Blue Shield of MI; Deborah Livneh, Executive Director and Former Medtech Startup Founder, Windsor Essex Capital Angel Network; David J. Morin, Founder and Managing Member, Care Technology Advisors; Eddie Patton, General Partner, Prosalus Capital Partners; Jonathan Seltzer, Angel Investor, NuFund Venture Group; and DeWayne R. Williams, Angel Investor, Commune Angels.
In addition to mentors-in-residence, ASPIRE Medtech will host coaches, guest speakers, and individual office hour mentors representing angel investor, venture capitalist (VC), and sector perspectives to provide each company with added support and expertise throughout the program.
Meet the ASPIRE Medtech Partners and Sponsors
TechTown Detroit contributes to this program annually with generous support from the William Davidson Foundation. The program is also generously supported by VentureWell's legacy funding partner, The Lemelson Foundation, which is dedicated to supporting the power of invention to improve lives. In addition, we are also supported by MedHealth, a regional collaboration driving health innovation in Southeast Michigan and Southwest Ontario; Cooley LLP, an international law firm; and in2being, a medical product development and consulting firm.
We are thankful for the program partners, sponsors, and investors that are offering their time and resources to support these startups!
Learn More About the ASPIRE Program
ASPIRE has had a great impact on seed-stage startups since its inception in 2015. Across 130+ startups, they have raised nearly $277M in funding, with a 78% venture persistence rate. ASPIRE startups that are also E-Team grantees are eligible to receive matching investment from VentureWell.
We congratulate the members of our newest ASPIRE cohort!
---
Interested in serving as a mentor or guest speaker for ASPIRE? Contact Senior Program Officer Tricia Compas-Markman to learn more about the program and how to participate in an upcoming cohort.