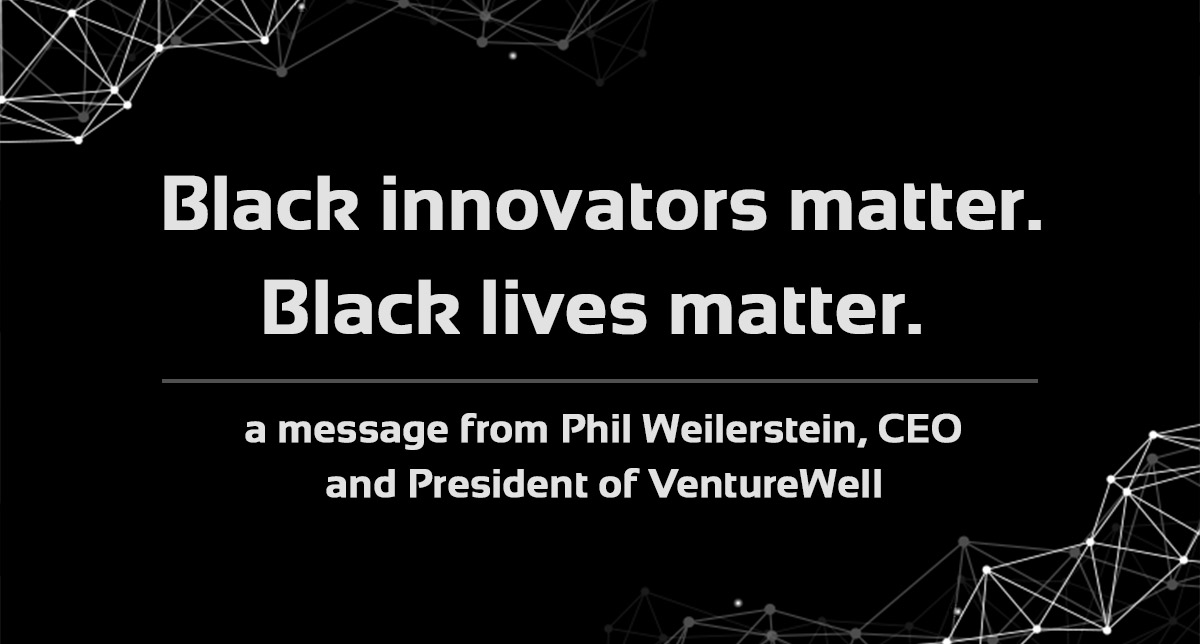 June 2020
A message from Phil Weilerstein, CEO and President of VentureWell.
The brutal killings of George Floyd, Breonna Taylor, and Ahmaud Arbery are horrific and wrong. I can no longer remain silent. As the CEO of VentureWell, and as a person of privilege across many identity markers, it is necessary for me to reckon with this moment and to add my voice and actions to the change that is necessary.
The public health emergencies of systemic racism and COVID-19 disproportionately impact historically marginalized communities; the compounding effect of these simultaneous crises has created new burdens beyond belief. I must use the opportunities available to me as a white, male leader of this organization to push against the systemic racism that plagues our country. Having been a leader at VentureWell for the last 25 years, I see clearly now more than ever how much more there is for me to learn and do in service of a more equitable nation.
Racial equity is core to the mission of VentureWell. We strive to increase access and remove barriers for emerging science and technology innovators and entrepreneurs to bring forth their ideas to address the world's greatest problems. We will not be successful if we do not actively examine and work to remove the barriers historically marginalized groups have faced in STEM and in innovation and entrepreneurship. Black, Latinx, and Indigenous students, researchers, faculty, entrepreneurs, and innovators are key to taking on the problems of our collective future.
We bear a responsibility to our network of innovators, faculty, and investors to increase racial equity in our work. VentureWell commits to an ever-more active and explicit focus on racial equity in all that we do—with our staff, through our policies, and in our engagement with the broader STEM and innovation and entrepreneurship communities. I know from discussions with our staff, in particular with VentureWell staff of color, that as an organization we have a long way to go. I am confident that all of our staff will continue to lean into our collective commitment to addressing issues of equity, and that we will work together to bring about necessary change.
To start, VentureWell commits to the following actions:
We will actively work to support and expand the participation of Black, Latinx, and Indigenous individuals and teams in our grants and programs.
We will continue to raise awareness of and support policies that expand equity within STEM entrepreneurship and innovation, in particular amplifying those policies that expand access and remove barriers for Black innovators.
We will review our internal policies with an equity lens and we will make changes where they are needed, with specific focus on our hiring practices, consultant selection, and vendor selection.
In closing, I emphatically denounce white supremacy. Black innovators matter. Black lives matter. There is much work to do, and VentureWell stands ready to take this opportunity to learn and grow and do our part.
– Phil Weilerstein, CEO and President of VentureWell