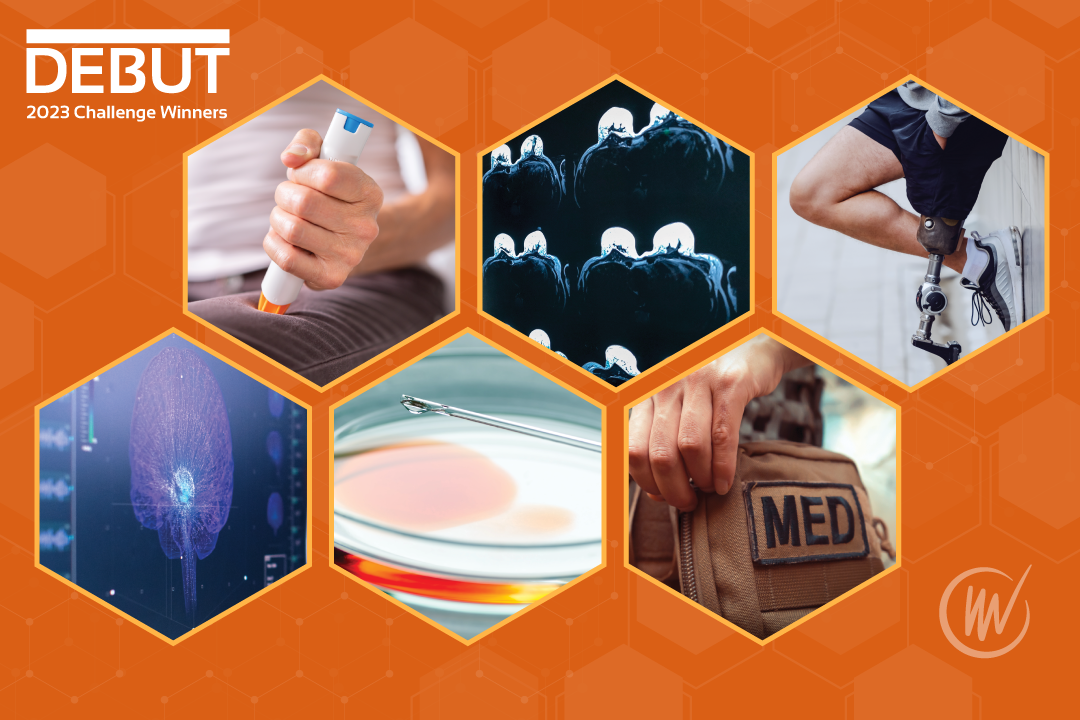 The National Institutes of Health (NIH) and VentureWell are pleased to announce the winners of the 12th annual Design by Biomedical Undergraduate Teams (DEBUT) Challenge! Ten winning projects and five honorable mentions won prizes totaling $145,000 for their solutions focused on improving real-world problems in healthcare by addressing pressing health and clinical challenges. Their transformative innovations include a prosthetic socket paired with a smartphone app that automatically adapts fit for below-knee amputees, a point-of-care diagnostic device that can diagnose severe hemorrhaging using a drop of blood, and a device that mimics a microscope to allow pathologists to remotely analyze cancerous cells.
The DEBUT Challenge, managed by the National Institute of Biomedical Imaging and Bioengineering (NIBIB) as part of NIH; and VentureWell, a nonprofit that supports science and technology innovation and entrepreneurship, historically recognizes exceptional undergraduate innovation in biomedical design. After a competitive application process, submissions were selected based on a demonstrated mastery of analytical and design skills and capabilities, the ability to manage the product development process, the ability to work effectively in teams, and technical communication skills. This year, more than 100 applications were submitted from 52 universities in 26 states and the District of Columbia, engaging a total of 446 students.
All the winning teams will be honored at an award ceremony during the Annual Meeting of the Biomedical Engineering Society in October 2023.
Discover more about their solutions:
The Steven H. Krosnick Prize (First Place): $20,000
EpicPen
Purdue University
Anaphylactic food allergies can induce rapid and potentially fatal symptoms, but for low-income families, accessing appropriate treatment is often a financial challenge. EpicPen developed a low-cost, reusable epinephrine auto-injector that aims to decrease the financial barrier to life-saving drugs.
Team Captain: Nathan French
Team Members: Victoria Sinfield, Nick Will, Brianna Shannon, Deepa Jayasankar
Faculty Sponsor: Asem Aboelzahab
Second Place Prize: $15,000
Feminora
University of California-Irvine
The vaginal speculum used by gynecologists during pelvic exams has changed very little from its original design almost 200 years ago. Feminora developed the OneSpec, a speculum with a 360 design to eliminate painful pressure points and increase physician visibility.
Team Captain: Anushka Chauhan
Team Members: Jazmin Arias, Shlok Bansal, Joyce Chen, Allison Friefeld, Lucas Jones, Rohan Kunduru, Artin Rashidi, Jennifer Reyes
Faculty Sponsor: Christine King
Third Place Prize: $10,000
Breast MRI Biopsy Positioning and Immobilization Device
University of Wisconsin-Madison
It's estimated that nearly 280,000 new cases of invasive breast cancer will be diagnosed in women in the U.S. this year, and for high-risk patients, magnetic resonance imaging (MRI) breast scans are used. Breast MRI Biopsy Positioning and Immobilization Device developed a reusable tool that provides tissue compression for breast tissues of all sizes, ranging from A to DD cup, in an effort to allow for more precise and effective cancer detection.
Team Captain: Claire Swartz
Team Members: Cameron Ashford, Emma Brower, Sam Herzog, Helen Treankler
Faculty Sponsors: Dr. Wally Block, Dr. Lonie Salkowski
Healthcare Technologies for Low-Resource Settings Prize: $15,000, with funds from the National Institute of Minority and Health Disparities
DioTeX
Johns Hopkins University
Each year, trauma-induced hemorrhage accounts for more than 60,000 deaths in the U.S. and 90% of preventable deaths of U.S. soldiers without access to a hospital setting. DioTeX developed a point-of-care diagnostic device similar to at-home COVID-19 antigen tests that can diagnose severe hemorrhaging in under 15 minutes using a drop of blood.
Team Captain: Ellie Zhang
Team Members: Feiyang Huang, Eric Simon
Faculty Sponsor: Dr. Nicholas Durr
HIV/AIDS Prize: $15,000, with funds from the NIH Office of AIDS Research
FADpad
Georgia Institute of Technology
Today, half of U.S. counties lack an obstetrician-gynecologist (OB-GYN), which disproportionately affects women with socioeconomic limitations in rural areas. FADpad developed an at-home menstrual diagnostic pad with a filter inside that can be removed and sent to a lab via a kit in order to identify early stages of diseases like HIV, HPV, and cervical cancer.
Team Captain: Netra Gandhi
Team Members: Ethan Damiani, Rhea Prem
Faculty Sponsor: Dr. Wendy Cocke
Rehabilitative and Assistive Technologies Prize: $15,000, with funds from the National Center for Medical Rehabilitation Research at the Eunice Kennedy Shriver National Institute of Child Health and Human Development
Adjustable Prosthetic Socket
University of California-San Diego
Below-knee amputees often experience swelling in their residual limb, which can result in discomfort, sores, imbalance, loss of perception of that area of the body, and displacement of the prosthetic. Adjustable Prosthetic Socket developed a prosthetic socket—paired with a smartphone app—that automatically adapts fit based on daily activities.
Team Captain: Anton Gerasimov
Team Members: Jay Chok, Savanna Turner
Faculty Sponsor: Dr. Bruce Wheeler
Technologies for Cancer Prevention, Diagnosis, or Treatment Prize: $15,000, with funds from the National Cancer Institute
MiaFit
University of California-San Diego
Approximately 88% of women who are treated for cervical cancer with radiation will develop vaginal stenosis, which can involve painful symptoms that are treated using vaginal dilation therapy. MiaFit developed an affordable, portable, and rechargeable vaginal dilator that can measure internal pressure through a Bluetooth mobile app, giving patients the ability to treat vaginal stenosis in their own home.
Team Captain: Ritika Singh
Team Members: German Gonzalez, Stella Kotzabasakis, Melina Tsotras
Faculty Sponsor: Dr. Frank Talke
Technologies to Empower Nurses in Community Settings Prize: $15,000
RAAM INC.
Clemson University
Urinary tract infection (UTI) is one of the most common bacterial infections in pediatric patients, and diagnosis can be uncomfortable and time-consuming. RAAM INC. developed U-Sert, a skin-safe diaper urinalysis insert that contains reagents to flag the presence of a UTI, allowing for easy in-clinic or at-home use.
Team Captain: Allie Beiter
Team Members: Reagan Hamm, Maddie Thomas, Anna Wichmann
Faculty Sponsor: Dr. John DesJardins
Venture Prize: $15,000, funded by VentureWell
SteadyScrib
Northwestern University
People with Parkinson's disease experience tremors and muscle rigidity that can make using traditional writing implements difficult. SteadyScrib developed a magnetic pen and clipboard that stabilize movement from tremors and support improved grip with a curvy, weighted design.
Team Captain: Isabelle Mokotoff
Team Members: Alexis Chan, Priya Dave, Jamison Stout
Faculty Sponsor: Hayes Ferguson
Design Excellence Prize: $5,000, funded by VentureWell
SpasTECH
New Jersey Institute of Technology
Spasticity is a neuromuscular condition characterized by an abnormal increase in muscle tone or stiffness, which can interfere with movement and speech and cause discomfort or pain. SpasTECH developed the SpasTECH Spastic Arm Simulator, a software-controlled mechanical arm model consisting of a forearm, elbow, and bicep that utilizes cable systems to simulate a variety of spasticity so that clinicians can train and accurately diagnose and treat patients.
Team Captain: Cole Bienert
Team Members: Hayder Khan, William Kroeger, Ashwin Kurian, Roark McFadden
Faculty Sponsor: Dr. Alev Erdi, Dr. Jongsang Son
Honorable Mention: $1,000
Enginuity
University of Michigan-Ann Arbor
Millions of people in the U.S. have neurogenic bladder disorder. Treated through clean intermittent catheterization (CIC), the process can be time-consuming and ineffective and result in complications like infections or kidney stones. Enginuity developed Fast-Cath, an accessible, portable device that drains and irrigates bladders while maintaining safe pressure, flow, and urine volume levels.
Team Captain: Jayanth Tatikonda
Team Members: Connie Gao, Benjamin Gerber, Ritika Pansare, Joel Pingel
Faculty Sponsor: Dr. Rachael Schmedlen
Honorable Mention: $1,000
HIVigilance
University of Washington-Seattle Campus
In 2022, approximately 39 million people worldwide were living with HIV. Treatment typically begins with antiretroviral therapy (ART), but up to 10% of adults with HIV can experience drug resistance, with that resistance percentage increasing in patients who are under 18 months old. HIVigilance developed an efficient, low-cost device that screens for the potential of drug resistance in order to increase the effectiveness of ART treatment in low-resource settings.
Team Captain: Dylan Riley
Team Members: Kaitlin Beel, Sasha Friese, Emilia Garcia-Bompadre, Madison Walenta
Faculty Sponsor: Dr. Christopher Neils
Honorable Mention: $1,000
PixCell
Dartmouth College
In 2022, an estimated 1.9 million cancer cases were diagnosed in the U.S., and on average, it can take weeks to receive a diagnosis, particularly in underserved communities without consistent access to a pathologist. PixCell developed Rava-One: The SmartScope, a device that mimics a microscope and allows pathologists to remotely analyze digital slides for patients in areas without access to diagnostic services.
Team Captain: Advaita Chaudhari
Team Members: Alexander Carney, Lauren Goyette, Ziray Hao, Lauren Kidman, Daniel Lubliner, Marjorie McDonald, Annie Qiu
Faculty Sponsor: Dr. Aravindhan Sriharan
Honorable Mention: $1,000
Sanibag
University of Toledo
Current methods of cleaning colostomy bags can be slow and inefficient and require a high level of maintenance to prevent leakage. Sanibag developed a colostomy bag with a silicone cap and valve where a syringe is inserted to rapidly flush the bag, allowing for more hygienic cleaning.
Team Captain: Kylie Spade
Team Members: Zein Hassan, James Huynh, Luke Sheehan, Meg Taylor
Faculty Sponsor: Dr. Eda Yildirim-Ayan
Honorable Mention: $1,000
Captavate
Arizona State University
According to a 2016 report, 6 million children were diagnosed with attention-deficit/hyperactivity disorder (ADHD) and up to 81% were taking medication for treatment, which can lead to side effects like appetite loss and disrupted sleep. Captavate developed CaptaEEG, a non-invasive, cost-effective active focus aid that attaches safely to the head and provides real-time feedback on brain activity, reducing the need for medication in some children.
Team Captain: Abyssinia Bizuneh
Team Members: Makenna Colton, Michael Li, Alec Roadarmel
Faculty Sponsor: Vincent Pizziconi