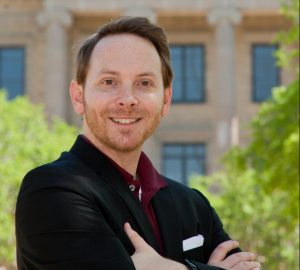 VentureWell lost a member of the E-Team family when Luke Neese, founder of Acoustic Shield Security, passed away at his home in Texas on December 27.  We first met Luke as an E-Team grantee in the Spring 2015 cohort, after Acoustic Shield Security had been formed with the support of Texas A&M's Startup Aggieland program. He went on to join us at several VentureWell events throughout 2017, and will always have a place in our hearts.
A life-long learner, Luke exemplified the interdisciplinary and impact-minded ethic of a VentureWell innovator. Prior to gaining his bachelor's degree in philosophy in 2015 from Texas A&M, he served and protected his community as a police officer for the Richardson Police Department, and volunteered on medical missions with MedLife to help children in Peru. His creative spirit and passion for public safety led to his founding Acoustic Shield Security, which developed a mechanism for immediate detection and reporting of indoor gunshots. His vision was that everyone feel as protected in a crisis – be they in school, at work, or at home – knowing that help is on the way.  He was an avid explorer, reader, photographer, and tinkerer, though he will be best known to us for his desire to positively impact the world.
Luke had a genuine and enthusiastic curiosity. He brought a high degree of intellectual humility to the creation of Acoustic Shield Security: he was rigorous when uncovering his assumptions, open to a healthy debate, and diligent in taking steps to get back on-course.  "He had a generous heart and high integrity. I had more than a few conversations with him about equity splits as he was very concerned about making sure his co-founders were well compensated," recalled Janine Elliott, a VentureWell program officer. His good humor and interest in genuine connection with others quickly turned strangers to friends – be they faculty, peers, investors, or business partners.
Our thoughts are with his wife, Virginia Neese, his parents and siblings, and the Texas A&M community.  His family invites you to share a note or picture here.  In lieu of flowers, memorial donations on Luke's behalf can be made to Patriot Paws.