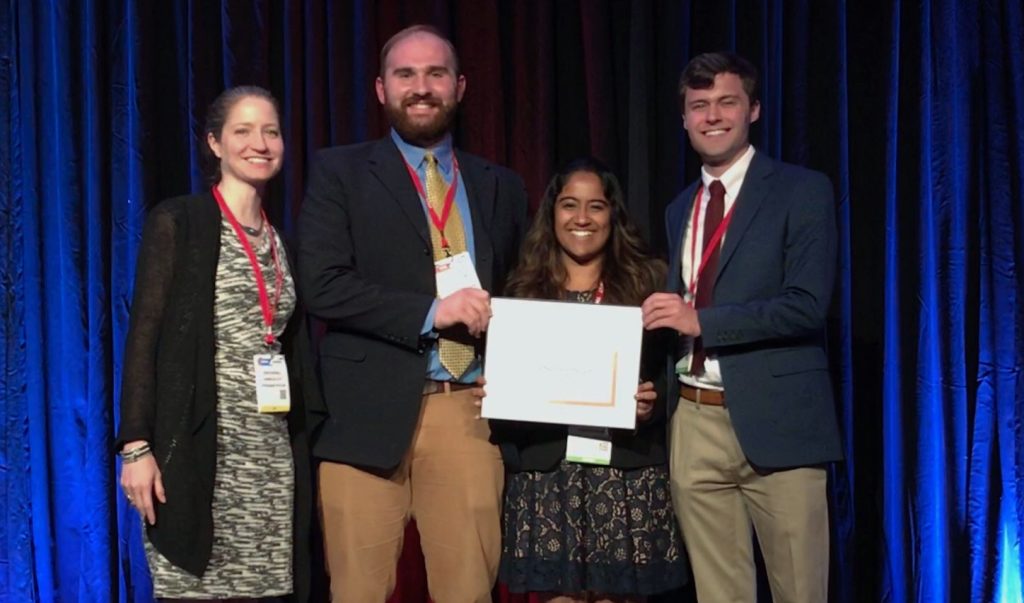 VentureWell awarded three student teams $17,500 in our 2018 BMEidea competition. BMEidea is the nation's premier competition for biomedical and bioengineering innovation, open to both graduate and undergraduate students. It challenges young innovators to pioneer a health-related technology that addresses a real clinical need.

Prizes of $10,000, $5,000, and $2,500 will be awarded to the top three winners at the MD&M East Conference on June 12-14 in New York.

VentureWell congratulates these three teams that have won the 2018 BMEidea awards.

1st Place – $10,000 Winner: UroSuction Scope, University of Michigan
The UroSuction Scope allows urologists to safely perform kidney stone removal procedures with the aim to maintain low intra-renal pressure. The all-in-one solution safely combines irrigation with active suction within the ureteroscope to reduce the risk of tissue damage and post-operative infection.
2nd Place – $5,000 Winner: Pneumonix Medical,  Johns Hopkins University
Annually, over 1.2 million CT-guided lung biopsies are performed worldwide for lung cancer diagnosis. Pneumothorax (PTX), (collapsed lung), is the most common complication of this procedure. Pneumonix Medical has developed the PreVENT device which aims the seal the biopsy tract to prevent this complication from occurring.
3rd Place – $2,500 Winner: LifeWatch, University of Pennsylvania
Anaphylaxis is a life threatening allergic reaction that affects 1 in 50 Americans, requiring an immediate injection of epinephrine. Team LifeWatch has developed a wearable watch-like auto-injector. The device is a slim, lightweight, and easy-to-remember solution to a life-threatening problem faced every day by millions of people.
Honorable Mention: Nanodropper, University of Washington
Current packaging of prescription eye drop medications administer larger drops than needed. This causes patients to run out of medication before their next refill, resulting in costly out-of-pocket expenses for new eye drops, or worse, missed applications of a critical eye-care regimen. The Nanodropper is an affordable, universal eyedropper adapter that decreases drop volume, reducing cost and waste, and allowing greater prescription adherence.

To learn more about the competition and see past winners click here.