Cap off the conference with the must-attend OPEN Minds showcase and reception. Our top student E-Teams will demonstrate their ground-breaking innovations and practice their pitches to faculty, VentureWell's extended staff and funders. Attendees will receive $3 million in Venture Bucks to "invest" in the team (or teams) they like best. At the end of the night, the team receiving the most Venture Bucks will win a $3,000 prize. The second- and third-place teams will win $2,000 and $1,000, respectively.
Apply here by December 11, 2017.
Read the OPEN Minds 2018 Guidelines here.
Questions? Please contact Brenna Breeding.
This year's OPEN Minds event will take place at the Bullock Texas State History Museum, located at 1800 Congress Ave. in Austin.
Meet the 2017 OPEN Minds teams here.
Highlights from the OPEN Minds 2017 Showcase and Reception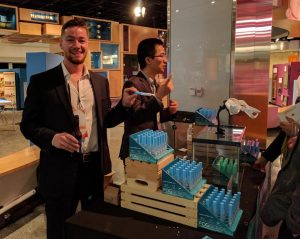 Treaty LLC demonstrates their innovation.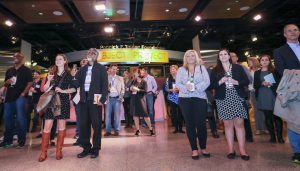 Attendees listen to announcement of the winners.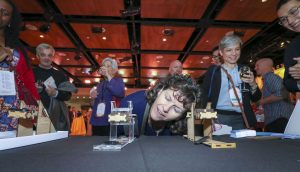 Curious attendee inspects a team's invention.