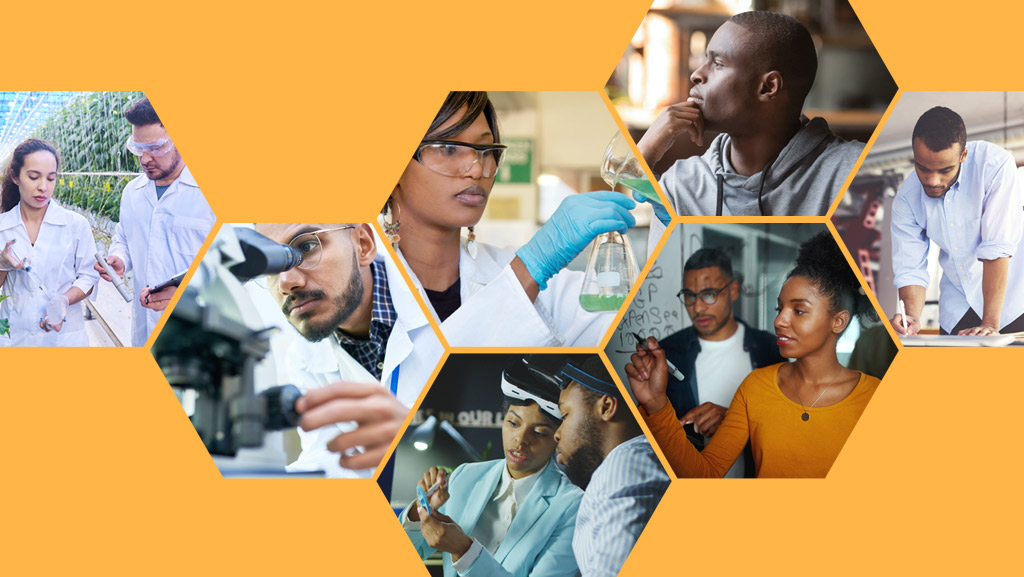 The collaboration will accelerate and amplify African American tech-entrepreneurial leadership and venture formation
Black Tech Ventures (BTV), an organization that works to empower African American tech innovators and entrepreneurs, and to foster a culture of entrepreneurship at historically Black colleges and universities (HBCUs), and VentureWell, a nonprofit that supports and trains science and technology (S&T) inventors and innovators and nurtures their startups towards scale and impact, today announced a new partnership that will promote entrepreneurial leadership among African American tech professionals and accelerate venture formation at HBCUs.
The partnership will leverage BTV's extensive social capital and networks across HBCUs and within the African American STEM professional community as well as VentureWell's deep expertise in entrepreneurship education, training and certification, and its decades of experience in working with universities to foster invention and commercialization. Initially, the partnership will focus on entrepreneurship education and training for African American STEM majors and tech professionals. BTV's programs are led by experts in entrepreneurship education and lean startup training who have supported dozens of innovation programs, both domestically and internationally. The BTV team includes its co-founders Legand Burge III, Ph.D. and Grant Warner, Ph.D., both Professors at Howard University; Chad Womack, Ph.D, Senior Director for National STEM Programs and Initiatives at the UNCF, and Jaye Espy, BTV's Director of Programs.
"Many Black students matriculate through their undergraduate and even graduate STEM programs without ever being exposed to entrepreneurship or encouraged to consider becoming startup founders. These students represent a critical source of tech entrepreneurial leaders who can build, lead and scale startup companies. We are strong believers around "Equity in Equity". The gap in exposure, support, and funding for Black founders has led to unsustainable wealth inequality. This partnership is one part of the comprehensive approach needed to increase Black participation in equity (wealth)-building activities," said Grant Warner.
"The partnership with VentureWell provides an extraordinary opportunity to leverage the strengths of each organization and establish an entrepreneurship education and training platform that will empower the next generation of African American innovators and entrepreneurial leaders in technology. We are particularly excited about the opportunity to work with VentureWell to build a best practice and resource center that will support tech transfer and commercialization at HBCUs," said Chad Womack.
A key element of the partnership will be the entrepreneurship education and training for African American students who are in the earliest stages of their entrepreneurial journey. For those who successfully complete the initial introductory phase of the program (Lean Startup 101), there will be opportunities to continue their journey through BTV's pre-accelerator Fellowship Program and to apply for additional grant funding, training, and support from VentureWell's E-Team program. The partners also seek to establish an HBCU Center for Excellence in technology transfer and commercialization that will enhance the entrepreneurial and commercialization capacity of HBCUs while empowering them to capture the market value of on-campus R&D related activities. BTV and VentureWell also plan to convene key leaders in and allies to the HBCU community — from across higher education, policy, research, industry, philanthropy, and other sectors — around timely issues and opportunities related to further building, nurturing, and amplifying the African American tech and venture ecosystem.
"For 25 years, VentureWell has sought to demystify and democratize invention. Yet our mission will never fully be realized if we do not break down the systemic barriers that deny some groups of people meaningful participation in the S&T innovation ecosystem — including those who identify as Black, Latinx, or Indigenous, women of all backgrounds, individuals from low-income backgrounds, and other underrepresented groups. Partnering with Black Tech Ventures and other leaders in the HBCU ecosystem will ensure that the ideas and voices of more Black innovators and inventors will be heard, activated, and amplified. VentureWell stands excited and ready to continue to partner, listen, and learn," said Phil Weilerstein, President & CEO of VentureWell.
Those interested in learning more about the Black Tech Ventures and VentureWell partnership should contact either Jaye Espy at jaye@blacktechventures.org or Phil Weilerstein at pweilerstein@venturewell.org.
---
About Black Tech Ventures
Black Tech Ventures (BTV), is a Philadelphia, PA-based nonprofit organization that empowers and encourages tech-entrepreneurship among African Americans engaged in a variety of science, technology, engineering and math (STEM) disciplines at the undergraduate, graduate, postdoctoral and faculty or professional levels. Many African American students matriculate through their undergraduate and, even, graduate STEM programs without ever being exposed to entrepreneurship or encouraged to consider becoming startup founders.
Black Tech Ventures is addressing this opportunity by establishing the Tech Ventures Fellowship program. The fellowship — BTV's flagship program — will serve as a pre-accelerator and help prepare students pursuing degrees across STEM disciplines learn about the core principles of Lean Startup and how to utilize that approach to develop minimum viable products that can scale while they launch new tech ventures. The goal is to develop a consistent pipeline of quality tech startups founded by Black STEM students who attend a variety of higher ed institutions including Historically Black Colleges and Universities (HBCUs), and networks of majority institutions.
To learn more visit www.blacktech.ventures
About VentureWell
At VentureWell, we envision a world in which science and technology innovators have the support, training, and access to networks and resources they need to solve the world's most difficult problems. We foster collaboration among the best minds from research labs, classrooms, and beyond to advance innovation and entrepreneurship education and to provide unique opportunities for STEM students and researchers to fully realize their potential to improve the world.
Since our founding in 1995, we've trained more than 9,500 early-stage innovators and helped launch over 1,700 ventures that have raised over $1 billion in follow-on funding. These ventures have reached millions of people in over 50 countries with technological advancements in fields such as biotechnology, healthcare, sustainable energy and materials, and solutions for low-resourced settings.
We are proud that leading institutions, from foundations to government agencies to major businesses, support our mission to transform higher education and technology entrepreneurship. The Lemelson Foundation, National Science Foundation (NSF), Bill & Melinda Gates Foundation, USAID, and the Ewing Marion Kauffman Foundation are among those who recognize ours as a powerful model for supporting emerging STEM innovators and the entrepreneurship ecosystems that are critical to their success.
Visit www.venturewell.org to learn more.