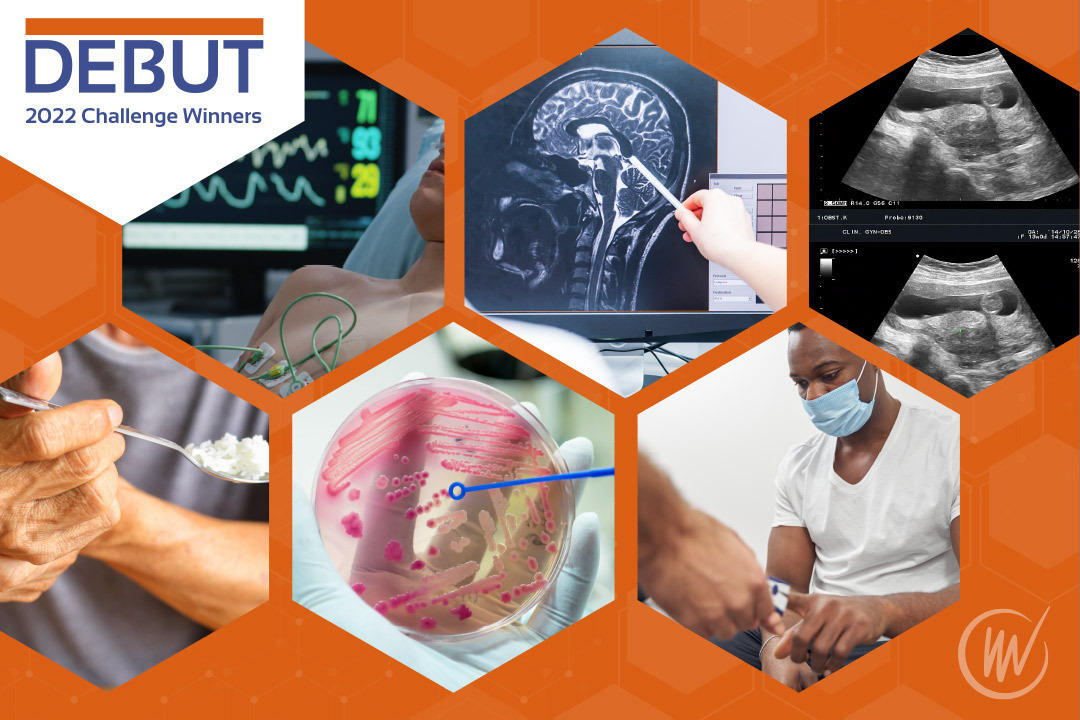 The National Institutes of Health (NIH) and VentureWell are pleased to announce the winners of the 11th annual Design by Biomedical Undergraduate Teams (DEBUT) Challenge, with prizes totaling $130,000. There are nine winning projects and five honorable mentions that designed technology solutions focused on improving global health.
Innovations range from hardware that measures skin tone in order to take more accurate blood oxygen saturation readings to physical therapy guided by artificial intelligence. We are privileged to help support these winning ideas!
DEBUT is a biomedical engineering design challenge for teams of undergraduate students, managed by the National Institute of Biomedical Imaging and Bioengineering (NIBIB), part of the NIH; and VentureWell, a nonprofit that supports science and technology innovation and entrepreneurship in higher education. This year, a total of 73 applications were submitted from 43 universities in 19 states, four countries (US, Canada, China, and Syria), engaging a total of 456 students.
Let's meet the winning teams and their innovations:
Steven H. Krosnick Prize (First Place) Prize: $20,000
EquinOx: Earlier Detection of Hypoxemia in Dark Skin Tone Patients
Johns Hopkins University
Most pulse oximeters fail to account for differing patient skin tones. The EquinOx is better able to estimate blood oxygen saturation by using new hardware that measures both skin tone and raw pulse oximeter data.
Team Captain: Jerry Zhang
Team Members: Vivek Chari, Clara Cho, Janice Lin, Rahul Swaminathan, Valerie Wong, Yuqi Zhang, Stanley Zhu
Faculty Sponsor: Dr. Elizabeth Logsdon
Second Place Prize: $15,000
Ampliphage: An At-Home Diagnostic for Group B Streptococcus
Stanford University
Group B Streptococcus (GBS) affects one in four women worldwide. In developing nations, a lack of access to screenings leads to 147,000 newborn deaths a year, and many more who are born with lifelong complications. The Ampliphage is an affordable, easy-to-use diagnostic tool that can detect GBS in low-resource settings. At 3% of the cost of current tests, it can be used in areas that cannot afford the more expensive tests and help to decrease infant mortality rates.
Team Captain: Karsten Householder
Team Members: Alex Bradfield, Chris Neimeth, Michelle Shen
Faculty Sponsor: Dr. Ross Venook
Third Place Prize: $10,000
CERV: Monitoring Risk of Preterm Birth with Cervical Stiffness
Columbia University in the City of New York
Preterm birth occurs in 10.1% of pregnancies in the US and is the leading cause of death worldwide for children under the age of five. CERV is designed to monitor the risk of preterm birth by quantifying cervical stiffness without the use of a speculum in low-resource clinical settings.
Team Captain: Emily Pogue
Team Members: Hannah Ballard, Kiarra Lavache, Joyce Liu, Aala Nasir
Faculty Sponsor: Dr. Aaron Kyle
Healthcare Technologies for Low-Resource Settings Prize: $15,000, with funds from the National Institute of Minority and Health Disparities
HappyHeart: A Pediatric Handheld Heart Rhythm Monitor
Indiana University-Purdue University-Indianapolis
More than 1.6 million children in the US have had or currently have a heart condition that requires a diagnostic test. An EKG, which detects the rhythm, rate, and defects of the heart, uses 10 adhesive electrodes that can be uncomfortable for young patients. The HappyHeart is a cost-effective 3D-printed approach to pediatric diagnostic EKGs that will increase comfort and ease of use, while also reducing costs.
Team Captain: Katelyn Murphy
Team Members: Joseph Bustamante, Nathaniel Chesterson, Haley Gill
Faculty Sponsors: Dr. Sharon Miller, Dr. Lester Smith
HIV/AIDS Prize: $15,000, with funds from the NIH Office of AIDS Research
Point-of-Care Automated Stainer for Tuberculosis Diagnostics (POCAS: TB)
Northwestern University
In 2020, more than 1.5 million people in the US died from tuberculosis (TB). Current smear tests to identify TB are cumbersome, time-consuming, and prone to deliver inconsistent results. The POCAS:TB can perform acid-fast SSM stains using components of a standard 3D printer to reproduce the stain procedures in a timely and consistent manner.
Team Captain: Peter Kouassi
Team Members: Shani Katz, Isaac Tenga
Faculty Sponsor: Dr. Matthew Glucksberg
Rehabilitative and Assistive Technologies Prize: $15,000, with funds from the National Center for Medical Rehabilitation Research at the Eunice Kennedy Shriver National Institute of Child Health and Human Development
Yoomi
Cornell University
Home Exercise Programs (HEPs) are a crucial part of the physical therapy process toward patient rehabilitation. Currently, there are many limitations to HEPs, including no real-time feedback or positive reinforcement and minimal data collection. Yoomi is an AI-driven physical therapy platform that uses computer vision to provide patients with concurrent feedback on their exercise form, as well as healthcare professionals with exercise data and insights to optimize treatment.
Team Captain: Benjamin Catania
Team Members: Matthew Gaerke, Joseph Whelan
Faculty Sponsor: Daniel Hooker
Technologies for Cancer Prevention, Diagnosis, or Treatment Prize: $15,000, with funds from the National Cancer Institute
Neurosafe Adjustable Cranial Fixation System
Rensselaer Polytechnic Institute
Every year, 18 million people are impacted by a stroke. Some patients experience brain swelling, necessitating invasive and dangerous emergency surgical procedures. The Neurosafe skull fixation device provides the structural support needed to protect the vulnerable brain after operation, while incorporating movement to accommodate brain swelling and subsequent shrinkage.
Team Captain: Sonya Heldman
Team Members: Alexandra (Ali) Bisaccia, Katrina Bliss, Grady Habicht, Taylor Keyt
Faculty Sponsor: Dr. Mohamed Hisham
Venture Prize: $15,000, funded by VentureWell
EMIT—Male Contraceptive
Arizona State University
According to US rankings from the United Health Foundation, nearly half of all pregnancies are unintended. Of those, 95% are due to lack of contraceptives or incorrect use, which increase maternal health risks. EMIT is a minimally invasive alternative male contraceptive utilizing an injectable hydrogel and chemical deactivator composite system that provides a completely reversible double barrier to sperm movement past the vas deferens.
Team Captain: Candace Pless
Team Members: Gabriella Estrada, Fabiha Firoz, Anwar Gadhi, Keiry Rodriguez
Faculty Sponsors: Dr. Vincent Pizziconi, Dr. Jessica Weaver
Design Excellence: $5,000, funded by VentureWell
SteadiSpoon™
Southern Methodist University
University of Oklahoma-Norman
For people who suffer from Parkinson's disease and essential tremor, current motorized solutions for hand tremors are expensive, not machine washable, and require charging. SteadiSpoon™ is developing an affordable self-stabilizing eating utensil designed to help people who suffer from Parkinson's and essential tremors.
Team Captain: Raleigh Dewan
Team Members: Nicholas Houchin, Mason Morland, Ethan Trotter
Faculty Sponsors: Kirsten Jefferys, Bruce Snider
Honorable Mention: $1,000
Bio-Spire: The First Wearable, Continuous Monitoring Device for Sepsis Diagnosis Through Sweat
University of Rochester
Sepsis results from an overwhelming immune response to infection and it is the cause of 1 in 5 deaths worldwide. Bio-Spire is the first continuous, non-invasive tool for the detection and monitoring of sepsis risk. The device consists of a wearable sleeve that detects sepsis-related biomarkers in patient sweat, allowing for much earlier diagnosis and treatment.
Team Captain: Maria Schapfel
Team Members: Amanda Adams, Anca Frasineanu, Ena Haseljic, Tracey Moyston, Tiana Salomon, Irina Ter-Ovanesyan, Muskaan Vasandani, Jingyi Yan
Faculty Sponsor: Dr. Anne Meyer
Honorable Mention: $1,000
Bladder Volume Monitor To Reduce Autonomic Dysreflexia in Spinal Cord Injuries
Purdue University-Main Campus
Autonomic Dysreflexia (AD) is an overreaction of the autonomic nervous system, which can result in a heart attack or stroke in individuals with spinal cord injuries. AD is triggered by the feeling of a full bladder 85% of the time. Bladder Volume Monitor is a non-invasive monitoring device that alerts the user when their bladder is at 50% fullness in order to avoid AD.
Team Captain: Ben McAteer
Team Members: Chris Kannmacher, Damen Wilson
Faculty Sponsor: Dr. Hugh Lee
Honorable Mention: $1,000
HairWare
University of Miami
During electroencephalograms (EEGs), patients with Afro-textured hair can experience difficulty in electrode adherence to the scalp. HairWare is an electrode holder consisting of two quickly-assembled components that ultimately immobilize an electrode and keep it in close proximity to the scalp during recordings.
Team Captain: Joy Jackson
Team Members: Kailyn Hayes, Chika Nwosu
Faculty Sponsor: Dr. Jorge Bohorquez
Honorable Mention: $1,000
Tilt on the Toilet
University of Rochester
Many people with neurological conditions, brain injuries, and spinal cord injuries experience the loss of regular bowel movement due to limited mobility. Tilt on the Toilet is a novel commode attachment device that allows users to lean forward and safely achieve the squatting hip-flexion angle for best results. This reduces the time and strain involved with defecation and improves the user's freedom, control, and quality of life.
Team Captain: John Bates
Team Members: Chastity Chavez, Madison Lang, Alexander Rivera
Faculty Sponsor: Dr. Amy Lerner
Honorable Mention: $1,000
Trachare: Tracheostomy Stabilization
Georgia Institute of Technology-Main Campus
Every year, 100,000 patients rely on tracheostomies to breathe. The Trachare is a three-component system that secures the tracheostomy tube and allows for unrestricted motion of the tube away from the incision site. In addition, a gel-lined neck tie prevents fabric-induced pressure ulcers, and silicone padding sits underneath the plastic plate of the tracheostomy tube to allow for pressure distribution at the incision site. This increases patient safety and comfort, decreases hospital stays, and saves precious healthcare provider time and effort.
Team Captain: Ameera Patel
Team Members: Karan Kaimal, Amy Liu, Advay Mahajan, Manognya Sripathi
Faculty Sponsor: James Rains