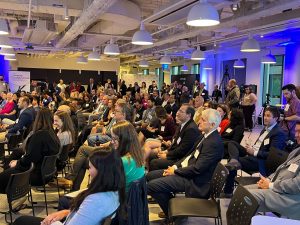 On October 26, the ARPA-H Investor Catalyst Hub celebrated its official launch in Boston, Massachusetts. VentureWell was selected in September 2023 by the Advanced Research Projects Agency for Health (ARPA-H) to act as the Consortium Management Firm for one of three regional hubs that comprise ARPANET-H, a nationwide health innovation network.
We were honored to welcome several distinguished guests at the launch ceremony, including Maura Healey, governor of Massachusetts; Edward Markey, senator for Massachusetts; Michelle Wu, mayor of Boston; William "Mo" Cowan, chair of the Board of Directors at MassChallenge; Renee Wegrzyn, director of ARPA-H; and Mark Marino, vice president of Growth Strategy and Development at VentureWell and project director for the Investor Catalyst Hub.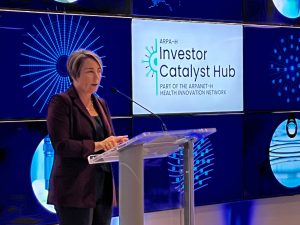 "Congratulations to VentureWell. We are really proud that a nonprofit headquartered in Western Massachusetts is running point for this effort," said Governor Healey during opening remarks. "Director Wegrzyn, thank you for your belief in our people, in this state, our values, and most importantly, your belief in our ability to deliver innovative solutions to needed healthcare across the planet. Hosting ARPA-H's Investor Catalyst Hub is a huge win for our state."
The Investor Catalyst Hub is mobilizing a powerful ecosystem of spokes designed to accelerate the commercialization of practical, accessible biomedical solutions. These spokes comprise a dynamic, nationwide network of organizations representing venture investors, startups, accelerators, nonprofits, clinical researchers, commercialization resource organizations, and academic institutions.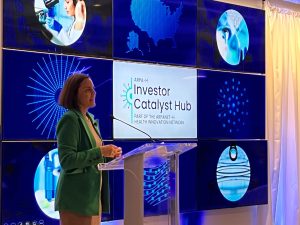 Initial spokes include the Advanced Public Health Informatics Institute (Olympia, WA), Angel Capital Association (Overland Park, KS), Brown University (Providence, RI), Cherokee Nation Health Services (Tahlequah, OK), Emory University (Atlanta, GA), HealthTech Arkansas (Bentonville, AR), MATTER (Chicago, IL), Mayo Clinic (Rochester, MN), New Orleans BioInnovation Center (New Orleans, LA), the University of Montana (Missoula, MT), and more. The full list of spokes can be viewed on the Investor Catalyst Hub Spoke Members page.
"This is the starting line of the work that is ahead. To truly fulfill ARPA-H's mission of improving health outcomes for all Americans, we will need to activate the potential of all of the spokes in the Investor Catalyst Hub network," said Marino. "Our spoke network embodies a rich and representative range of perspectives and expertise. We are excited to see what is possible when mission-aligned organizations come together to bring medical breakthroughs to market for the people who need them most."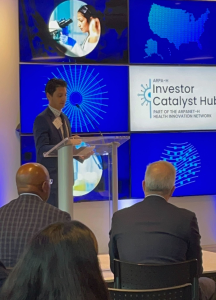 As the nationwide network of spokes continues to rapidly expand, applications are still being accepted on a rolling basis. Organizations that are interested in participating are encouraged to learn more and apply for membership at www.investorcatalysthub.org/spoke-network.
About the Investor Catalyst Hub
The Investor Catalyst Hub, part of the Advanced Research Projects Agency for Health (ARPA-H), connects researchers, entrepreneurs, and investors to accelerate the development of innovative healthcare solutions. Founded in 2023 and based in the Greater Boston area of Massachusetts, the Investor Catalyst Hub is one of three regional hubs in ARPA-H's nationwide health innovation network, ARPANET-H.
The Investor Catalyst Hub aims to scale health research and venture investment ecosystem capabilities, disrupt traditional care models, create new delivery pathways, and help performers bring game-changing solutions to market to solve big problems in health. The hub facilitates novel research findings and future-forward ideas to advance commercialization, affordability, and revolutionary breakthroughs to achieve improved health outcomes for all Americans. For more information, visit www.investorcatalysthub.org and follow us on Facebook, Twitter/X, LinkedIn, and Instagram.