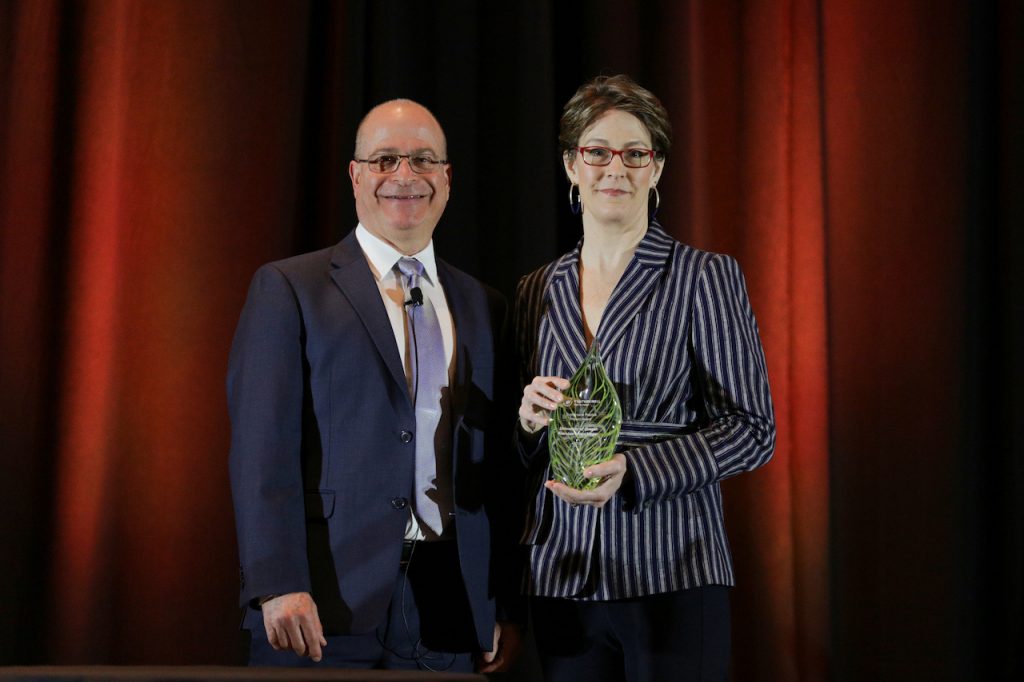 Professor Kiersten Muenchinger and the University of Oregon will receive this year's Sustainable Practice Impact Award, which honors an individual, company, or institution developing clean technologies, implementing sustainable practices, or providing exceptional educational opportunities to university students. The award will be presented during a luncheon on Saturday, March 24, 2018 in Austin, TX, as part of the VentureWell annual OPEN conference.
Muenchinger, Associate Professor and Department Head of Product Design at the University of Oregon, and her team at the university are being honored for their achievements in sustainability education. Despite not having a natural nexus like an engineering or medical school to drive innovation and sustainability curriculum, Muenchinger and the University of Oregon have built these principles into the foundation of nearly every course of their multidisciplinary design program, and have integrated green chemistry into foundational courses.
The university's Product Design Department has also achieved significant national recognition for their innovative work. Last year alone, University of Oregon product design professors won the 2017 American Design Honors, an award that recognizes excellence in creative design and superior entrepreneurial ability, and the work of two student teams were named among the top ten products and installations at WantedDesign 2017 in New York.
"University of Oregon's program is a prime example of what can be achieved through a proactive coordinated approach," said VentureWell president Phil Weilerstein. "Through strategic collaborations across university departments and within the local community, they have created a model, high-impact educational program with critical sustainable design and business principles at its core."
Past Sustainable Practice Impact Award winners have gone on to major breakthroughs. Last year's recipient, SiNode Systems, recently formed a partnership with PPG Industries to accelerate the commercialization of high-energy anode materials for advanced battery applications in electric vehicles.
The Sustainable Practice Impact Award ceremony will also feature a fireside chat with Thomas Kalil, expert on technology and innovation policy, and VentureWell president, Phil Weilerstein. Kalil served during the Obama administration as Deputy Director for Technology and Innovation for the White House Office of Science and Technology Policy, and Senior Advisor for Science, Technology, and Innovation for the National Economic Council. He is currently the Chief Innovation Officer of Schmidt Futures and Entrepreneur-in-Residence at UC Berkeley.
The ceremony is a highlight of the VentureWell OPEN conference, an annual gathering of students, faculty, business leaders, and investors to discuss the rapidly evolving field of technology entrepreneurship education. Read a highlight of the OPEN 2018 conference here.