We awarded 19 student teams over $185k in our Spring 2018 cohort of the E-Team Grant Program.
E-Teams receive grants of up to $25,000 and get training through our early-stage innovator training program. The training provides peer networking, expert coaching, national recognition, and hands-on workshops to move their innovations forward.
The Spring 2018 cohort includes 13 teams that are each receiving a $5,000 Stage 1 grant, and six teams that are receiving a $20,000 Stage 2 grant. These teams will attend three-day workshops in Boston. Stage 1 E-Teams will focus on discovering the best market for their inventions, and Stage 2 E-Teams will work to develop and validate their business models.
The 19 new grantees include:
Stage 1: Pivot Agriculture Technologies // University of New Hampshire – This team is creating an automated fertilizer and irrigation application system to help farmers significantly reduce operating costs, minimize production downtime, and eliminate crop losses.
Stage 1: Burnflex // University of Puerto Rico-Mayaguez – Burnflex is creating a novel burn wound dressing using a film-forming foam that is portable and easy-to-apply, and enables more patient mobility, protects against outside elements, and accelerates healing.
Stage 2: Collaborative Sense // Oregon State University – Current processes used to measure the adoption and impact of biomass cookstoves are time and resource intensive, inaccurate, and do not provide adequate data. Collaborative Sense developed the FUEL (Fuel, Usage, and Emissions Logger) System to remotely monitor the daily use and fuel consumption of household cooking devices.

Stage 2: CReATE // University of California-San Diego – A large percentage of patients who undergo costly, invasive cardiac resynchronization (CRT) therapy do not benefit from the treatment. CReATE has developed a patent-pending technology that better predicts a patient-specific response to CRT surgery through advanced analysis of patient imaging and EKG data.
about our e-team grant program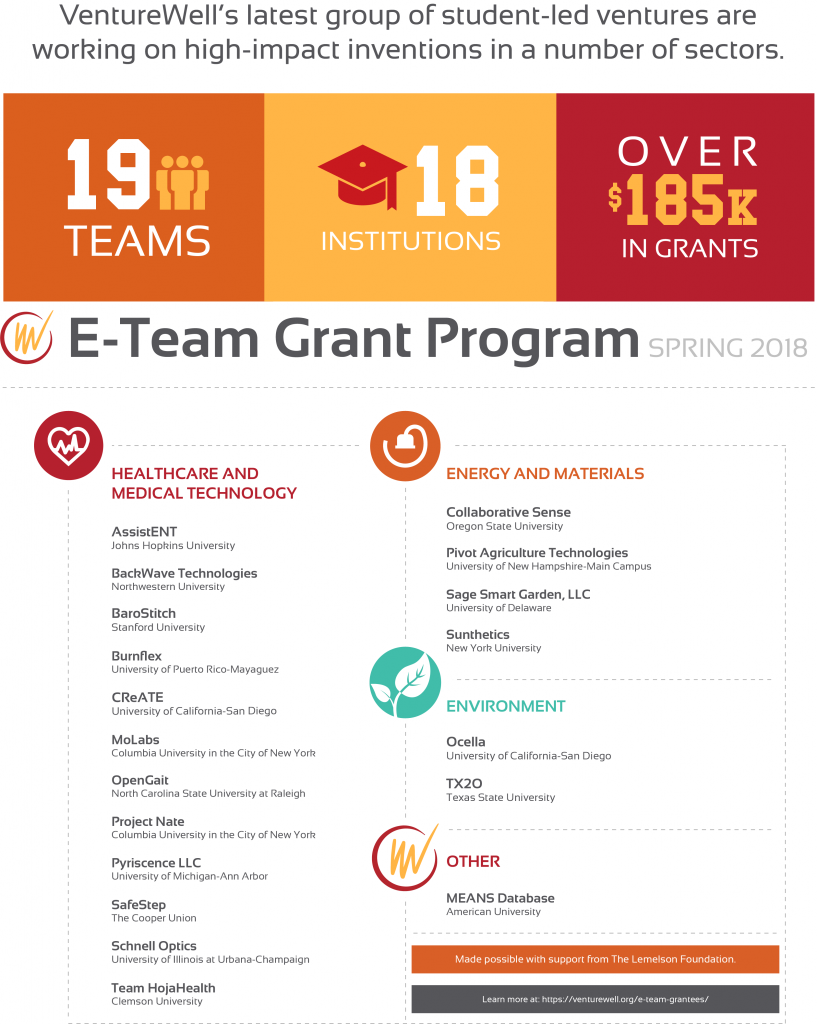 The E-Team Grant Program targets students with an idea or invention that could potentially solve a real world, social need. Over the past 20 years, more than 700 grants have been given through VentureWell in order to help teams move ideas out of the lab and into the market. Learn more about our E-Team Grant Program here. 
View the recent funded Stage 1 and Stage 2 E-Teams!