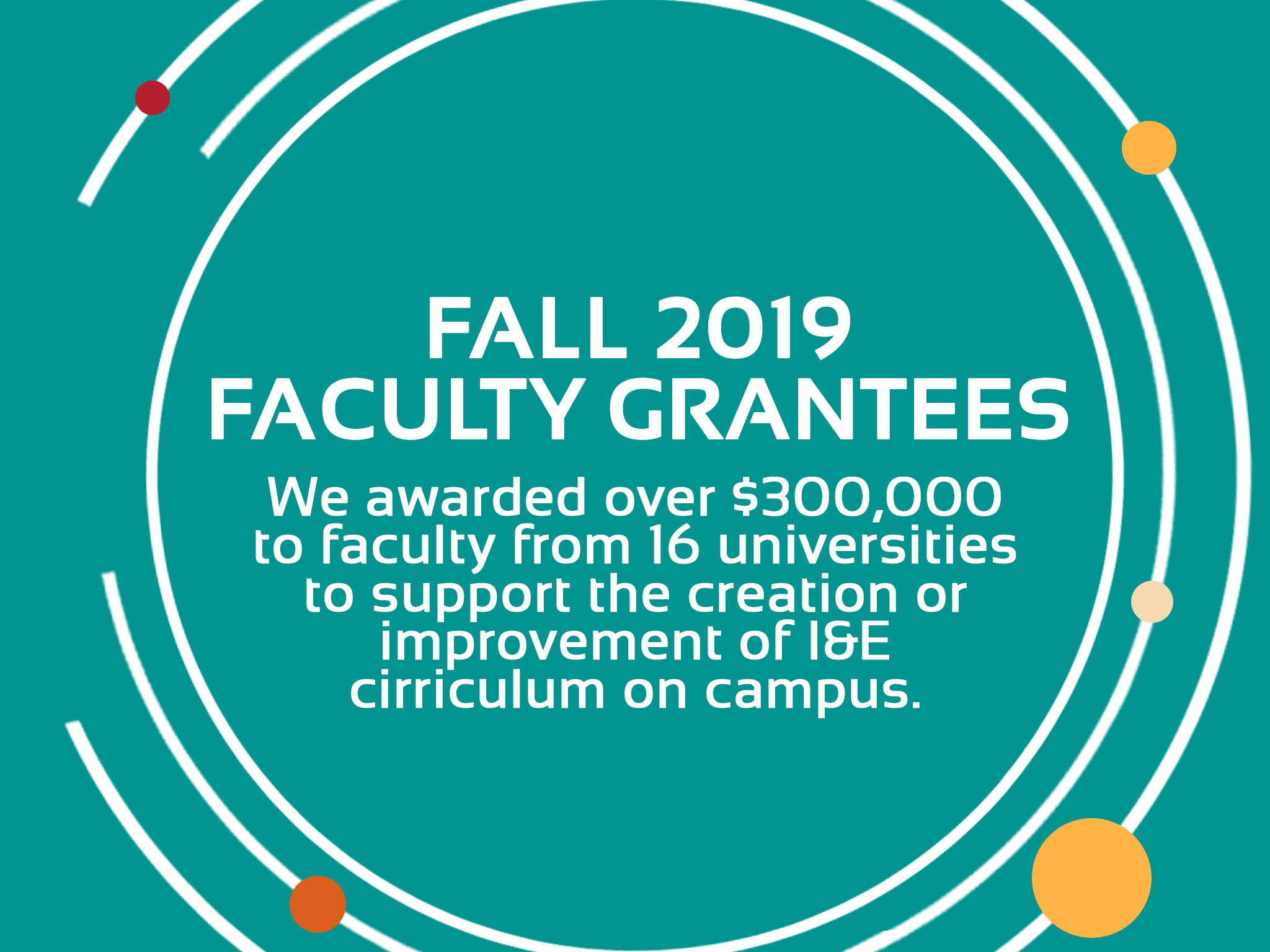 Our newest faculty grantees will develop programs and courses integrating environmentally responsible practices and methodology into their I & E curriculum.
We're excited to announce the newest faculty grantees that have been accepted into the Fall 2019 Faculty Grants Program. We awarded over $300,000 in total to faculty grantees from sixteen universities to support the creation or improvement of courses and programs that engage students in STEM innovation and entrepreneurship. This exceptional group of grantees was selected through a competitive national review process; winning proposals were chosen based on the potential for their course or program to have a significant and lasting impact on their entrepreneurial ecosystem, and to support promising student teams in their pursuit of commercialization beyond the classroom.
Meet our newest grantees:
Experiential Learning Framed in a Tribal Context – Infusing the Salish Kootenai College Undergraduate Life Sciences Program with Entrepreneurship
Wendy Westbroek, Salish Kootenai College
An initiative to integrate entrepreneurship into the Life Sciences curriculum. Through experiential coursework, students will learn how to employ entrepreneurship to positively impact the socio-economic status of their Tribal communities, preparing them to move into leadership positions in government, non-profits, and established businesses in the Life Sciences.
BUILDing Future Leaders in STEM Startups
Jessica Menold, Pennsylvania State University-Main Campus
An extension of an extracurricular program, BUILD (Boosting Undergraduate Innovation and Leadership through Design), was designed to bolster women and minority students' confidence in engineering abilities. The program will serve as a pathway into entrepreneurship for traditionally underrepresented groups in both STEM and entrepreneurship.
STEM-MBA Integrative Project
Michael Ryan, Texas Tech University
A new initiative within the STEM MBA program that complements students' technical engineering background with the business skills needed for management and leadership roles. The Integrative Project is designed to develop interdisciplinary student teams and support them to commercialization.
Enhancing Unmet Clinical Need Finding through Immersive and Virtual Reality Experiences
Christine King, University of California-Irvine
A course for undergraduate engineering students that offers virtual reality clinical immersion experiences to identify and evaluate real-world healthcare problems for products developed during their senior year. Students will work in multidisciplinary teams to develop an innovative medical solution that can improve current practices in healthcare and that have the potential to be commercialized.
BioTEC: Biology – Teaching Entrepreneurship through Collaboration
Adrienne Williams, West Virginia University
A new program for Biology students that will introduce them to principles of entrepreneurship, provide resources for student-led startup teams to create innovative biotechnologies, and support them in commercializing their innovations. Students will be prepared to serve the growing biotech economy and enact positive social and environmental impacts through their innovations.
Creating an Implementation Course for the Social Impact Design & Engagement Program: Expanding RIT's Innovation and Entrepreneurship Ecosystem to Alleviate Poverty
Rob Stevens, Rochester Institute of Technology
A new two-semester course that will be the culminating experience for RIT's Social Impact Design and Engagement (SIDE) program. Students interested in innovation and entrepreneurship for social impact will form teams with a coach and use skills developed in earlier courses to co-create technologies with local and international partners that address real-world poverty issues.
Elevating Women in Tech-Based Entrepreneurship
Annette Kendall, University of Missouri-Columbia 
A new program that provides support for women entrepreneurs in technology. Students will receive guidance and mentorship around developing technology-focused ventures, patent best practices, and securing investment.
Health-Technology Education and Acceleration through Multidisciplinary Science (H-TEAMS)
Colin Depp, University of California-San Diego
A new capstone course to accelerate the learning process for student teams in the health technology certificate program. Teams will work with biomedical industry professionals and patient advocacy representatives to perform in-depth assessments of the commercialization potential for their biomedical innovations.
Design Achieved with Generosity (DAWG): Integration of Engineering Design and Clinical Immersion for Solving Unmet Medical Needs for Underserved Populations
Cheryl Gomillion, University of Georgia
A modification and expansion of the current Biological Engineering Senior Capstone Design course. Combining engineering design, entrepreneurial innovation, and clinical immersion, students will identify unmet medical needs in the community clinic environment and develop innovative solutions to address those needs.
An Interdisciplinary, STEAM Based Entrepreneurship Program Designed to Spur Economic Growth in the Rio Grande Valley
Kamal Sarkar, The University of Texas Rio Grande Valley
A new program that brings together three colleges within the university to create interdisciplinary student entrepreneurship teams and impact regional economic growth. Students from the Colleges of Engineering & Computer Science, Business & Entrepreneurship, and Fine Arts will work in real-life interdisciplinary environments to learn about the product development process.
Entrepreneurial Identity Formation in First Year Bioengineers
Ruth Ochia, Temple University
A revision to an existing first-year bioengineering course that will introduce students to all entrepreneurial thinking personalities (ETP): inventor, founder, and developer. Students will develop skills needed in their future careers: realizing a vision, persuading others to follow and support this vision, and catalyzing change with their vision.
Rethinking Waste in a Circular Carbon Economy and Innovation Framework
Serpil Guran, Rutgers University-New Brunswick
A new course that will focus on integrating waste reutilization into a circular carbon economy model. Students will gain an understanding of circularity, lower-carbon economy, and innovative carbon management practices in achieving climate change mitigation and sustainability.
UMKC Hacking Arts
Jeff Hornsby, University of Missouri-Kansas City 
A new event designed to build a broader and more inclusive pipeline of entrepreneurial-minded students from creative and STEM disciplines into existing new-venture creation programs. Modeled after MIT's Hacking Arts program, students from the arts, STEM, and entrepreneurship and business programs will form interdisciplinary startup teams at the intersection of art and technology.
Transdisciplinary Design and Innovation for Social Entrepreneurship
Emily Cory, University of Dayton
An addition to a multidisciplinary engineering senior capstone course that focuses on product design projects that address regional societal concerns, such as food deserts, generational poverty, and the opioid addiction crisis. The goal is to develop technologies, products, and social enterprises that can be launched as new businesses and non-profit ventures in the Dayton region.
FiNE Program: Fellowship in Neuro-Entrepreneurship
Sonia Toson, Kennesaw State University
A new program to be held in conjunction with the Kennesaw State University (KSU) BrainLab and the Coles College of Business Office of Diversity Relations to support underrepresented students in launching novel enterprises based on neurophysiological technologies. Undergraduate students will work in teams to learn about various neurophysiological technologies, envision new applications, and develop a commercially viable venture.
Technology Entrepreneurship Practicum Course
Rana Khan, Yeshiva University
A new interdisciplinary course that will be jointly offered to students in three master's programs: Biotechnology Management and Entrepreneurship, Digital Marketing and Media, and Data Analytics and Visualization. Interdisciplinary student teams will work together with support from faculty advisors and industry partners to develop an original, commercially-viable idea that will have a positive social and environmental impact.
about our faculty grants program
Our Faculty Grants Program offers university faculty up to $30k in funding to pioneer new ways to challenge students to develop inventive, STEM-based ideas and gain the entrepreneurial skills they need to bring them to market. In addition to funding, grantees receive training, coaching, and peer-networking opportunities to support their work.
---
Interested in applying for the next program cohort? Sign up to have more information sent right to your inbox.
---
VentureWell is proud to support initiatives that promote cross-disciplinary collaboration between faculty and advisors, and consciously include groups traditionally underrepresented in invention, innovation, and entrepreneurship, including women and minorities. To date, VentureWell has funded over 803 new courses or programs through faculty grants, with approximately 75% continuing their course or program beyond the grant period and institutionalizing this experiential learning opportunity.
Learn more about our Faculty Grants Program.