Sustainable Practice Impact Award Luncheon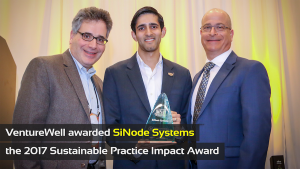 A highlight of the OPEN conference, the Sustainable Practice Impact Award luncheon recognizes companies or individuals who have demonstrated outstanding achievement in developing clean technologies, implementing sustainable practices in their businesses, or providing exceptional educational opportunities to university students. The award reflects The Lemelson Foundation and our strong commitment to supporting technological innovation that improves the world. This year's luncheon features a fireside chat with Thomas Kalil, expert on technology and innovation policy, and VentureWell president, Phil Weilerstein.
Meet the 2017 Sustainable Practice Impact Award recipient, SiNode Systems.
About Thomas Kalil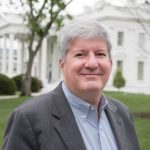 Thomas Kalil is the Chief Innovation Officer of Schmidt Futures and Entrepreneur-in-Residence at UC Berkeley. He served during the Obama administration as Deputy Director for Technology and Innovation for the White House Office of Science and Technology Policy and Senior Advisor for Science, Technology and Innovation for the National Economic Council.
From 2001 to 2008, Kalil was Special Assistant to the Chancellor for Science and Technology at UC Berkeley. He was responsible for developing major new multi-disciplinary research and education initiatives at the intersection of information technology, nanotechnology, microsystems, and biology. He also conceived and launched a program called "Big Ideas @ Berkeley," which provides support for multidisciplinary teams of Berkeley students that are interested in addressing economic and societal challenges such as clean energy, safe drinking water, and poverty alleviation.
Previously, Thomas Kalil served as the Deputy Assistant to President Clinton for Technology and Economic Policy, and the Deputy Director of the White House National Economic Council. He was the NEC's "point person" on a wide range of technology and telecommunications issues, such as the liberalization of Cold War export controls, the allocation of spectrum for new wireless services, and investments in upgrading America's high-tech workforce. He led a number of White House technology initiatives, such as the National Nanotechnology Initiative, the Next Generation Internet, bridging the digital divide, e-learning, increasing funding for long-term information technology research, making IT more accessible to people with disabilities, and addressing the growing imbalance between support for biomedical research and for the physical sciences and engineering. Prior to joining the White House, Tom was a trade specialist at the Washington offices of Dewey Ballantine, where he represented the Semiconductor Industry Association on U.S.-Japan trade issues and technology policy. He also served as the principal staffer to Gordon Moore in his capacity as Chair of the SIA Technology Committee.
Track: null