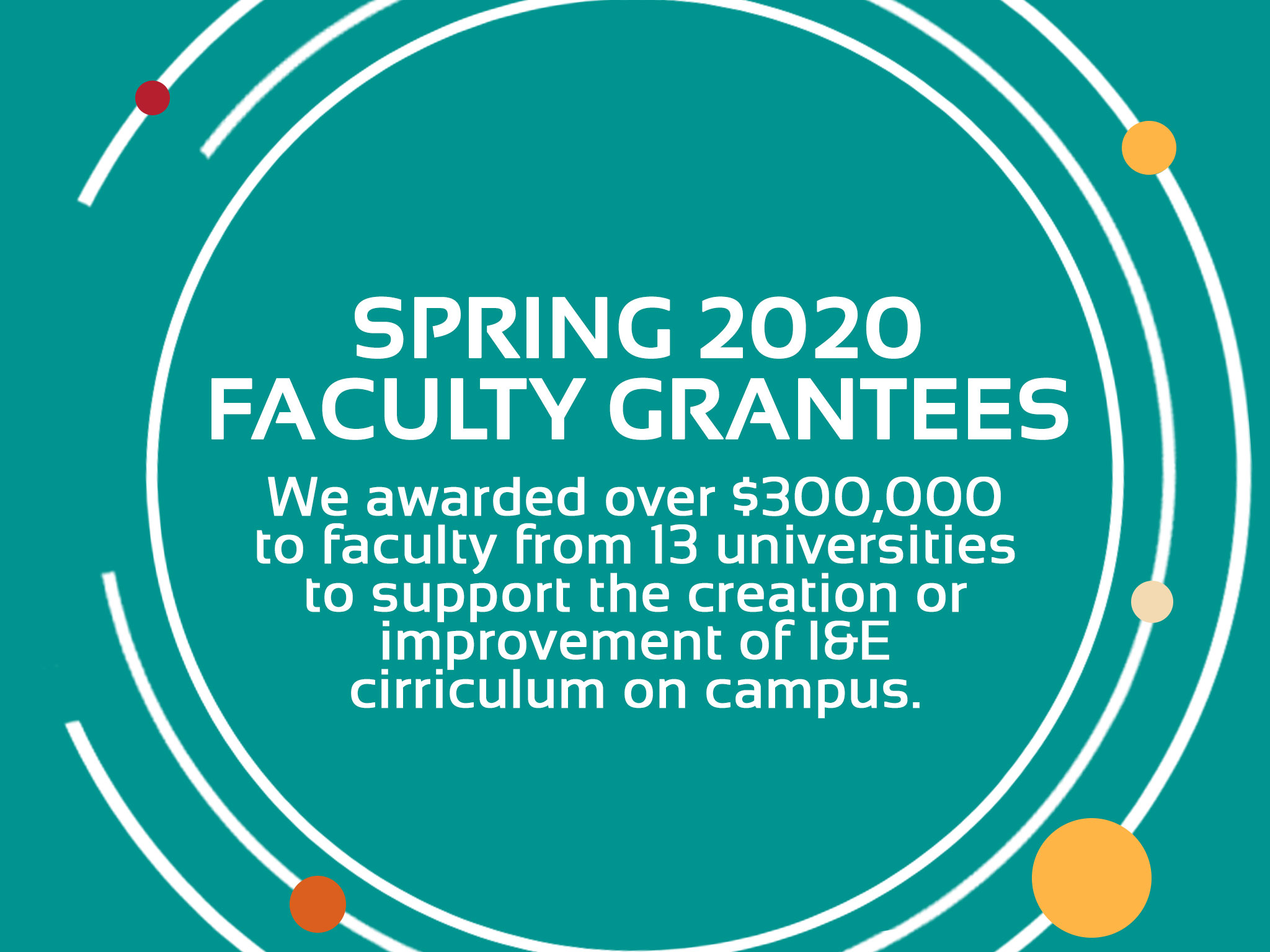 Our newest faculty grantees will develop programs and courses integrating environmentally responsible practices and methodologies into their innovation and entrepreneurship (I&E) curriculum.
We're excited to announce the recipients of our Spring 2020 Faculty Grants. We awarded over $300,000 in total to faculty members from thirteen universities to support the creation or improvement of courses and programs that engage students in STEM I&E. This exceptional group of grantees was selected through a competitive national review process; winning proposals were chosen based on the potential for their course or program to have a significant and lasting impact on their entrepreneurial ecosystem, and to support promising student teams in their pursuit of commercialization beyond the classroom.
Meet our newest grantees:
BioFoundry Design: Leveraging Biomimicry to Advance Environmental and Social Sustainability Innovation in Prototypes Developed in Foundry-Guided Undergraduate Chemical Engineering Courses
Dr. Pedro Arce, Tennessee Technological University
A new initiative that integrates biomimicry—the design and production of materials, structures, and systems modeled after nature—into the design process of two chemical engineering courses. Student teams will develop prototypes of innovative technology using components of biomimicry to address societal challenges.
Bridging Undergraduate Innovation Laboratories to Design for Sustainability (BUILDS)
Dr. Jeffery Plumblee, Citadel Military College of South Carolina
Two project-based courses that will leverage cross-disciplinary teamwork to design marketable solutions for the United Nations Sustainable Development Goals (UN SDGs). Business and engineering students will collaborate and learn from each other in a hands-on environment to explore and address global challenges within the context of the UN SDGs.
Design and Development of a Cross-Departmental, Cross-College Sustainable Product Design and Innovation Course
Dr. Murat Tiryakioglu, Jacksonville University
A new undergraduate course that introduces human-centered design thinking as a framework for sustainable product design and innovation. Students from engineering, design, and marketing backgrounds will collaborate in small teams to develop sustainable solutions to climate change issues facing the northeast Florida region.
Green Energy Entrepreneurship Challenge
Dr. John Hadjimarcou, The University of Texas at El Paso
Dr. Russell Adams, The University of Texas Rio Grande Valley
A classroom supplement program that will engage students in creating services, products. or processes for the clean-tech sector, utilizing augmented reality technology to develop and present the business model canvas. The program, held in conjuction with University of Texas Rio Grande Valley (UTRGV), will culminate in a 3-day virtual Green Energy Entrepreneurship Challenge; the most promising ventures will be mentored in applying to the VentureWell E-Team Grant program.
Human-centered Design and Implementation Graduate Course Enhancement
Dr. Laquita Blockson, Agnes Scott College
An expansion of an existing Human-Centered Design and Implementation graduate-level course that will incorporate sustainability and climate change as core themes. Students will benefit from new opportunities for prototyping, access to campus and community organization partners, and streamlined in-person and online course structures.
Impacts of Material Selection for Eco-design on Sustainable Innovation
Prof. Sue Carter, University of California-Santa Cruz
A new modular course that will help facilitate a comprehensive understanding of how students can responsibly choose materials and integrate sustainability standards and practices into their innovations. Students will analyze their solution's carbon footprint and the full social and environmental implications of the materials used in their innovation.
Nexus of Energy, Air and Water: A Biomimetic Wall for Sustainability and Human Health
Prof. Ming Hu, University of Maryland-College Park
A novel graduate/undergraduate research program to advance sustainability, innovation and entrepreneurship studies through the development of a "biomimetic wall", a living replica of natural phenomena within a laboratory. Students will gain access to research-based curricula that teaches through a sustainable and integrated multidisciplinary frame.
Sustainable Chemical Product Design
Prof. Justin Notestein, Northwestern University
A revamped course on chemical product design that focuses on sustainable design principles and student entrepreneurship. Students will work in small teams to study and develop solutions for the unique sustainability needs in the chemical design field.
Sustainable Design Accelerator: An Entrepreneurial Approach to Evidence-based Carbon Neutral Design for the Built Environment
Dr. Omar Al-Hassawi, Washington State University
Two enhanced courses in professional architecture design that will advance sustainable design through entrepreneurship and innovation. Student teams will work with industry professionals to identify sustainability issues within existing building systems and develop viable solution prototypes, culminating in a proposal submission to the VentureWell E-Team Grant program.
Sustainable Design to Integration Course – Creating a Framework for Entrepreneurial Design
Dr. Petra Gruber, University of Akron Main Campus
A new course that provides fundamental knowledge on sustainability design and implementation to students with varying disciplinary backgrounds, to encourage interdisciplinary collaboration. By creating design concepts, building prototypes, researching markets and patents, and envisioning a pathway for commercialization, students will learn how to apply sustainable design practices to real world applications for entrepreneurial ventures.
The Multiverse of Biomass: From Nature to Innovation & Entrepreneurship
Dr. Nathalie Lavoine, North Carolina State University at Raleigh
An expansion of existing graduate curriculum to incorporate entrepreneurial and business competencies into the forest biomaterials and engineering programs, helping students develop the skills needed to design innovations for positive social impact and environmental sustainability. Guided by experienced mentors, students will pursue scalable solutions to real-world needs in greenhouse gas emissions, environmental pollution, and waste accumulation.
Training for Innovation in Smart and Sustainable Infrastructure (TISSI)
Prof. Andrew Grieshop, North Carolina State University at Raleigh
A new elective course on integrating smart technology and sustainability principles into infrastructure design in energy, water, and transportation systems. With the support of faculty and industry experts, and the opportunity for experiential learning, students will develop sustainable infrastructure concepts from idea to commercialization.
University of San Diego W.A.S.T.E. Design: "Waste Action Student Technology Exchange" Design
Dr. Caroline Baillie, University of San Diego
A new course that will study, address, and mitigate the social and ecological challenges of the discarded waste in the canyons near the Tijuana Estuary in California. Under the guidance of non-profit Waste for Life, students will engage sustainability, entrepreneurship, and design practices to develop community-led waste reduction businesses that will reduce poverty and create positive impact in the region.
about our faculty grants program
Our Faculty Grants Program offers university faculty up to $30k in funding to pioneer new ways to challenge students to develop inventive, STEM-based ideas and gain the entrepreneurial skills they need to bring them to market. In addition to funding, grantees receive training, coaching, and peer networking opportunities to support their work.
---
Interested in applying for the next program cohort? Sign up to have more information sent right to your inbox.
---
VentureWell is proud to support initiatives that promote cross-disciplinary collaboration between faculty and advisors, and consciously include groups traditionally underrepresented in invention, innovation, and entrepreneurship, including women and minorities. To date, VentureWell has funded over 803 new courses or programs through faculty grants, with approximately 75% continuing their course or program beyond the grant period and institutionalizing this experiential learning opportunity.
Learn more about our Faculty Grants Program.