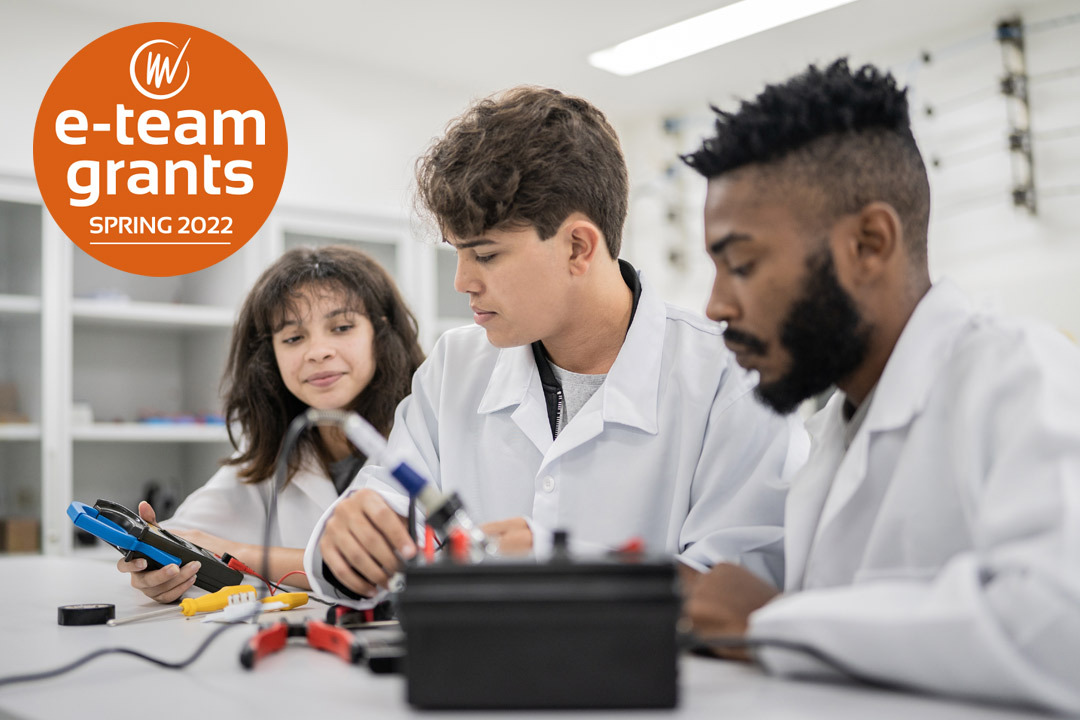 We are excited to announce the 20 early-stage student innovator teams that have been accepted into our Spring 2022 E-Team Grant Program! Teams were chosen based on the potential for their innovation to have a significant positive social, health, or environmental impact. Twelve teams will receive a $5,000 Stage 1 grant. An additional eight teams have been selected to advance to the next stage of the program, and will be awarded $20,000 Stage 2 grants to support the development of their innovations.
From a zero-emission renewable energy storage system to an automated UV-C lightbox that decontaminates medical devices, the members of the Spring 2022 E-Team cohort are designing groundbreaking technological solutions to a variety of challenges. Green Fertilizer, a team based out of the University of Massachusetts-Lowell, is developing a low-cost, solar-powered system that produces nitrogen fertilizer from just air and water. Another great example is Glow Ink Solutions, a team developing a bright green dye that surgeons can use to more easily mark and remove tumors during colonoscopies.
Read more about this cohort and their exciting innovations.
Stage One
Healthcare/Medical
Afsar Seal | Rutgers University-Newark
Afsar Seal is developing a dental sealant made from a biomaterial that expands to fill gaps in tooth walls, reducing the risk of reinfection and treatment failure during root canal procedures.
CERVOS | University of California-Irvine
CERVOS is developing a cervical weakness treatment device for use during pregnancy that adjusts to various cervix sizes and shapes to help prevent preterm birth.
CloSure | Texas A&M University
CloSure is developing a portable, low-cost negative pressure wound therapy device for use in low-resource settings that will clear fluid and bacteria from wounds, significantly decreasing healing time.
Glow Ink Solutions | Medical University of South Carolina
Glow Ink Solutions is developing the Glow Dot, a fluorescent tumor marker to help surgeons more easily detect and remove tumors during colorectal surgery.
Nephra | University of Illinois at Urbana-Champaign
Nephra is developing a non-invasive monitoring software that will help dialysis patients and their physicians better track electrolyte measures and pursue medical intervention when necessary.
PneuTech | Johns Hopkins University
PneuTech is developing an angled-path lung biopsy needle system, which enables safe access and collection of tissue in only one puncture, lowering the risk of complications.
SteadiSpoon | Southern Methodist University
SteadiSpoon is developing a self-stabilizing eating utensil designed to help people with hand tremors caused by Parkinson's or essential tremor regain agency, autonomy, and dignity in their lives.
StetPulse | Johns Hopkins University
StetPulse is developing an automated, wall-mountable, UV-C lightbox that can decontaminate stethoscopes and other handheld medical devices, reducing the need for disposable devices that can spread infectious bacteria.
Food
Elemeat | Rowan University
Elemeat is developing a bioreactor that uses electrochemical processes to expand and scale the production of alternative protein products.
Infrastructure/Building
Deep Sense Tech | University of Vermont
Deep Sense Tech is developing a non-destructive technique for quickly and accurately locating underground features to reduce the risks, delays, and costs of construction projects working with or near subsurface infrastructure.
Environment
MissionHydro | University of Massachusetts-Lowell
MissionHydro is developing a hydrogen-fuel energy storage system that can capture renewable resources like solar and wind much more effectively, while having zero emissions and a high energy density.
Agriculture
Green Fertilizer | University of Massachusetts-Lowell
Green Fertilizer is developing a scalable low-cost system that produces nitrogen-based fertilizer from air and water using non-thermal plasma powered by solar electricity and delivers it on demand to crops.
Stage Two
Healthcare/Medical
Acorn Genetics | Northwestern University
Though genetic testing is invaluable for early detection of genetic-based diseases, the only available options require expensive and time-intensive medical visits or private testing that risks individual data privacy and security. Acorn Genetics is developing a low-cost, at-home DNA testing kit that enables users to privately test for genetic conditions without any data privacy concerns.
BioPhoundry | Tulane University of Louisiana
Phage therapy uses viruses that precisely target pathogenic bacteria without harming human cells or "good" gut bacteria; however, existing production processes are time-intensive, slowing the scalability of phage therapy. BioPhoundry is developing a synthetic biology platform that can produce personalized phage treatments for patients with antibiotic-resistant infections at a significantly faster rate and at a lower cost than existing methods.
Kalia Health | North Carolina State University at Raleigh
Preeclampsia is the second leading cause of maternal mortality and affects communities of color with the greatest severity, despite being straightforward to manage if detected early. Kalia Health is developing an early diagnosis tool for preeclampsia that can be used easily and at home for expectant parents lacking access to routine prenatal care.
Longhorn Life Sciences | The University of Texas at Austin
There is a significant clinical need in the US for a way to objectively detect surgical site infections without relying on subjective patient symptom reports. Longhorn Life Sciences is developing a low-cost, noninvasive surgical site dressing that can detect infections in post-operative patients, reducing patient burden and enabling rapid medical intervention.
MedVision.ai | University of Pennsylvania
Hospitals in the US manage their medical supply inventories using manual, error-prone processes. MedVision is developing an inventory management system that uses customizable smart shelving and interconnected software technology to collect and provide real-time supply data to hospitals and surgical clinics.
Information Technology & Communication
Photonect |University of Rochester
Securely attaching optical fibers to photonic chips is crucial for data centers that process and transmit data, but current gluing methods are unreliable and susceptible to wear and tear. Photonect is developing a laser adhesion technique for the fiber-attach process that is dramatically faster, less expensive, and more efficient than conventional methods.
Skywalk | Stanford University
Current control devices for augmented reality headsets are plagued with difficulties: Hand-held controllers restrict user-world interaction, camera-based solutions are constrained by vision blockages, and devices that interpret electrical muscle activity are unreliable. Skywalk is developing a device worn on the wrist that digitizes hand motions to enable seamless, intuitive access to augmented reality technology.
Environment
InfernoGuard |Northwestern University
Early detection of wildfires can prevent property damage, save lives, and improve carbon emissions, but current detection methods are not thorough enough, leading to wildfires that grow for days or weeks before intervention. InfernoGuard is developing a comprehensive wildfire detection system that continually monitors environmental conditions, identifies fires, and notifies users through hardware devices that are placed directly at the source of a fire.
the E-Team entrepreneurial journey
Each Stage 1 team will take part in our intensive Pioneer training program, where they will learn the steps needed to advance their projects out of the university lab and into the market.
"The Pioneer workshop will allow innovators to understand and validate the markets that they are targeting with their innovations, gain clearer insight into what entrepreneurship may look like for themselves as individuals, and connect with and receive feedback from their peers and expert coaches and instructors," said E-Team Senior Program Officer Cara Barnes.
The Stage 2 teams will take part in the Propel training workshop, where they will work to develop and validate their business model through customer discovery interviews and prototype development, and establish their intellectual property portfolio. Propel helps early-stage innovators map and validate the pathway for their venture, digging into business model design and creating action plans to engage stakeholders and de-risk their venture.
about the E-Team Grant program
Through the E-Team program, we have trained over 500 student teams and more than 1,300 student innovators. Our teams have raised close to $700M+ in follow-on funding and have launched 400+ ventures since taking part in our program.
We are currently accepting applications for our next E-Team cohort! Student innovator teams developing scalable solutions to large social, health, or environmental challenges are encouraged to apply by May 4 for up to $25,000 in catalytic funding. Learn more and apply now!