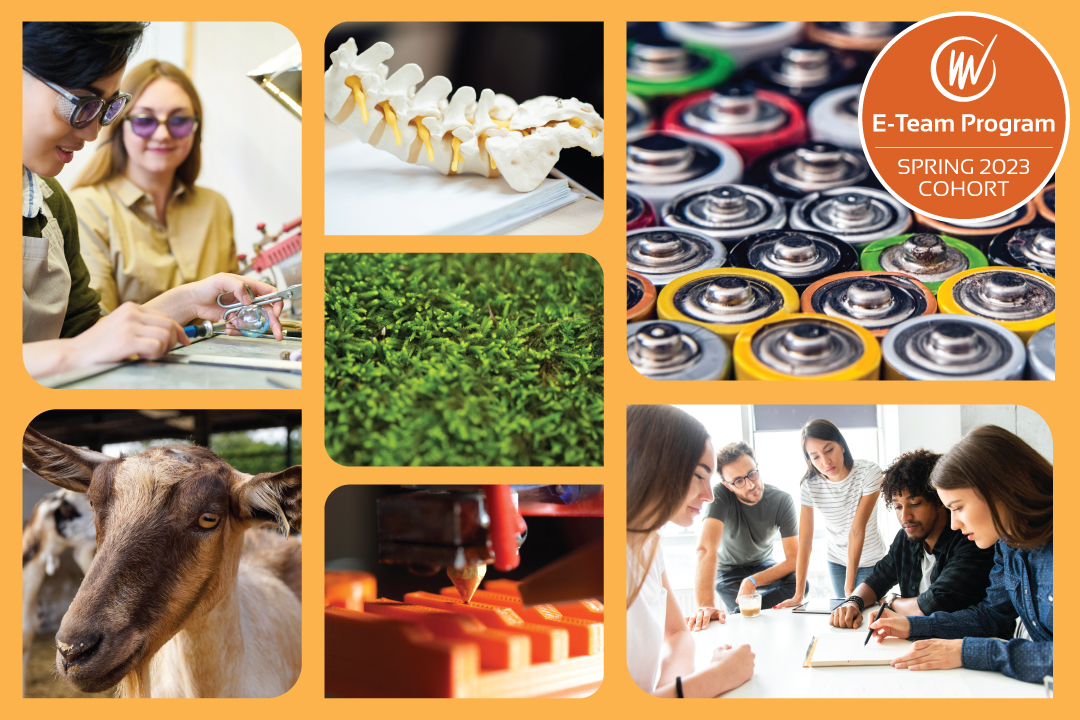 Twenty-two student teams have been selected for the Spring 2023 cohort of the E-Team Program. Teams were chosen through a rigorous review process and selected based on the potential for their innovations to solve large-scale social, health, or environmental challenges. Fourteen teams were selected for Pioneer, the first stage of the program; each team will receive a $5,000 grant, access to an intensive entrepreneurship training workshop, and the opportunity to network with fellow science and tech student entrepreneurs from across the nation. An additional eight teams will advance to Propel, the second stage of the program, which includes a $20,000 grant and continued entrepreneurship training focused on building out their business model canvas and advancing their customer discovery.
We're energized by the efforts of teams like Traffigram, working on an intuitive map that stretches or shrinks based on real-time traffic patterns, and AgGen, which is developing an insect farm that recycles and harvests agricultural food waste. We're pleased to see the return of teams like CurveAssure, which developed an at-home, wearable spinal monitoring technology that sends data to physicians, enabling more efficient care.
Learn more about their innovations:
Pioneer
Energy & Materials
BioBarrier Technologies | Pennsylvania State University
BioBarrier Technologies is developing a sustainable, low-cost, and food-safe alternative to single-use food packaging that resists water and oil penetration.
Lithium-Ion Battery Direct Recycling | University of Akron
Lithium-Ion Battery Direct Recycling is creating an on-site system that utilizes nontoxic organic materials to recycle lithium-ion batteries, returning manufacturing scrap to production at a lower cost than conventional products currently on the market.
Production of Biopolymeric Filaments from Agricultural Waste | University of Puerto Rico at Mayagüez
Production of Biopolymeric Filaments from Agricultural Waste is producing an ecological, cost-saving alternative to bioplastics using agricultural waste material for use in 3D printing.
Environment
AgGen | University of California, Davis
AgGen is developing a modular insect farming system that recycles and harvests agricultural food waste to produce sustainable, high-protein feed for pets and livestock.
AiryCherry | University of Southern California
AiryCherry (now named Chimney Cherry) is creating an energy-efficient filtering technology that operates at 95% efficiency with low power consumption to reduce airborne particle pollution such as dust, dirt, soot, and smoke.
Bovi-Jet by Belling & Meyer | Iowa State University
Bovi-Jet by Belling & Meyer is building an automatic system that tracks, manages, and applies parasiticides (medications to treat parasitic diseases) to cattle, reducing labor required by farmers and increasing efficiency for keeping a healthy herd.
ReuMo | University of Washington
ReuMo is developing a customizable moss kit—an alternative to grass lawns—that reduces water and energy use and prevents storm water runoff through a layered filtering system.
Healthcare/Medical
CathConnect | University of Washington
CathConnect is developing an accessory device that connects to urinary catheters, safely disconnecting when pulled to prevent harm to the patient.
FEMA | University of California Irvine and VinUniversity
FEMA is creating an at-home, wearable device that continuously monitors fetal and maternal heart rates and provides real-time data via a mobile application.
LilaTToo | University of Puerto Rico at Río Piedras
LilaTToo is developing an accessible, wearable drug screening device that measures lithium levels in the body, which in high levels can result in dangerous side effects.
Reinventing the Pillbox | Chapman University
Reinventing the Pillbox is building a secure, smart pill box that automatically dispenses medication, making it easier for users to take their pills on time.
Silectrode | Johns Hopkins University and the Pontifical Catholic University of Chile
Silectrode is creating a device that safely attaches electrodes around the area of an injured nerve, providing an accurate and consistent method for surgeons to determine treatment.
SomnOSA | Johns Hopkins University
SomnOSA is developing a novel, minimally invasive neurostimulation device that increases airway muscle tone and prevents airway collapse for patients who experience obstructive sleep apnea.
SoniSeat | Texas A&M University
SoniSeat is creating a cleaning seat that attaches to a permanent toilet seat that transmits sound waves to dislodge debris and contaminants for people who experience incontinence, helping to reduce the risk of skin-related infections and UTIs.
Information Technology & Communication
Traffigram | University of Washington
Traffigram is building an intuitive mapping technology that stretches or shrinks a map to move destination points closer or further to reflect real-time traffic patterns.
Infrastructure/Building
Ultropia | University of Washington
Ultropia is developing an affordable, all-in-one ultrasonic washer and dryer that requires less water, power, ducting, and plumbing to make sanitation more accessible.
Propel
Energy & Materials
PiezoCity-ThermoPEG | Oregon State University
An estimated two-thirds of the energy used in industrial plants is rejected as heat waste in the U.S. PiezoCity-ThermoPEG's low-grade, heat-actuated device converts industrial heat waste into cost-efficient, sustainable electricity.
Environment
Carrot and Stick | Oregon State University
Currently, 82% of polyvinyl chloride (PVC) plastic ends up in landfills worldwide. Carrot and Stick created a wax adhesive through a hot melting process to reuse PVC plastic that was largely considered to be unrecyclable.
Healthcare/Medical
CurveAssure | Johns Hopkins University
It can often be time-consuming and difficult to determine spinal injury treatment specific to each patient. CurveAssure developed at-home, wearable monitoring technology that provides physicians with information, allowing for faster data-driven patient care and surgical decision-making.
Nepipen | Cooper Union for the Advancement of Science and Art
Up to 35% of cases of anaphylaxis reactions require more than the standard single dose of epinephrine, yet 82% of epinephrine auto-injector users do not carry two injectors. Nepipen invented an epinephrine auto-injector that has two doses that is more compact, safe, and intuitive to use than current solutions.
Pediafeed | Johns Hopkins University
Nearly 1.4 million U.S. children require feeding assistance, and of those treated for severe feeding dysfunction, 22% of G-tubes are displaced within three months. Pediafeed offers a safer, simpler, and more secure pediatric feeding tube to address the most common complications that are associated with current long-term assisted feeding.
T33 | Massachusetts Institute of Technology
Topical drugs used to treat tooth enamel are limited to the tooth's surface and are not always effective in treating decay. T33's tools deliver drugs directly into tooth enamel—which allows for a higher amount than topical applications—in order to improve patient oral health.
WAVED Medical | University of Maine
Up to 10% of breast cancer cases are thought to be hereditary. WAVED Medical's image-based algorithm technology identifies areas of high risk for patients who are more likely to develop breast cancer.
Information Technology & Communication
A Cubed Design | Ohio State University-Main Campus
It's estimated that only 8.2% of the more than 62,000 legally blind children attending public school in the U.S. identify as Braille readers—leaving a massive literacy gap. A Cubed Design developed a device that gamifies learning how to read and write Braille in order to boost literacy.
Meet the Spring 2023 E-Team Partners and Sponsors
We are thankful to our partners that work with us to support these startups, including Qualcomm Incorporated, a leading wireless tech innovator; and The Lemelson Foundation, a nonprofit dedicated to supporting the power of invention to improve lives.
In partnership with Whitaker International Program, we are also hosting two teams from the Biomedical Engineering Innovation, Design, and Entrepreneurship Alliance (also known as BME-IDEA) International E-Team Grant Program. It is specifically designed to support collaborative projects between BME-IDEA design students and international institutions in Africa or Latin America.
The E-Team Entrepreneurial Journey
All teams in the Spring 2023 cohort will receive intensive entrepreneurship training to support them as they advance their innovations. Pioneer teams will determine the best market for their invention, developing an understanding of possible pathways for their venture. These teams will articulate their value proposition, assessing the broader environment, landscape, and industry value chain. During Propel, teams will develop their business model hypotheses and plans to test them. They will build out their business model canvas, validating it through customer discovery interviews, and will work to establish their intellectual property portfolio. Everyone participating in our spring workshops will convene at 99P Labs in Columbus, Ohio, April 20-21 (Pioneer) and May 4-5 (Propel).
"These student-focused programs help entrepreneurial student inventors (E-Teams) explore what it means to launch a venture using technology for impact. We give students the tools to turn their ideas into business opportunities, while building a community of support from mentors to innovators," said E-Team Program Officer Sarah Wharmby.
About the E-Team Program
Through the E-Team Program, we have trained over 500 student teams and more than 1,500 student innovators. The teams have raised over $600 million in follow-on funding and have launched 300+ ventures since taking part in our program.
Learn more about VentureWell's E-Team Program, which supports student-led science- and engineering-based teams from across the nation in bringing their high-impact innovations out of the lab and into the market.