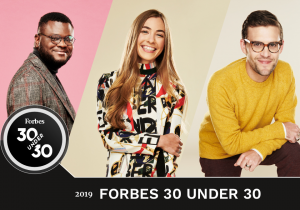 The Forbes 30 Under 30 list highlights the accomplishments of innovators and leaders in 20 industries, all under 30 years old. We're happy to report that many VentureWell program participants were recently featured in the 2019 list. They are:
Energy
Anna Douglas is a co-founder of SkyNano. SkyNano has developed a scalable method to produce high-value carbon nanotubes using carbon dioxide, electricity, and inexpensive materials. SkyNano participated in the Cleantech University Prize Southeast Region: Megawatt Ventures in 2017.
Thomas Russell is CEO and co-founder of ETC Solar. ETC Solar is a Caltech-spin-off commercializing front contact technology for solar cells, called "effectively transparent contacts" (ETCs), believed to be the first industrially viable approach to eliminate front-grid shading loss. The ETC Solar team participated in the NSF I-Corps program.
Social Entrepreneurs
Emily Kennedy is co-founder of Marinus Analytics. Marinus Analytics offers a criminal activity pattern detection platform that allows law enforcement to discover patterns of criminal and victim activity. The Marinus Analytics team participated in the NSF I-Corps program.
Miranda Wang and Jeanny Yao are co-founders of BioCellection. BioCellection's innovation up-cycles plastic waste using an integrative chemical and biological approach where plastics can feed a biological production platform using genetically programmed bacteria. The BioCellection team went through Stage 1 and 2 of our E-Team Grant Program and Miranda was recently selected as the recipient of the 2018 Pritzker Emerging Environmental Genius Award from UCLA Institute of the Environment and Sustainability.
Science
Julie Bliss Mullen is co-founder of Aclarity. Aclarity has created an electrochemical technology to easily remove pathogens, metals, and other impurities from residential and commercial water systems. The Aclarity team participated in our ASPIRE program for Global Environmental Health startups.
Meghali Chopra is the CEO of SandBox Semiconductor. Sandbox Semiconductor's software tool enables process engineers to identify optimal etch and deposition recipes with one-third the experiments, three times faster and less expensive than current methods, enabling them to develop recipes quickly and easily thereby accelerating manufacturing process development and deployment of new microelectronic devices. The team participated in the NSF I-Corps program.
William Tarpeh is an assistant professor and was the team lead of ElectroSan. ElectroSan uses a two-chemical process, electrochemical stripping and ion exchange, to produce nitrogen fertilizers from human urine. The ElectroSan team participated in Stage 1 of our E-Team Grant Program.
Law & Policy
Rushi Talati was the entrepreneurial lead of Oculens. Oculens is developing a higher-performing intraocular lens that is individually tailored to each patient after receiving cataract surgery. The Oculens team participated in the NSF I-Corps program.
Education
Sean Maroni is the founder of Betabox (formerly BetaVersity). Betabox designs services that enable an increase in student hands-on learning by offering onsite field trips to public and private schools in their Betabox Mobile Tech Labs. The Betabox team participated in Stage 1 of our E-Team Grant Program and exhibited during our 2014 OPEN Minds showcase.
We're proud to have played a role in each of these leaders' success. Congratulations to the young entrepreneurs!