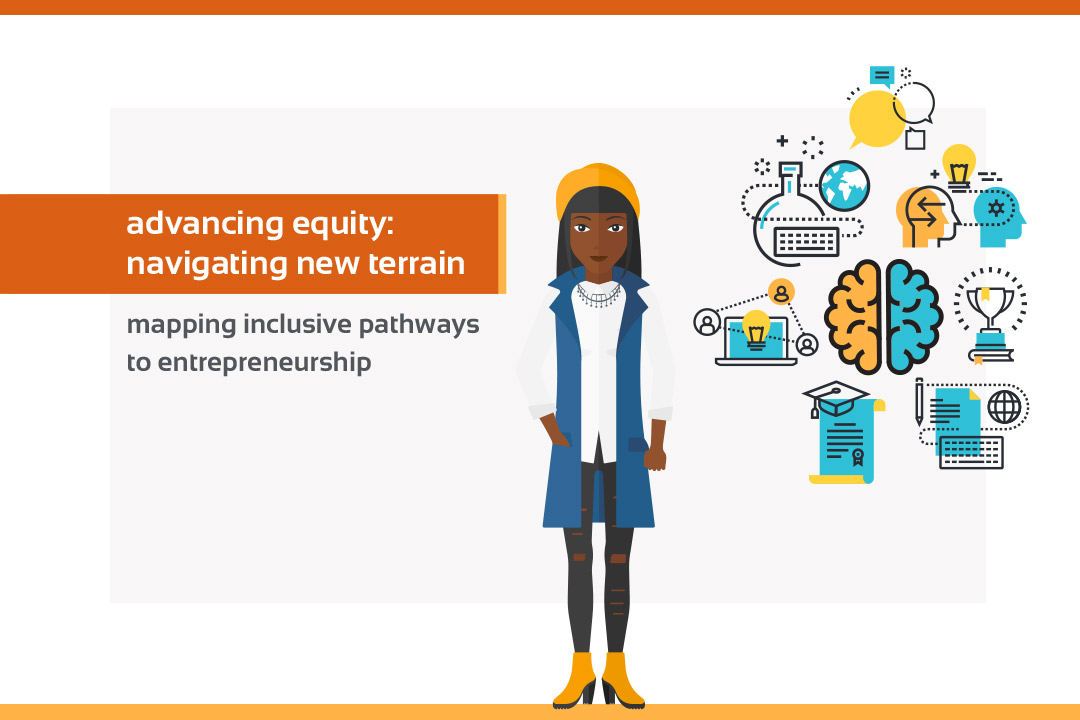 Our new series of publications, Advancing Equity: Navigating New Terrain, demonstrate ways to apply strategies in action areas that can support innovation and entrepreneurship (I&E) faculty and leaders of entrepreneurship centers to increase diversity, equity, and inclusion (DEI) practices in their programs.
We are pleased to release the third installment, Mapping Inclusive Pathways to Entrepreneurship. The publication provides faculty and entrepreneurial organization leaders with key strategies to promote and support ever-broadening versions of entrepreneurs and entrepreneurship. This resource has strategies to establish a welcoming environment in which to introduce students from all backgrounds to new concepts, pathways, and ways of thinking, in order to support them in designing their own entrepreneurial journeys.

blueprint for DEI in university-based I&E
In July 2020, VentureWell published the findings of a national study we commissioned of promising practices for advancing equity in higher education STEM I&E. We presented these in our report as a widely applicable blueprint for university-based entrepreneurship centers and programs that strive to broaden access pathways for early-stage innovators. 
Since publishing the report:
We engaged I&E faculty and entrepreneurship center directors in discussions of their experiences testing and implementing these strategies and solutions on their campuses through a series of community conversations, facilitated by experts from the field.

We invited several community stakeholders to develop resources around the action areas to share with the field to offer guidance and inspiration for those beginning or evolving their advancing equity efforts.
New resources from that work include:
Assessment tools: Transforming Programs Through an Equity Lens is a presentation of two assessment tools designed to facilitate deep and thoughtful conversations among staff about how to integrate ongoing DEI practices and learnings into programmatic work.
Stories of implementation: Embracing Catalytic Events for Change spotlights three personal narratives from entrepreneurial educators centered on a pivotal moment that propelled each author into deeper, more authentic engagement around diversity, equity, and inclusion with their colleagues, their students, and themselves.
Pathway chart: Mapping Inclusive Pathways to Entrepreneurship is a visual map that charts three possible entrepreneurial pathways for students. Early-stage innovators thrive when their diverse motivations and personal measures of success are validated. Anyone can be an entrepreneur, and providing signposts to guide those who self-identify as problem solvers, social activists, innovators, and founders towards joining I&E programs—or creating their own pathways to and through I&E—could and should take multiple fluid forms.
"Leaders in higher education institutions and entrepreneurship centers are eager for strategies and solutions to advance DEI in their work," said Kristen Golden, VentureWell senior development officer and a co-leader of our advancing equity work. "We are fortunate and grateful to collaborate with members of our community to develop resources that support those working to advance equity."
share your input
Whether you are beginning, evolving, expanding, or scaling your efforts to advance diversity, equity, and inclusion, we look forward to your feedback, your questions, and your partnership! Please get in touch with us at equity@venturewell.org—we're excited to connect and learn alongside you.
Read more about our advancing equity work and see how you can get involved.
---
VentureWell Course & Program Grants of up to $30,000 are awarded to faculty or staff at US higher education institutions to support curriculum that engages students in science and technology innovation and entrepreneurship. Applications open August 22, 2022, and close November 2, 2022. There is only one funding cycle this year, so don't delay, apply today!