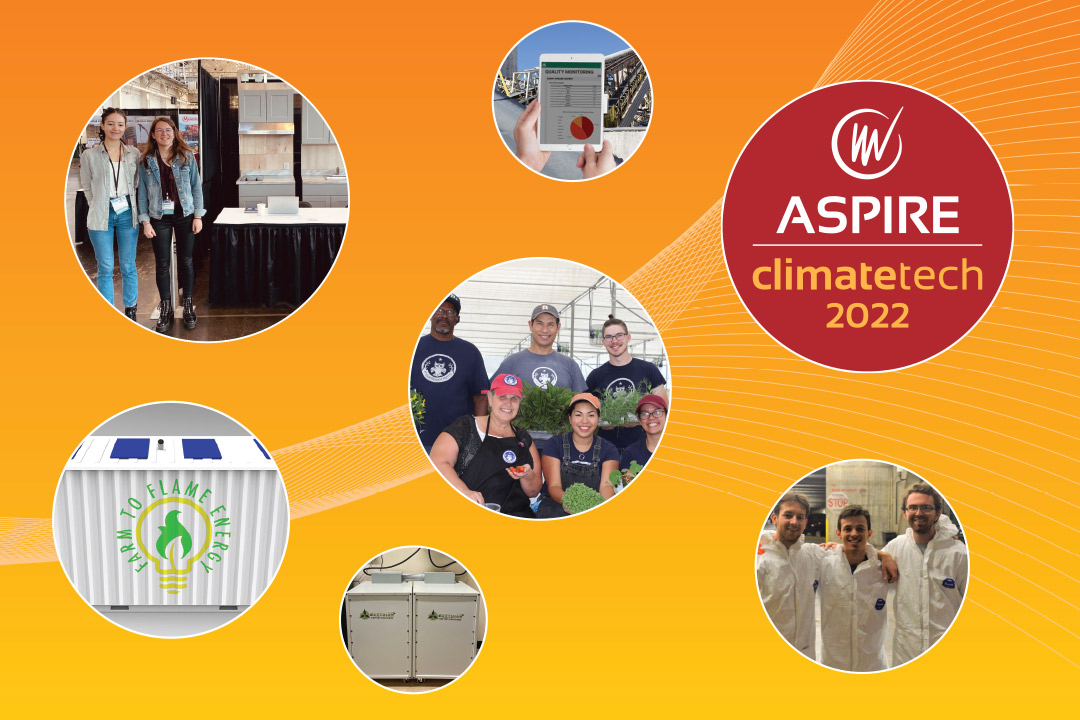 VentureWell has selected 10 startups to participate in the 2022 ASPIRE Climatetech investment-readiness program, a hybrid initiative that will take place online May 9–June 3 and in person June 9–10 at ASPIRE Climatetech partner Greentown Labs Houston. The selected startups are on the path to commercializing innovations that will have a positive effect on the environment, including modular hydropower systems designed to electrify non-powered dams, AI-driven technologies to increase recycling efficiencies, plant-based home greywater recycling systems, and hydroponic grow methods for sustainable urban farming.
The ASPIRE Climatetech cohort will participate in a training program that prepares entrepreneurs to raise money and build their companies. Participants will gain insight into an investor's thought process as well as an understanding of what is required during the due diligence process. Participants complete the program with a vetted fundraising strategy, including a clear ask and milestones.
Meet the 2022 ASPIRE Climatetech cohort:
Confluency LLC
Chicago, IL
Confluency develops models that use physics-informed AI and data analytics to help water utilities manage complex water and wastewater systems.
Farm to Flame Energy
Pittsburgh, PA
Farm to Flame Energy is deploying smokeless, odorless biomass generators that operate at half the cost of diesel generators.
Flux Hybrids
Charlotte, NC
Flux Hybrids developed low-cost technology that can convert vehicles with internal combustion engines to hybrid or electric power systems.
GenH
Boston, MA
GenH is developing rapidly deployable and modular hydropower and hydro-kinetic systems that provide stable clean technology for 100% grid- and natural gas–free clean electric vehicle charging.
Kit Switch
San Francisco, CA
Kit Switch is deploying a toolkit of building components and layout plans to help developers convert underutilized commercial buildings into fully functional housing.
Moonflower Farms
Houston, TX
Moonflower Farms developed closed-loop hydroponic grow systems for hyper-local sustainable farming in urban environments.
Parthian
Morgantown, WV
Parthian developed a method for repurposing used Li-ion batteries into stationary energy storage systems, effectively doubling their life.
rStream Recycling LLC
Boston, MA
rStream Recycling is developing an AI-powered on-site recycling device that can sort waste faster and at a lower cost than existing options.
LeapFrog Design
Bend, OR
LeapFrog Design developed a plant-based home greywater recycling system that helps families reuse laundry or shower water for extended non-potable use.
VALIS
Worcester, MA
VALIS developed AI-powered software tools that enhance scrap metal recycling capabilities and support decarbonization of metal production.
"We look forward to working with our newest group of ASPIRE Climatetech founders to support them in strengthening their business opportunities and prepare them for investment. ASPIRE is not a passive experience but rather carefully designed to create a safe space for founders to develop a viable fundraising plan, stress-test their business case, and learn alongside a group of fellow entrepreneurs and friendly investors as they plan their path to exit," said Tricia Compas-Markman, Senior Program Officer.
ASPIRE brings together mentors, coaches, and guest speakers representing angel investor, venture capital, and corporate perspectives to provide individual support to the startups as they identify relevant partnerships and vet their fundraising strategy. The program will welcome these mentors-in-residence:
Mentors are embedded into the program to provide continuous and thoughtful feedback to help the entrepreneurs develop and hone the materials they need to launch their fundraising efforts.
ASPIRE Climatetech is offered in partnership with Greentown Labs Houston, a climatetech startup incubator dedicated to solving the climate crisis through entrepreneurship and collaboration.
"In addition to the rockstar lineup of mentors, we are thrilled to offer the ASPIRE Climatetech Spring 2022 program in partnership with The Lemelson Foundation, Greentown Labs Houston, and Cooley LLP," Compas-Markman said "These partners and sponsors specialize in emerging companies and supporting climatetech innovators. We are thankful for the program partners, sponsors, and investors that are offering their time and resources to support these startups."
ASPIRE has had a great impact on seed-stage startups since its inception in 2015. Across 120+ startups, they have raised more than $217M in follow-on funding, with a 90% venture persistence rate. ASPIRE startups that are also E-Team grantees are eligible to receive matching investment from VentureWell.
We congratulate the members of our newest ASPIRE cohort!
Interested in serving as a mentor or guest speaker for ASPIRE? Contact Senior Program Officer Tricia Compas-Markman at tcompas@venturewell.org to learn more about the program and how to participate in an upcoming cohort.