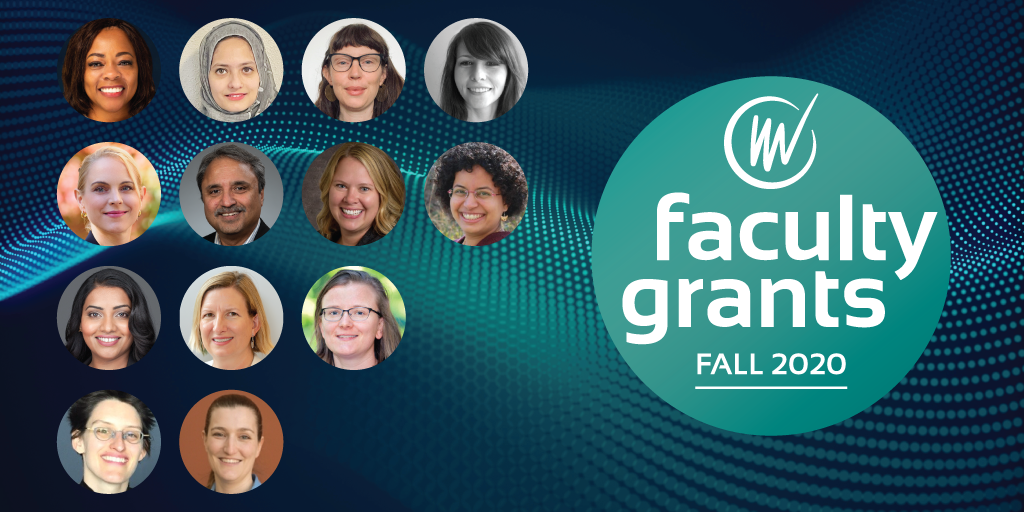 Our newest faculty grantees will develop programs and courses offering inclusive support to students creating innovations for positive social and environmental impact.
We're excited to announce the recipients of our Fall 2020 Faculty Grants. We awarded over $345,000 to faculty members from thirteen universities to support the creation or improvement of courses and programs that engage students in STEM innovation and entrepreneurship (I&E). This exceptional group of grantees are committed to inclusive support of students who are creating innovations for positive social and environmental impact. After undergoing a competitive national review process, winning proposals were chosen based on the potential for their course or program to sustain opportunities for student teams in developing and pursuing scalable solutions to real world needs through I&E. 
Meet our newest grantees:
A Diverse Braintrust for the Future: Building the Entrepreneurial Mindset in our 1st Generation and Minority Students at Illinois Tech
Professor Limia Shunia, Illinois Institute of Technology
A new curricular supplement to a semester-long program that challenges cross-disciplinary teams of students to take on real world problems and develop meaningful innovative solutions. Students from underrepresented groups will be encouraged to develop and launch impact-focused ventures.
Advancing Sustainable Ceramics: Technology, Products & Entrepreneurship
Ms. Penny Herscovitch, ArtCenter College of Design
A new interdisciplinary course in collaboration with Tama Art University in Japan that will introduce students across all majors to "green inventing" with ceramic technologies. Students will be exposed to culturally relevant materials science in the real-world context of entrepreneurship.
Biology+Business: Enabling student startup founders
Ms. Julia Schaletzky, University of California-Berkeley
An experiential learning supplement of a course that introduces Molecular & Cell Biology students to the commercialization of science-driven ideas into viable businesses. Students will join collaborative teams and begin startup development in the life sciences.
Design Under Resource Constraints Course
Dr. Delphine Dean, Clemson University
A new full-semester biomedical Entrepreneurship and Innovation course, delivered internationally via a highly interactive online platform. In collaboration with university students in Tanzania and India, students will learn how to apply fundamental STEM concepts to solving globally relevant problems in health disparity and healthcare delivery in resource constrained environments.
Entrepreneurship at the intersection of technology and design
Prof. Margaret Frey, Cornell University
A new 4th year design and entrepreneurship course that will enable cross-disciplinary teams of students to move from an original idea to full prototype development with real-world industry feedback. Faculty from the Fiber Science & Apparel Design (FSAD) and Design + Environmental Analysis (DEA) departments will  teach students how to integrate digital technologies into manufacturing and the creation of customizable user interfaces, gaining a combination of design, engineering and business planning skills.
Food Innovations to address Sustainable Development Goal (SDG) 2- Zero Hunger
Dr. Kiruba Krishnaswamy, University of Missouri-Columbia
A new course that incorporates experiential learning to create innovative solutions in food and agricultural systems, aligned with the UN Sustainable Development Goal to eradicate hunger. Students will learn about global challenges in food systems, including chronic hunger and hidden hunger, and learn how to become agents of change through food systems innovation.
Improving Inclusivity in Innovation and Entrepreneurship through Understanding Disability
Dr. Sundar Krishnamurty, University of Massachusetts Amherst
A new course that teaches innovation and entrepreneurship (I&E) through the prism of understanding disability. Students will be introduced to a new paradigm of cross-disciplinary I&E that focuses on the importance of customer needs in order to demonstrate how understanding disability can improve inclusivity. 
Infusing Entrepreneurship into the UT Tyler Engineering Curriculum and Building a Sustainable East Texas Entrepreneurship Innovation Hub
Dr. Shawana Tabassum, The University of Texas at Tyler
A new immersion program that will infuse entrepreneurial learning into biomedical and healthcare innovation centered courses, ultimately producing student-led startup ventures. Students will engage the local community in experiential learning activities, develop entrepreneurial skills, and develop scalable solutions to real-world needs.
Integrating entrepreneurship and innovation in layered URG education, research, and mentorship experiences
Dr. Kim Bothi, University of Delaware
A new program that expands summer research opportunities for underrepresented undergraduate and high school participants, emphasizing laboratory-based skills and creating an on ramp to innovation and entrepreneurship (I&E). Students will gain tangible I&E skills and hands-on research experience through a series of instructional workshops, mentorship, and team-based learning.
Jackson State University Entrepreneurship Minor for Non Business Majors
Dr. Sharon Simmons, Jackson State University
A new minor in entrepreneurship for non-business majors that will go beyond theory to experientially engage student teams in pursuit of scalable solutions to real world problems. Students will gain a core understanding of entrepreneurship and the skills to develop and launch venture teams.
Social and Ecological Entrepreneurship through Digital Fabrication
Prof. Beth Ferguson, University of California-Davis
A new Industrial Design course series that will create an inviting and supportive atmosphere for underrepresented engineering and design students to digital fabrication concepts through the university makerspace. Students will work in teams to address global social and environmental challenges, developing entrepreneurial skills and ultimately, creating scalable business plans.
The Age of Sustainable Development
Dr. Rucha Joshi, University of California-Davis
Two new courses that will introduce students to complex global problems identified in the United Nations Sustainable Development Goals. Students will be immersed in experiential learning and social-entrepreneurship opportunities to better understand environmental challenges and develop innovative solutions through human centered design, interdisciplinary thinking, and entrepreneurial concepts.
Vanderbilt Institute of Nanoscale Science and Engineering (VINSE) – NanoMaker Course
Dr. Alice Leach, Vanderbilt University
A new course that will provide entrepreneurial students with conceptual and experiential learning opportunities in developing and creating nanotechnology products. Students will be trained to use cutting edge nano-/micro-fabrication tools to build venture prototypes and will learn how to begin commercializing their products.
about our faculty grants program
The VentureWell Faculty Grants Program offers university faculty up to $30k in funding to pioneer new ways to challenge students to develop inventive, STEM-based ideas and gain the entrepreneurial skills they need to bring them to market. In addition to funding, grantees receive training, coaching, and peer networking opportunities to support their work.
---
Interested in applying for the next program cohort? Sign up to have more information sent right to your inbox.
---
VentureWell is proud to support initiatives that promote cross-disciplinary collaboration between faculty and advisors, and consciously include groups traditionally underrepresented in invention, innovation, and entrepreneurship, including women and minorities. To date, we've awarded more than $12 million to faculty at more than 1,000 US-based colleges and universities, with approximately 80% continuing their course or program beyond the grant period and institutionalizing this experiential learning opportunity.
Learn more about our Faculty Grants Program.