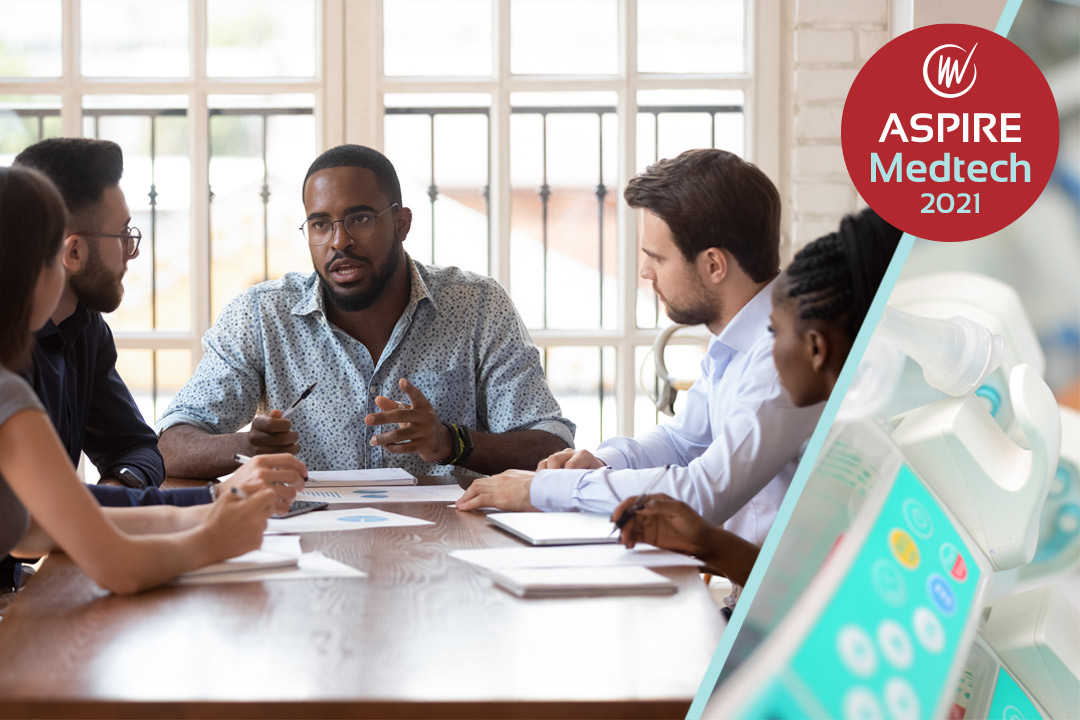 VentureWell has chosen 12 startups to participate in the 2021 ASPIRE Medtech investment-readiness program, taking place from October 4 to November 19. The selected startups are on the path to commercializing medical devices, diagnostics, and solutions that will have a positive impact on patient outcomes and quality healthcare. Innovations from the cohort include a non-invasive bladder cancer detection system, artificial intelligence tools that aid in the delivery of precision colonoscopy, and an immersive mental health mobile app that utilizes virtual reality technology to provide support resources to underserved populations.
The ASPIRE Metech cohort will participate in an intensive 7-week training, which prepares entrepreneurs for investment and building their companies. Startups will gain insight into an investor's thought process and an understanding of what is required during the due diligence process and will complete the program with a vetted fundraising strategy including a clear ask and milestones.
Meet the 2021 ASPIRE Medtech cohort:
Ai-Ris
AI-Ris is addressing the problem of preventable blindness through the development of a portable, low-cost system powered by artificial intelligence that can diagnose diabetic eye disease outside of clinical settings.
Aurie
Aurie, formerly known as CathBuddy, Inc. developed a reusable intermittent urinary catheter system for the 600,000 people in the US living with urinary retention.
Cellens
Cellens offers an accurate and noninvasive bladder cancer detection test suite to support physicians' decisions and improve patients' quality of life.
Colonai
Colonai developed artificial intelligence (AI) tools for precision colonoscopy ensuring better detection of missed tumors, effective removal of tumors, and detection of dysplasia in tissue.
HealthOpX
HeathOpX partners community-based organizations with health insurers, health systems, and government to engage and improve the health of at-risk patients.
Lura Health
Saliva is a powerful medium in the field of health diagnostics and Lura Health is creating a wearable, intraoral, saliva diagnostic sensor platform to prevent health emergencies and manage chronic diseases.
MIST
MIST provides ML-powered diagnostics and insight to improve care for patients suffering from spinal deformities.
NextStep HealthTech
NextStep developed an immersive mental health mobile app that utilizes virtual reality technology to provide both synchronous and asynchronous resources and services for under-resourced communities.
OxyGen
OxyGen has developed a portable oxygen concentrator for patients on long-term oxygen therapy that combines high-flow ambient air with pulses of concentrated oxygen in a mechanism that is easily maneuverable and energy-efficient.
Reaction Technologies
Reaction Technologies has developed a monitoring system incorporating a small screen device that minimizes athlete injuries while providing immediate performance feedback, increasing efficiency and reducing human error.
Safety Sit
SafetySit has developed a mobile backrest allowing clinicians to treat recovering patients without additional staff, eliminating $1.8B of unnecessary or unsafe support labor in healthcare
Stack Medical
Stack Medical developed a unique, patented pump technology addressing a wide range of pain points in the delivery of biologic and biologic similar drugs.
"We look forward to working with our newest group of ASPIRE founders to guide them through what it takes to build their companies and prepare for fundraising. ASPIRE is designed to demystify the due diligence process—it gives these startups a chance to slow down, learn how to communicate with investors, and plan their path to exit alongside a group of fellow entrepreneurs and friendly investors," said Christina Tamer, director of early-stage innovator and venture development programs.
ASPIRE Medtech is offered in partnership with TechTown Detroit, an incubator and accelerator that helps tech startups and local businesses launch and grow. TechTown connects entrepreneurs to resources and events in Detroit, and supports local businesses by providing spaces for professional collaboration and networking.
"We are thrilled to offer the ASPIRE Medtech 2021 program in partnership with TechTown Detroit and the MedHealth Cluster. TechTown Detroit has been a powerful partner in connecting us to strategic partners, local investors, medtech experts, and startups in the region. We have a shared goal of strengthening the MedHealth Cluster and community in the Michigan area. In addition, this is an opportunity to showcase this network to the nationwide cohort of the 12 medtech startups and the extended community of mentors and investors. We are thankful for the program partners, sponsors, and investors that are offering their time and resources to support these startups," said Tricia Compas-Markman, Senior Program Officer.
TechTown Detroit contributes to this program annually with generous support from the William J. Davidson Foundation. The program is also generously supported by VentureWell's legacy funding partner, The Lemelson Foundation, which is dedicated to supporting the power of invention to improve lives. In addition, several sponsors are joining us to share their expertise with the startups, including:
A highlight of the ASPIRE program is the robust team of experts each startup has access to throughout the program. We are pleased to welcome mentors-in-residence Greg Campbell of Rainmaker, Inc., and Prosalus Capital Partners; Mike Clarke, advisor at Astia; Marianne Hudson, founder and Executive Director Emeritus of the Angel Capital Association; Deborah Livneh of WECAN Investors; Eddie Patton of Vyripharm Enterprises and Prosalus Capital Partners; and Denise Saltojanes of Golden Seeds and Beacon Angels to the cohort to share their expertise and advice and help each venture refine their investment ask. In addition to mentors-in-residence, ASPIRE Medtech will host coaches, guest speakers, and individual office hour mentors representing angel investor, VC, and sector perspectives to provide each company with added support and expertise throughout the program.
ASPIRE has had a great impact on seed-stage startups since its inception in 2015. Across 120+ startups, they have raised nearly $200M in funding, with a 90% venture persistence rate. ASPIRE startups that are also E-Team grantees are eligible to receive matching investment from VentureWell.
We congratulate the members of our newest ASPIRE cohort!
Interested in serving as a mentor or guest speaker for ASPIRE? Contact Senior Program Officer Tricia Compas-Markman at tcompas@venturewell.org to learn more about the program and how to participate in an upcoming cohort.