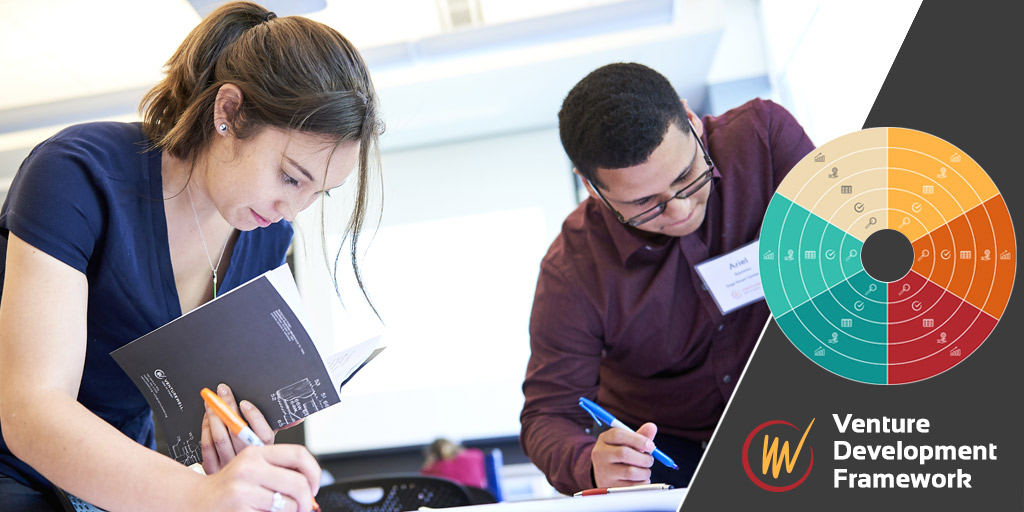 Published in 2019, our Venture Development Framework (VDF) is a tool to help entrepreneurship support organizations (ESPs), program partners, and entrepreneurs understand the steps required for early-stage science- and technology-based ventures to move toward commercialization. The VDF has been designed to be a living and evolving tool to represent a variety of applications. Through our use of the VDF in our programs, we are observing different commercialization pathways that exist for early-stage innovators.
In reflecting on our experience, we identified three commercialization pathways that require unique stages in at least one of the six dimensions in the foundational VDF:
Scaling through Partnership or Licensing, when the innovator plans to support scaling of the innovation by transferring the innovation and its operations through partnership or licensing.
Intrapreneurship, where the innovator begins by developing their innovation within an established organization.
Intellectual Property in the Global Context, in which the innovator works where intellectual property strategies are not US-centric or US-patent-specific.
We describe each scenario and venture success pathway, including a revised set of milestones where relevant, in separate briefs. Visit our Venture Development Framework page to download the briefs.
"The foundational Venture Development Framework reflects the trajectory of venture-backed, fast-growing startups with science and technology innovations," said Christina Tamer, director, programs — early-stage innovators and venture development. "However, we know from our work that successful commercialization pathways and the resulting ventures can look different. The three new scenarios showcase some of our learnings to date. The Venture Development Framework's flexibility allows for future adaptations to reflect additional pathways to commercialization."
background
The framework articulates venture progression through milestones and stages. The milestones are described along six dimensions of venture development: team and venture structures, technology, intellectual property, market, business model, and resources. The milestones are grouped into five venture development stages that illustrate progress: market discovery, market validation, business model development, investment readiness/early traction, early-stage growth/market penetration.
This example illustrates how the VDF can be applied to understand the progress of an early-stage venture.
Visit our Venture Development Framework page for a detailed overview of the team's progression.
implementation of the VDF
The VDF has been a useful tool for individuals and organizations who provide entrepreneurship support to early-stage innovators. To date, over 500 people representing higher education institutions, government agencies, and entrepreneurial support organizations from around the world have downloaded the VDF.
"As a startup consultant working with companies seeking to raise funding, this framework is an excellent way for me to measure and track their readiness," said Kelly Sinclair, Director, Kairos Ventures. "The dimensions in the framework resonate; it's more progressive compared to other tools I've used."
We are seeking feedback from practitioners, researchers, and evaluators on the framework's content and potential utility. Please send feedback to: Christina Tamer at ctamer@venturewell.org.