Entrepreneurship centers and academic programs are hungry for strategies and solutions to create more accessible opportunities for science and technology students. Last summer, we published a report, Advancing Equity: Dynamic Strategies for Authentic Engagement in Innovation and Entrepreneurship, which offers six interrelated strategies to help expand access and opportunities among early-stage innovators and entrepreneurs from underrepresented groups in university-based innovation and entrepreneurship centers and programs. Following the murders of George Floyd, Breonna Taylor, and Ahmaud Arbery, protests against police brutality and racial violence were a national focal point last summer. As a result, racial equity became a new or renewed priority in many institutions.
At the University of California Irvine's Beall Applied Innovation (UCI BAI), Tim Shaw, Matthew Hanson, Jaune Odombrown, and other team leaders sought to find a resource that could guide them as they took account of the diversity, equity and inclusion (DEI) gaps at the UCI BAI and developed a plan to better serve their students. When they discovered our Advancing Equity report, they used it as a blueprint to develop, implement, and measure DEI strategies across the entire organization.
a turning point to advance educational equity
BAI isn't a school or department of the University of California Irvine (UCI); there aren't any formal courses, faculty, or degrees. Instead, BAI was designed to have equal standing as a school but functions as an interdisciplinary cross-campus resource that connects the university to industry and businesses in the local economy. Hanson, BAI's Director of New Ventures, and Shaw, BAI's Applied Innovation Special Projects Lead, envision BAI as a vehicle to channel innovative ideas and research from faculty and students into products and bring those innovations to market. Their programs include an on-campus incubator that supports more than 50 different startups generated by the UCI community.
Leaders at UCI initiated a reckoning of the institution's equity and inclusion practices and culture in the summer of 2020, and BAI was ready to dive in. Equity and inclusion had always been an important part of their mission to expand access to entrepreneurial concepts and pathways for all of their students — they provide special grants to low-to-middle income students and train women entrepreneurs on how to apply for government grants. However, the national conversation around racial inequity marked a turning point for BAI.
"We took an honest look at ourselves and saw that we were falling short," said Hanson. "Yes, we were open to everybody, but we hadn't intentionally reached out to try to understand, listen, and learn about what underrepresented groups need in order to pursue innovation and entrepreneurship."
After searching for a framework to help steer their efforts, they discovered our Advancing Equity report. Organized into a strategic task force made up of representatives from BAI, the campus, and the local entrepreneurial ecosystem, they used the report as a step-by-step guide from under-resourced groups to audit their equity and inclusion practices, identify problem areas, and create goals to which they could hold themselves accountable.
"The report was an eye-opener. It was practical. It included strategies we could implement immediately. There were things that were measurable and it covered the whole organization," Hanson noted.
integrating areas of action
The ability to guide their work with our report was a game-changer for BAI. Hanson and his team were able to identify key problems in their programmatic and marketing strategies and create foundational change. BAI estimates that approximately 10% of students across the United States are interested in becoming entrepreneurs. Yet those metrics didn't align with the number of under-resourced students that were participating in BAI's programs, even though they were promoting BAI's resources all over the campus.
Hanson said the report showed them that they weren't communicating because they weren't listening — their marketing wasn't tailored to reach underrepresented students and the spaces they built weren't as fundamentally inclusive as they needed to be. Though they had mentors and faculty members who could serve as role models, it was vital for students to feel that they were invited and welcomed at BAI — and that they had peers they could connect with in the programs.
Even through moments of tough sailing, BAI was able to recognize their mistakes and course-correct. For example, they sent out an email promoting an event at the center without realizing that the stock image they used in the invitation featured only white men. When a stakeholder from the strategy group brought it up through the lens of authentic outreach and inclusive spaces, they immediately reissued the invitation with an image that better reflected the diversity of the UCI campus.
"We look at failure as learning because there is no such thing as failure. You can't fail at being a human being. You are one. So it's really how we learn: a baby learns to walk by falling down, an entrepreneur learns to build a company by failing on their first try. We believe that you can embrace failure as a positive and move forward from there," Hanson said.
building fundamentally inclusive ecosystems
One unit of BAI is the UCI ANTrepreneur Center, named for UCI's mascot, the anteater. As the manager of the ANTrepreneur Center, Jaune Odombrown works to build the UCI BAI innovation ecosystem by introducing students at the university to concepts including entrepreneurial mindsets, early-stage business model creation, market validation, and execution strategies. Equity and inclusion are essential parts of the equation, especially for Odombrown. UCI is a federally designated Hispanic-serving institution and Odombrown works directly with students, so it's crucial that the programs he develops are fundamentally inclusive to UCI's racially diverse campus. The Advancing Equity report provided Odombrown and his team with a framework that covered every touchpoint of student engagement and a reference source to track their progress.
"We were already doing the work so we were searching for something we could use to make sure our efforts were on the right track. The report allowed us to take a fresh look at our work in segments, touch base over time, and ask, 'Okay, are we doing this part correctly?'" said Odombrown.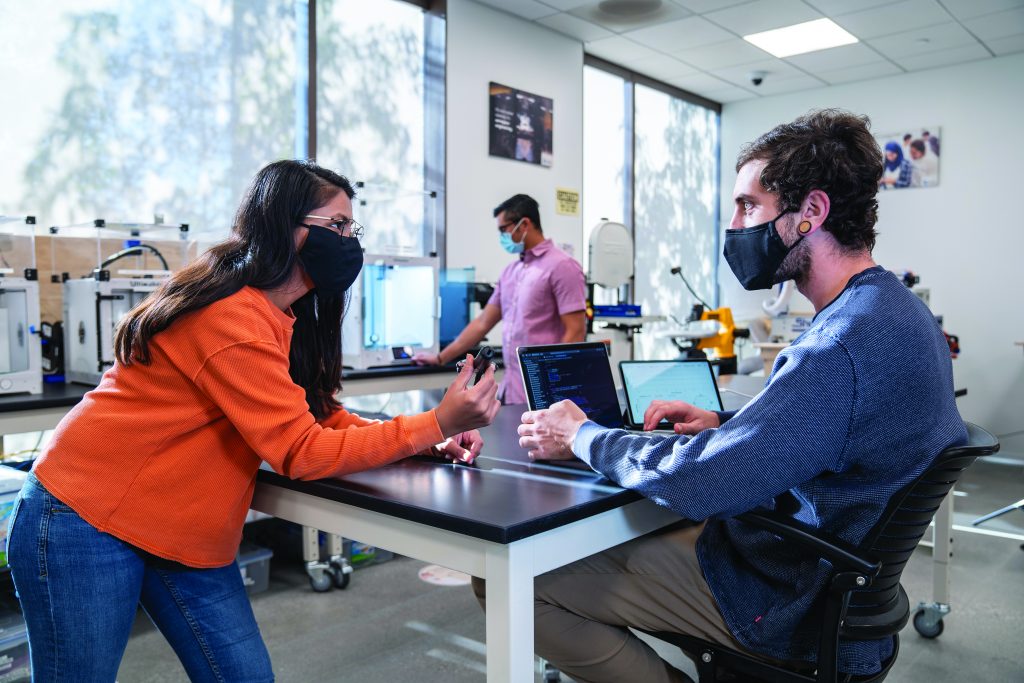 As a Blackstone Launchpad entrepreneur-in-residence, Odombrown is not a faculty member at UCI. This distinction, he says, enables him to reach students much more directly and better understand their perspectives. He found that many students, even those who were engaging in entrepreneurial work, didn't consider themselves entrepreneurs or see it as a potential career option. Validating multiple pathways to entrepreneurial success, the fifth strategy of our report, proved to be vital to the ANTrepreneur team's efforts.
In collaboration with UCI students, the ANTrepreneur team redesigned their programs and events to expand access to BAI's resources, and to break down barriers that were limiting how students perceived entrepreneurship and BAI. As a Black entrepreneur leading three companies in addition to his position as the ANTrepreneur Center Manager, Odombrown also serves as a role model and mentor to under-resourced students with real-time knowledge of the challenges and joys of an entrepreneurial path.
"The first thing we needed to do is find out what barriers were already stopping people. Is it a mental barrier? Is it a lack of knowledge of entrepreneurship? Is it a lack of resources? When addressing those problems, how do you know that you're not creating new barriers? Answering those questions was the first step to building success," said Odombrown.
It is crucial that academic institutions have resources, guidance, and support to responsibly address equity gaps that limit the entrepreneurial potential of their students. Despite the challenges inherent to initiating fundamental change, BAI succeeded in establishing a rigorous organization-wide effort to incorporate equity and inclusion into their DNA, illustrating their tremendous commitment to supporting student entrepreneurs.
"It's easy to talk about diversity, equity, and inclusion. It's hard to do it. Hard to measure it, hard to hold yourself accountable. The task force and the report is causing us to change our behavior, which is exactly what we need to do to show that we're embracing this holistically across the organization," said Hanson.
At VentureWell, we were proud to play a role in helping UCI Beall Applied Innovation on their journey to build a more equitable and inclusive blueprint for their organization. As we continue our work advancing diversity, equity, and inclusion in entrepreneurial ecosystems, we look forward to supporting and collaborating with other universities, organizations, and institutions striving to create positive change for their students.
Explore the resources, tools, and opportunities we have assembled to help you advance equity at your institution and in your program.