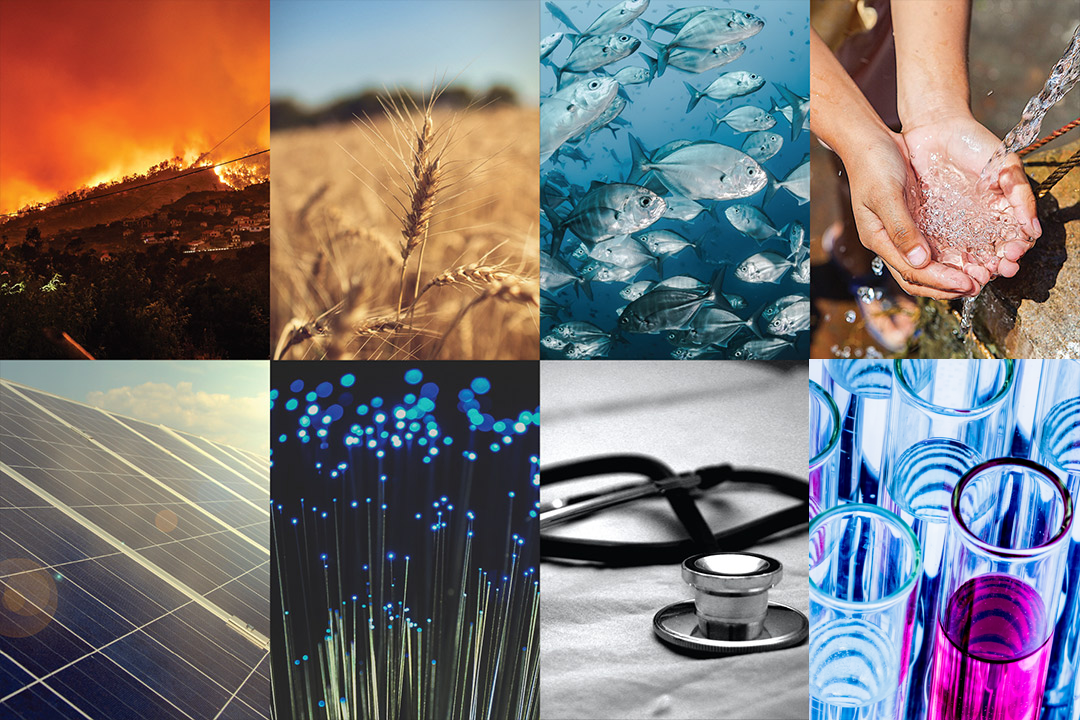 We are excited to announce the 25 early-stage student innovator teams that have been accepted into our Winter 2022 E-Team Grant Program! Teams were chosen based on the potential for their innovation to have a significant positive social, health, or environmental impact. Fifteen teams will receive a $5,000 Stage 1 grant. An additional 10 teams have been selected to advance to the next stage of the program, and will be awarded $20,000 Stage 2 grants to support the development of their innovations, including the four winning teams from the Verizon Forward for Good Challenge.
From mosquito net patch kits to solar-powered water purification devices, the Winter 2022 E-Team cohort are creating innovative solutions to the world's biggest challenges. Take InfernoGuard: they're developing a wildfire detection system that can alert users at the first detection of a fire, allowing them to address wildfires before they become devastatingly large. Another great example is Vita Innovations, a team developing reusable smart masks for emergency room patients that monitor and display patient vitals, enabling medical staff to identify symptom progression without constant check-ins.
These teams are also creating innovations that will help accelerate future technologies: Skywalk's wrist-worn device will digitize hand motions to enable seamless, intuitive access to augmented reality, and GismoPower's portable, solar-powered electric vehicle carport could help lower the cost of owning and maintaining an electric car.
Read more about this cohort and their exciting innovations.
Stage 1
Healthcare/Medical
Acorn Genetics | Northwestern University
Acorn Genetics is developing a low-cost, at-home DNA testing kit that enables users to privately test for genetic conditions without any data privacy concerns.
Arceate Health Innovation | Arizona State University
Arceate Health Innovation is developing an all-in-one kit to easily and quickly patch holes in mosquito nets with super-durable netting material, fortifying the nets against disease-carrying mosquitoes and doubling their shelf life.
DioTeX | Johns Hopkins University
DioTeX is developing a rapid and portable diagnostic test that can detect the early signs of internal hemorrhages outside of clinical settings.
Feminora | University of California-Irvine
Feminora is developing a redesigned vaginal speculum for medical settings that provides 360 degrees of support and contact to the vaginal walls, eliminates painful pressure points, and increases the clinicians' field-of-view into the vaginal canal.
HeartThrobs | Georgia Institute of Technology
HeartThrobs is developing an at-home stethoscope that transmits real-time and prerecorded cardiovascular test results to physicians on telehealth platforms.
Longhorn Life Sciences | The University of Texas at Austin
Longhorn Life Sciences is developing a low-cost, noninvasive surgical site dressing that can detect infections in post-operative patients, reduce patient burden and enable rapid medical intervention.
MedVision | University of Pennsylvania
MedVision is developing an inventory management system that uses customizable smart shelving and interconnected software technology to collect and provide real-time supply data to hospitals and surgical clinics.
OvuBrush | Johns Hopkins University
OvuBrush is developing a saliva-based ovulation prediction device that integrates into a toothbrush to enable users to easily and discreetly track their fertility window.
Environment
InfernoGuard | Northwestern University
InfernoGuard is developing a comprehensive wildfire detection system that continually monitors environmental conditions, detects fires, and notifies users through hardware devices that are placed directly at the source of a fire.
Shinkei Systems | University of Pennsylvania
Shinkei Systems is developing robotic technology for the fishing industry that automates Japanese hand-harvesting techniques, extending shelf-life and reducing fish waste.
Solar Aqua Flex | Vanderbilt University
Solar Aqua Flex is developing a flexible, floating water purification device for use in the mining industry that uses solar energy to produce potable water from contaminated ponds, requiring little-to-no maintenance or operating costs.
Information Technology & Communications
Photonect | University of Rochester
Photonect is developing a laser adhesion technique to attach optical fibers to photonic chips, which are crucial for data centers to process and transit data; the laser technique is dramatically faster, less expensive, and more efficient than conventional glue methods.
Skywalk | Stanford University
Skywalk is developing a device worn on the wrist that digitizes hand motions to enable seamless, intuitive access to augmented reality technology.
Energy & Materials
GismoPower | New College of Florida
GismoPower is developing a portable, solar-powered electric vehicle carport that can charge and shade personal vehicles at a lower cost than other available options.
Agriculture
Agcess |Cornell University
Agcess is developing an agricultural software technology that utilizes publicly-available satellite imagery to detect crop and soil metrics and communicate them via SMS and web platform to operators of small farms.
Stage 2
Healthcare/Medical
Aether Masks |​​ University of Utah
More than 10.75 billion surgical masks are used globally each year but none are designed to address mask-induced eyewear fogging. Aether Masks is developing a surgical mask that provides users with a comfortable, fog-free experience and prevents bacterial transmission.
CVPath Surgical Trainer | Texas A&M University
Current surgical training models have proven insufficient for effective teaching, leading to more surgical errors and reduced patient outcomes. CVPath Surgical Trainer is developing customizable heart models that mimic tissue and have detailed anatomical accuracy to train surgeons in complex procedures.
HeartBeat Technologies | Medical University of South Carolina
Heart attacks kill hundreds of thousands of Americans each year, yet there have been few innovations in CPR or cardiac arrest treatment since 1960. HeartBeat Technologies is developing the SAVER, a device for treating patients experiencing cardiac arrest that increases blood flow to the heart and brain during CPR by stopping blood flow to the legs.
LiRA | Verizon Forward for Good Challenge Winner
Voicelessness is a debilitating condition that frequently follows life-saving airway interventions but the available tools to help individuals with voicelessness communicate are ineffective. LiRA is developing an AI-powered lip-reading mobile app that can recognize the specific facial motions associated with speech and translate the video data into audio in real-time, improving communication options for voiceless individuals.
Visilant | Johns Hopkins University
253 million people around the world live with moderate-to-severe visual loss and blindness, and for those that live in rural settings, it can be difficult to access early screening and treatment that's crucial to reducing avoidable vision loss. Visilant is developing a low-cost telemedicine platform that enables comprehensive, ongoing eye disease screening outside of clinical settings.
Vita Innovations | Verizon Forward for Good Challenge Winner
Emergency department overcrowding can lead to patient walkouts, worsening of symptoms and even mortality, if symptoms progress dramatically without notice. Vita Innovations is developing a reusable smart mask that increases diagnostic efficiency by monitoring and displaying patient vitals without the need for continuous provider intervention, while also preventing the spread of viral particles in emergency room settings.
Energy & Materials
Flux Hybrids | North Carolina State University at Raleigh
Despite the advancements in electric and hybrid energy technology, the cost to transition specialized industrial vehicles to electric power remains prohibitive. Flux Hybrids is developing low-cost technology that can convert vehicles with internal combustion engines to hybrid or electric power systems.
Education
The STEAM Connection | Verizon Forward for Good Challenge Winner
Educational robots strengthen student skills and engagement but they are often manufactured with plastic, which is not environmentally sustainable. The STEAM Connection is designing a low-cost 3D-printed educational robot made from durable plastic-free biodegradable materials.
Environment
rStream Recycling | University of Massachusetts Amherst
High-traffic venues like stadiums and universities produce thousands of tons of trash a year but don't have an effective way of presorting their recycling, leading to heavy fines and environmental damage. rStream Recycling is developing an AI-powered on-site recycling device that can sort waste faster and at a lower cost than existing options.
SISYPHUS Global Systems | Verizon Forward for Good Challenge Winner
Due to the impacts of systemic racism and the rapidly changing climate, the risk of flood devastation disproportionately impacts communities of color. SISYPHUS Global Systems is developing an interactive decision support tool that uses AI and a climate justice framework to calculate the flood risk and mitigation options for individual properties.
the E-Team entrepreneurial journey
Each Stage 1 team will take part in our intensive Pioneer training program where they will learn the steps needed to advance their projects out of the university lab and into the market.
"The Pioneer workshop will allow innovators to understand and validate the markets that they are targeting with their innovations, gain clearer insight into what entrepreneurship may look like for themselves as individuals, and connect with and receive feedback from their peers and expert coaches and instructors," said E-Team Senior Program Officer Cara Barnes.
The Stage 2 teams will take part in the Propel training workshop, where they will work to develop and validate their business model through customer discovery interviews and prototype development, and establish their intellectual property portfolio. Propel helps early-stage innovators map and validate the pathway for their venture, digging into business model design and mapping action plans to engage stakeholders and de-risk their venture.
The next round of E-Team applications are open! Student innovator teams developing scalable solutions to large social, health, or environmental challenges are encouraged to apply for up to $25,000 in catalytic funding!