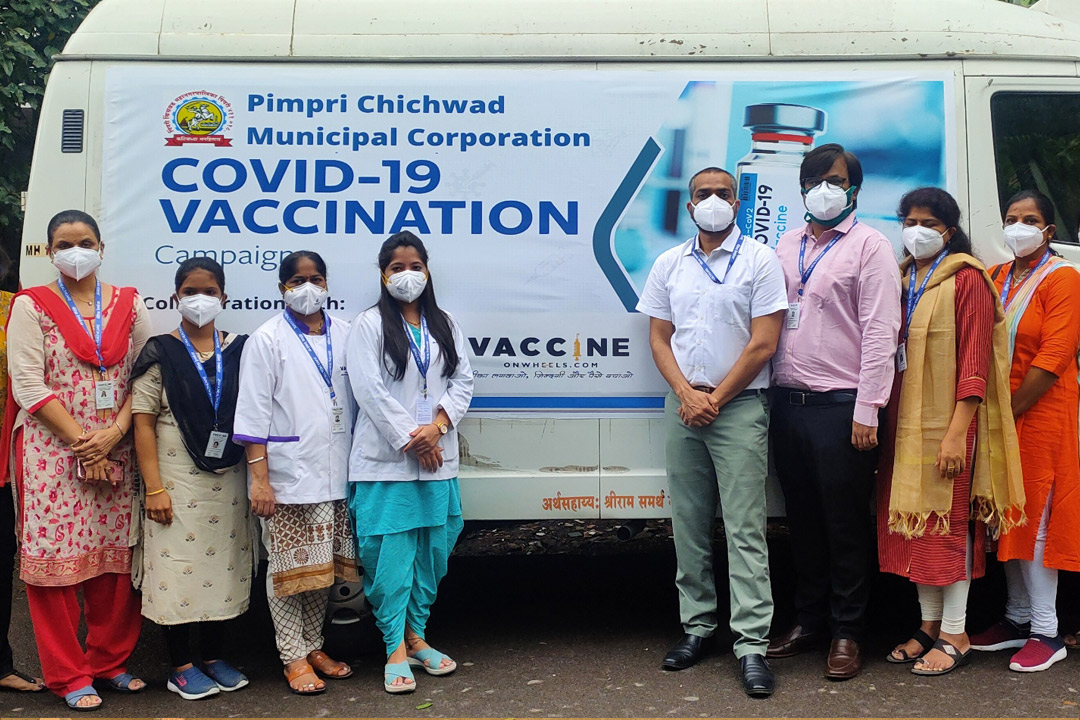 When Jignesh Patel launched his mobile vaccination service, VaccineOnWheels, the idea that it could soon help address India's spreading COVID-19 pandemic was not part of the equation. Back then, in April 2019, Patel was focused on another vaccine health crisis: just 62 percent of Indian children receive routine immunizations for common diseases, resulting in some 1.3 million preventable deaths each year. "The vaccines are free," explains Patel, who earned his MBA and was a research fellow in healthcare at Indian Institute of Technology before forming his business. "But the costs of seeking service are quite high."
In short, says Patel, the vaccination system was failing those at the "bottom of the pyramid." Travel from India's rural areas to health centers can be difficult, and health centers may be overcrowded or not prepared when patients arrive. Patel's solution was to send care to the patients instead. VaccineOnWheels would deploy medical teams in vans to underserved communities, partnering with local businesses and others to help pay for the service. The venture received a grant from the Bill & Melinda Gates Foundation, and began offering vaccines in India's Pune district in December 2019.
Then came COVID-19.
training during the pandemic
The lockdown and social-distancing requirements forced VaccineOnWheels to pause its efforts. In the meantime, Patel was nominated by the BMGF team for an accelerator program being offered by India's Grand Challenges India program at Biotechnology Industry Research Assistance Council (GCI-BIRAC) called The MedTech Challenge Market Acceleration Training & Award Program. Designed and implemented by VentureWell (based on its Xcelerator programing), with funding from the Department of Biotechnology Government of India, the Bill & Melinda Gates Foundation, and the Wellcome Trust, the MedTech Challenge program hoped to identify promising innovators in India's health sector, then provide them with the workshops, mentors, and networking they need to grow their business, with the chance to pitch the sponsors for future funding. Patel applied, and his three-person VaccineOnWheels team was accepted, joining twenty-one other promising startups.
Again, COVID-19 forced a change in plans. VentureWell had originally designed the program as an intensive week of in-person workshops in New Delhi, followed by eight weeks of coaching by mentors selected by VentureWell and GCI-BIRAC. The pandemic forced the entire program online. VentureWell repurposed its early-stage training curriculum into online workshops, panel discussions, breakout groups, and mentoring sessions, which were held over an eight-week period in the evenings in India. "The challenge was in maintaining the energy and conversations between teams and mentors that naturally happen in an in-person workshop," explains VentureWell senior program officer Cara Barnes. "Getting those 'A-ha! moments' in a virtual environment can be tough."
But it worked. So much so that, for Patel and many other participants, the new virtual format was actually preferable. "We were able to attend without interrupting our business," he explains. "And it was just two hours a day, so it was more engaging and we were able to grasp many things."
a series of pivots
Indeed, Patel and his team made a number of fundamental changes to their business as a result of the MedTech Challenge program. After completing customer discovery interviews with potential patients and other stakeholders involved in immunization, the team dramatically changed the messaging and approach they used in their online video campaign. "It helped us prepare new media, new communication and promotional materials," Patel says, "which has helped us to gain more momentum, more business from the consumer segment."
The team also interviewed government health officials, who told them about their needs and challenges. That led to discussions with the team's mentors, and then to an even more pronounced pivot for the business: pursuing a public-private partnership where VaccineOnWheels would provide its services to local governments, backed by funding from local corporate partners and non-governmental organizations.
"It was a gap that we were able to fill," says Patel. "As part of this program, we were able to come up with a new segment altogether, the B2G segment, wherein all the stakeholders have a win-win situation—be it corporates, or government, or the underprivileged population who were getting the free vaccination services near to their homes."
As the team was building relationships with regional and local government health agencies, vaccines for COVID-19 were gaining approval. The development presented a new opportunity for VaccineOnWheels. After making its pitch to the various officials, the company in April 2021 entered into an agreement to be the Pune municipality's on-the-ground COVID-19 vaccine administration partner. The business has since expanded to serve the Municipal Corporation of Greater Mumbai, among other agencies. Supported by the local Rotary Club and other partners, the company is now working to immunize more than 1 million Indians, free of charge, against COVID-19 in the coming year.
mentorship proves key
The company's success does not surprise those who worked with the team during the MedTech Challenge program. In his assessment of the venture, program mentor Arun Venkatesan, CEO of social enterprise incubator Villgro USA, noted that the VaccineOnWheels team had done its homework and proven that they were ready to execute on their pilot. "The team has validated their business model with a few customer segments, has pivoted well during the COVID-19 pandemic, and is posed for a COVID-19 vaccine opportunity with partners," he wrote.
Being able to connect with mentors like Venkatesan who have deep knowledge of the Indian health sector, as well as with fellow entrepreneurs, was a key benefit of the program, notes Patel, who gave the program glowing reviews. Barnes points out that Patel took full advantage of the program, embracing the MedTech Challenge program methodology wholeheartedly. "He talked to customers, healthcare providers, nonprofits working in the vaccine space, local state and federal government officials, to get buy-in from all of the different players in the ecosystem he was working in." He also took advantage of the networking opportunities, says Barnes, repeatedly consulting with the mentors and leveraging their expertise.
"The real value of the program was to go through the training and to get that mentorship," she explains. "The teams that jumped in with both feet got a ton out of the program and the process."
Patel agrees, crediting the MedTech Challenge program with the promising future he now sees for VaccineOnWheels. "Because of this workshop program, we are going to achieve this success," he says. "We have a higher probability of becoming a successful organization."
Today, VaccineOnWheels continues to expand awareness of its programs as it reaches out to more underserved and vulnerable populations, winning praise from a host of local officials and members of the business community. The company recently set a new milestone: vaccinating 2,593 people at 11 mobile clinics in a single day.
Learn more about VaccineOnWheels.